Irrigation Controllers
Irrigation controllers save time, conserve water and the latest smart controllers can reduce your monthly water utility bill by an estimated 30 to 50%. They completely automate watering whether it's a patio planter, vegetable garden, vineyard or large business area landscaping. The versatility allows you to control anything from micro drip irrigation to commercial sprinklers all on the same system. If you add zones to accommodate new plants they can be incredibly easy to navigate with remote touch programming using the latest in Bluetooth® and WiFi technology.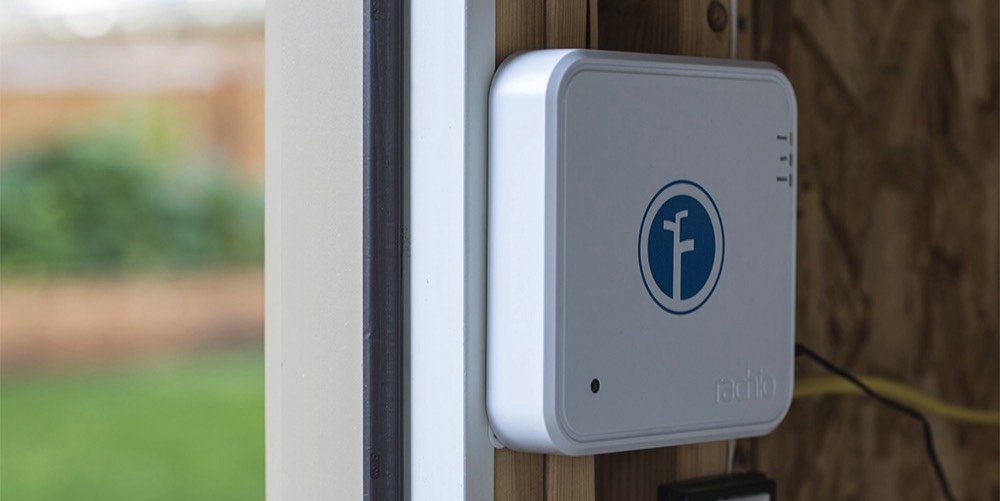 If you're tired of manually turning on your irrigation system during the hottest days of summer and turning the system off after a downpour of rain, you'll be glad to know that controllers can be equipped with rain sensors that automatically adjust watering based on local weather data and soil moisture levels. The latest smart irrigation controllers will even adjust watering based on local wind speeds. Imagine completely hands off watering that automatically adjusts intervals and durations based on environmental factors.
Irrigation controllers are designed to automate various forms of irrigation allowing for custom programming of watering durations, times, days, and zones. They provide consistency to a watering schedule, prevent overwatering and allow for precise delivery of water to various forms of vegetation. A programmable smart water controller combined with residential water-smart xeriscaping are both beneficial for the local ecosystem and abiding to local water restriction bylaws, and may even qualify for a product rebate.
---
---
---
---
Types of Irrigation Controllers
There are several different types of irrigation controllers and while they all help control watering there are major differences between them. The main differences are the features available in different controllers which we discuss in more detail below. A basic single outlet timer for a garden hose might be great for a flower bed but not ideal for a 10 zone yard with drip irrigation, micro sprayers and pop-up sprinklers. 
Water Hose Timers
A water hose timer is the most basic form of irrigation controller but it does have its place for some residential applications. They are great for simple programming of one to three hoses attached to a residential outlet.
A hose timer allows you to set start and end times, how often you want to water but that's about it. A feature that some hose timers have is a setting that allows manual watering or a rain delay that pauses the programming for a period of time if it rains.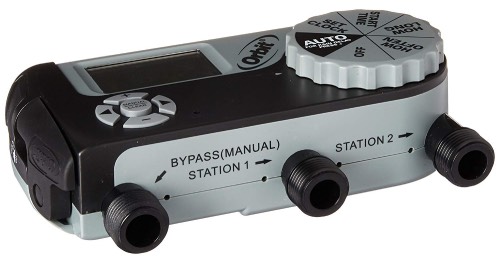 Smart Irrigation Controllers
A smart irrigation controller is the absolute best device you can buy to take care of all your watering needs. The wireless technology and ultra user-friendly apps are just a few of the amazing features you will enjoy. The money you'll save in decreased watering costs will likely pay for the unit in one year.
Smart features like rain skip, wind skip, freeze skip and local weather intelligence make this smart watering device truly state of the art and a must for any home or business owner that wants the best irrigation controller on the market today.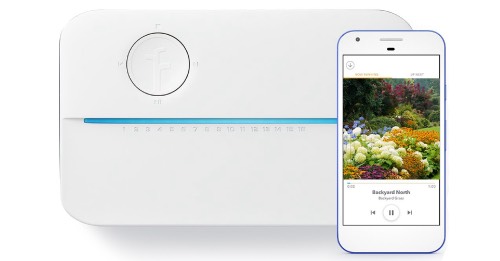 As advancements were made in the wireless industry it was just a matter of time until it was applied to the world of irrigation. We can say that today you can get an ultra smart irrigation controller at an affordable price that's both easy to use and install. An added benefit is the home owner can control watering from just about anywhere and commercial contractors can manage countless systems from an easy to navigate application on a desktop or mobile smartphone. 
A common use for irrigation controllers in Kelowna and other areas in the Okanagan Valley are for large gardens, orchards and even vineyards. Advanced irrigation controllers combined with drip irrigation provide low maintenance automated irrigation without the high price tag. It also allows for efficient and low cost fertigation and chemigation techniques to be carried out with a reduced footprint on our environment.
Irrigation Controller Features
The features available in an irrigation controller are what sets them apart from each other. A basic automatic water timer will allow for daily duration settings for a single hose while a complex smart water controller with Weather Intelligence™ Plus will completely automate an entire system with multiple watering zones using local weather, satellite and radar data. Let's take a look at the different water controller features available so you have a better understanding of what they are and if you need them for your specific landscaping needs. 
Electricity or Battery Operated
An important feature to keep in mind is whether the irrigation controller is battery operated or powered with electricity. Basic controllers are often powered by 2 AA batteries that need to be replaced yearly or more often depending on usage. Battery operated irrigation controllers often come with a built in memory so you don't lose settings that have been input by the user when the batteries expire. Most advanced smart controllers need to be plugged into a standard 120/240v household electrical outlet. Look for an electronic irrigation controller with battery backup feature. 
Smart Scheduling
Smart scheduling automatically learns and adjusts watering based on a number or variables built into the controller. This includes incorporating real-time local weather data like rain, wind and temperature and combining it with pre-programmed data input by the user like; plant type, soil type and sun exposure. The latest smart technology has given users the ultimate in hands-off operation, improved plant health and reduced water usage. 

Rain Sensor
An irrigation controller with rain sensor is commonplace when you upgrade to a smart water controller. The advanced moisture sensor technology constantly relays moisture levels and automatically adjusts system run times. Look for this feature that can be referred to as rain sensor, moisture sensor, or moisture meter. You may need to purchase the sensor separately from the main controller. 
Some forward thinking municipalities in Canada offer a rebate for upgrading and using a rain sensor because of the water savings they provide. Fill out the City of Kelowna Water Utility $35 Rain Sensor Rebate Form which reimburses residents of Kelowna when they purchase, install and use a qualified rain sensor. Check with your local municipality for similar rebates offered to residents who upgrade to water smart technology at their home or business. 
Wireless Technology
Wireless technology that allows for remote control of irrigation controllers has come a long way in recent years. The advancement of smartphone technology and apps has made water controllers extremely smart and user friendly allowing users to monitor and adjust settings from anywhere WiFi or Internet is available. This feature is incredibly useful if you manage multiple properties or have multiple zones in a complex irrigation system. 
Many smart irrigation controllers are designed to be used with existing smart home technology including Google Home and Apple Home. As household tasks become automated it's important to have seamless integration of multiple devices. Look for a controller that is compatible with the major smart home systems like Nest and Alexa. 
Zones
The number of zones an irrigation controller can manage varies substantially from a single garden hose or zone up to 200 zones in a system. As you get into more complex automatic water timers and controllers you can easily manage multiple zones with properly placed valves at various junctions. We recommend using a controller capable of more zones than needed in the event that watering requirements change in the future. 

Freeze Protect
An extremely useful feature found in top of the line irrigation controllers is freeze protect. This feature allows users to set a temperature that the controller will shut down operation. If you live in Canada or the northern United States this feature is incredibly handy especially if you experience fluctuating temperatures near freezing. Always be aware of frost dates for your local area and carry out proper irrigation winterizing as per the system manufacturer. 
Installation
Is the installation of the irrigation controller easy or does it require a professional to install it properly? Look for a controller or timer that boasts an easy or DIY installation to avoid paying an irrigation professional to install the controller. The easiest to install controllers on the market today take less than 30 minutes to install and don't require any special tools or knowledge. All reputable controller manufacturers will have detailed instructions for proper installing or you can hire a professional irrigation installer to do it for you. 
Irrigation Controller Enclosures
An irrigation controller enclosure is a great way to protect your investment and prevent tampering if the device is installed outside. A weatherproof cover will keep the elements out year after year while allowing easy access for programming or zone alterations. Make sure that your controller is compatible with the cover including size and electrical wiring.
Irrigation Controller Rebates
The importance and value of an advanced irrigation controller in Canada is growing and some proactive communities are working to support residents that want to upgrade their existing outdated irrigation systems. As cities try to increase water conservation awareness, rebates or incentives for choosing better products is a great way to reward residents that makes a decision to do their part for their city and local ecosystem. 
The City of Kelowna Water Utility and Kelowna Water Smart Single Family Dwelling Irrigated Landscape Rebate for areas of 100 square meters or larger is an excellent initiative. This rebate includes up to 50% of the cost of a controller upgrade or related components required to operate the equipment. Integrating xeriscaping, climate appropriate plants, drip irrigation, mulch and an irrigation controller will contribute to an overall water smart landscape plan. 
A growing trend is to remove natural lawns and other water hungry vegetation and replace it with native plants and artificial grass. This combination allows for the absolute lowest water consumption while maintaining a useable lawn area.  
---
---
---
---
---
---
Disclaimer
Please use all appropriate and proper safety precautions when attempting projects on this website. All projects are attempted at the reader's own risk. 

Duralawn® participates in the Amazon Services LLC Associates Program, as an Amazon Associate we may earn a commission from qualifying purchases.
Duralawn® artificial grass installations, products and service in Kelowna, Vernon, Penticton, etc since 2018.