Artificial Grass Maintenance
Artificial Grass Maintenance
Artificial grass maintenance is a lot easier than looking after a regular lawn and takes a lot less time but there are some important steps that should be followed. Keeping your lawn clean and maintained properly will not only help retain its new appearance it will also prolong the life of the turf while ensuring that no weeds show up. In addition to the regular upkeep required for artificial grass we will go over how to remove stains, clean dog pee and even how to get chewing gum out.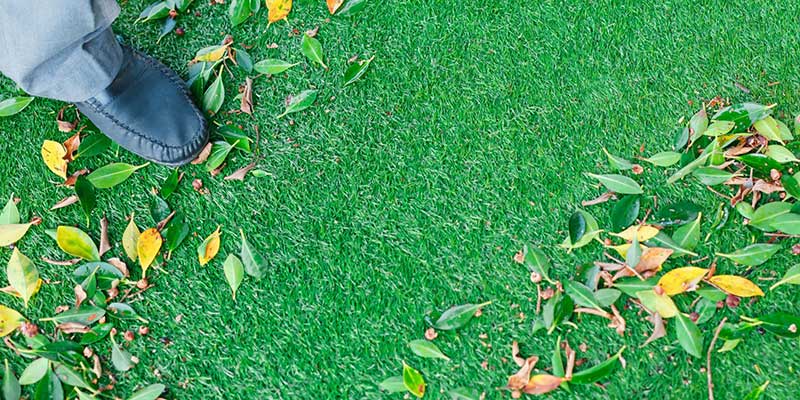 We are all busy with our day to day lives and the last thing you want to do is look after your synthetic lawn. The main reason you installed artificial grass in the first place was to reduce the amount of time you spend maintaining it. The good news is that it's easy and with the right tools you can get it done in an hour or two. In addition to being really easy most lawns only need to be maintained once or twice a year depending where you live and environmental factors. 
Does Artificial Grass Require Maintenance?
Artificial grass requires some maintenance to keep it clean, weed free and prolong the life of the turf. A regular maintenance routine should include a spring cleaning and if necessary in the fall before it starts to snow. The main goal of artificial grass maintenance is to keep debris off the turf so it looks good and to remove organic materials that end up in between the blades of grass, often achieved with a basic push broom. If organic materials are allowed to accumulate in the grass it can lead to weed, moss and even mould growth. 
The amount of time required for artificial turf upkeep will vary depending on what type of organics your lawn is subjected to year round. This can include but is not limited to the following factors:
dogs or pets that use the lawn as a place to pee and poop
adjacent trees that shed pollen, leaves, twigs or needles
plants or shrubs that shed flowers
high volume of foot traffic
The Duralawn artificial grass maintenance online guide is going to take you through each option for keeping your grass in great shape. If you follow the suggestions below you can be sure that you are giving your lawn the best chance to stay looking as good as the day it was installed for many years. If you would like to us to look after your artificial grass maintenance service be sure to check out of affordable service packages.
Tidy Tools Large 18 Inch Stiff Bristle Push Broom with Alloy Handle

High quality push broom with 3" long un-flagged bristles. 

If you click on this link and make a purchase, we may earn a commission. 
---
---
Artificial Grass Maintenance and Care
Artificial grass maintenance in Kelowna, British Columbia will be different than maintenance in Edmonton, Alberta because of the differing environmental conditions. This guide will cover the basics of turf care that over time you will learn how to apply to your unique lawn. You'll learn what artificial grass maintenance equipment are required to keep your lawn in top form and looking great for many years. We'll go over common issues including removing debris, cleaning stains and brooming pet hair below so be sure to continue reading. 
---
Clean with Water
Since artificial grass is mostly self-cleaning this task is really easy for most home and business owners. Rain is often sufficient to keep it clean except for dry summer months when you may need to give it a quick hose down. This can be done with a regular garden hose and nozzle attachment. If you own dogs or pets we recommend cleaning the grass with an enzyme concentrate as often as needed to eliminate bacteria and the odour it can cause. 
Spraying your lawn down with water forces small particles like dust, pollen, airborne pollutants and organic materials down to the base of the turf. These particles will either wash through or collect in the infill layer where they will break down or potentially cause growth of weeds and moss. While spraying your grass will keep it clean, looking great and promote important drainage you also need to broom the grass to remove organics and debris from the turf base, which we discuss below. 
If your grass is heavily soiled we recommend using a biodegradable cleaning solution, usually 5-10% is sufficient that can be applied using a brush or sponge and rinsed with regular water.
Simple Green Pet Odour Eliminator Enzyme Cleaner

Powerful enzymes to deep clean your artificial turf.

If you click on this link and make a purchase, we may earn a commission. 
---
---
Remove Debris and Organics
The removal of debris including leaves, twigs and anything else that ends up on the grass will keep your lawn looking great and help prevent potential weed growth. Any debris that isn't removed can potentially break down and end up falling down between the blades of grass. The solution is to remove debris as soon as possible and brush the grass every year last least once in the springtime. The following artificial grass maintenance tools are great at removing debris from grass but each one has distinct advantages that you should be aware of. 
Artificial Grass Power Brush 
An artificial grass power brush or power broom is hands down the best tool you can use to keep artificial grass clean by refreshing. In addition to doing a thorough job of moving debris from the surface of the grass it also gets deep down between the grass fibres. This action is beneficial for your grass in two ways; it disrupts organic materials that have settled on the base of the turf and fluffs up the grass to give it a more real appearance and gives the grass added resistance to wear. Artificial grass that becomes matted doesn't look good and it also leaves it more susceptible to premature wear. 
The stiff bristles of an artificial grass power brush are most effective if you work the broom against the grain of the grass fibres with the brush spinning away from the operator. This process can be labour intensive and might not be ideal for all artificial grass owners. The latest in cordless electric tools has made it easier with some really great artificial grass maintenance tools that are lightweight, quiet and environmentally friendly. 
Garland 502E Electric Artificial Grass Power Brush

The ultimate in power brooms with depth settings and a collection bag.

If you click on this link and make a purchase, we may earn a commission. 
---
Handheld Blower or Backpack Blower
A blower is a tool that shouldn't be overlooked because it's excellent at removing large amounts of debris from a large area quickly and efficiently. A powerful artificial grass leaf blower that straps on like a backpack is easier to handle and has enough power to move debris from between most grass blades. The downside to a blower is that it can be a messy process if you are moving a lot of debris and it can be difficult to contain debris to a desired area. They can be a great tool to have around the home if you want to move small organics from large areas where a regular broom isn't practical. 
A shop vacuum should not be used to remove debris from grass unless you are spot cleaning the surface carefully. If you live in Kelowna or anywhere in Canada there's a good chance that you have artificial grass infill in your artificial grass. Infill has an important role and you want to preserve it as much as possible. A vacuum will suck up the infill if it's not done very carefully and it's the reason we don't recommend using a vacuum to keep your grass clean unless you are sure there isn't any infill. 
Artificial Grass Rake
An artificial grass rake is a great option for moving light debris from the surface of smaller artificial grass lawns and for spot cleaning. It is limited to how much debris it can remove especially if the turf is dense or has a tall blades. If you are a dog owner an artificial turf rake can be used to gather dog poop and collect hair before discarding or vacuuming. A rake for artificial grass with soft bristles is an affordable and handy device that can be useful for some owners.
Real Grass vs Artificial Grass Maintenance
When comparing the amount of maintenance required for artificial grass vs real grass or sod there are a few similarities and a lot of big differences. The biggest advantage to artificial grass is it costs a lot less to maintain vs real grass and also takes a lot less time to maintain. Artificial grass often only needs to be maintained once or twice a year compared to real grass that requires weekly maintenance. Learn what damages artificial grass so you can avoid costly repairs and maintenance down the road.
Real grass requires watering, cutting, trimming and raking weekly. If you are lucky you only need to fertilize real grass once a year in addition to adding a potentially toxic weed killer. If you consider the cost of thatching and aerating every spring you can spend a lot of money while on the contrary with artificial grass you can expect to spend a fraction of the time and cost maintaining it. An occasional rinse with water combined with a power brooming as part of your artificial grass winter care routine in the spring is often more than enough. 
Artificial Grass Maintenance for Dogs
If you have dogs or pets that frequent the lawn you may need to carry out your artificial grass maintenance routine periodically to suite your furry friends needs. Dog poop should be picked or scooped up as quickly as possible as you would on natural grass and you can rinse pee with a garden hose as needed. If your artificial lawn was installed properly with adequate drainage and an anti-microbial infill, the upkeep should be very simple as a pet owner. Learn more about cleaning artificial turf used by dogs including urine odour prevention. 

---
---
---
Artificial Grass Maintenance FAQs
Artificial grass maintenance FAQs and tips. We hope this helps you keep your lawn looking great every year or help get it back to looking good after winter or an unexpected accident. We've listed answers to some common questions about how to maintain artificial grass that will hopefully be informative while providing peace of mind knowing that it's not the end of the world if you spill red wine or get bubble gum on your lawn. 
It's not recommended unless you know that your artificial grass doesn't have any infill. You might inadvertently vacuum up the important sand that's there to protect the grass. If you are using a power vacuum you must be very careful to only spot clean the surface. The next time you think about using a Hoover on your artificial grass we recommend considering a power broom or blower. 
Yes. Roundup® Weed Killer and Ortho® Killex® Weed Control are water based products that can be used if you have weeds growing in your artificial grass. It should be a last resort and only be used for weeds that can't be removed by hand. If you are experiencing weed growth in your artificial grass we recommend reading through our maintenance steps above that should eliminate any weeds from growing in your lawn. Always test a small and hidden area of your lawn away from flowers, shrubs, vegetables and fruit crops for color fastness before using weed killers on your artificial grass. If you have children or pets read the warning label before using any weed killer product.
If you are putting anything heavy on your artificial grass we recommend using a coaster or something similar. This will distribute the weight over a larger area and prevent damage or permanent flattening of the grass. We recommend moving large items like flower pots or swing sets occasionally to prevent damaging one area over a long period of time. 

If you are considering parking a vehicle on artificial grass I would first consider the stability of the sub layer that's under the turf. Is it capable of holding the weight or will it eventually shift under the constant pressure. We don't recommend ever parking a vehicle on artificial grass because you may end up getting oil on it or causing damage. 
While cleaning stains isn't a part of most owners regular artificial grass maintenance routine it can happen over the course of owning your new lawn. If you treat your lawn as you would carpet you should be able to remove just about any stain, including wine and oil, if you treat it right away. A quality cleaner or mild soap detergent along with a sponge or cloth should do the trick for most stains if you get to them sooner than later. 

If you need to soak up a large amount of liquid you can use cat litter or something absorbent that can be swept off the grass after it's dried up. If your child happens to lose his chewing gum you can remove it by freezing it or using a stain remover and then removing it with a knife that won't damage the grass fibres.
If you absolutely must remove snow and ice from your lawn you need to do it carefully. We don't recommend using a shovel but you can use a commercial broom as long as you make sure you aren't damaging the grass blades or disrupting the infill layer. We recommend leaving the snow and ice to melt and drain through the grass naturally. The melted snow and ice will rinse your lawn every spring before your annul artificial grass maintenance cleaning.
---
---
---
---
---
---
Disclaimer
Please use all appropriate and proper safety precautions when attempting projects on this website. All projects are attempted at the reader's own risk. 

Duralawn® participates in the Amazon Services LLC Associates Program, as an Amazon Associate we may earn a commission from qualifying purchases.
Duralawn® artificial grass installations, products and service in Kelowna, Vernon, Penticton, etc since 2018.