Rainwater Collecting
Rainwater collecting and harvesting is an essential process in some parts of the world where it's relied upon for survival. In Canada we are fortunate to have water treatment systems in place to treat water that we use every day in our homes and yards. While we don't need to collect water to survive yet, it's a smart way to reduce water usage for your yard and garden. In addition to reducing the burden on your local treated water systems you will save money on your monthly water bill.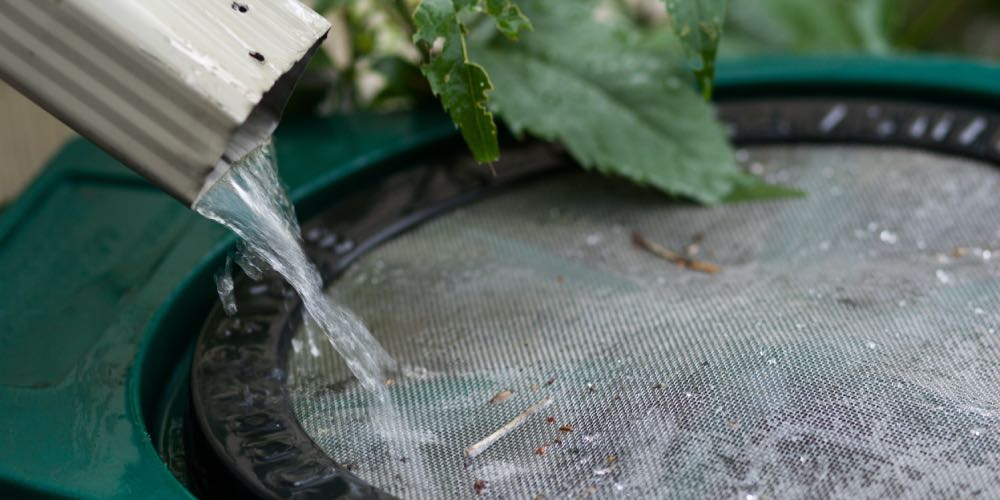 Plants like rainwater because for the most part it doesn't have any chemicals or minerals that treated ground water inevitably accumulates. The challenge becomes collecting rainwater when it rains to use during periods of no rain. It's staggering to think that an average 1,000 square foot roof has the potential to collect over 2,300 litres of water for every inch of rainfall. An inch of rainfall is enough to keep most yards and gardens watered for an entire season especially if you've incorporated xeriscaping plants in your yard.
---
---
---
---
How to Collect Rainwater
Rainwater collecting can range from using a common 18.9 litre bucket to diverting water into an underground cistern that holds up to 7,500 litres of water. In Canada the most common method of collecting rainwater is using a rain barrel that holds 190 litres or 50 gallons of rainwater. We'll explain how to set up a rain barrel for rainwater collecting from a downspout assuming that your home or storage shed already has gutters and downspouts installed. 
Kelowna, British Columbia receives 11 inches of rain per year and the potential to collect 7,000 litres of water compared to Vancouver, British Columbia that receives an average of 45.5 inches of rain and the potential to collect over 28,000 litres of water. This is based on an average 1,000 square foot rooftop. 
Rain Barrel
A typical rain barrel has a 190 litre or 50 gallon capacity and for most residential applications this is a great size to start with. If you find that your watering needs aren't being met you can add more barrels that will fill in succession from the same downspout by adding connecting lines. A great feature is a flat back rain barrel that sits closer and cleaner to the outside wall.  
Spigot
A quality brass or metal spigot is essential to successful rainwater collecting. Whether you are drawing water out of the barrel directly or using a gravity fed garden hose you will need a spigot that stands up to years of use. If you purchase a rain barrel that requires installing the spigot yourself, make sure that you thread it carefully to avoid stripping the threads in the rain barrel. 
Stand
A rain barrel stand is a handy accessory especially if you will be filling watering cans directly from the barrel spigot. The design of rain barrels leads to the spigot being as low to the base of the barrel as possible to allow for all the water to be drawn out. Look for a stand that is compatible with the rain barrel that will be sitting on top of it. A flat back rain barrel and flat back stand work great together. 
Screen
A rain barrel screen is imperative to safe rainwater collecting. Avoid the headache of debris and other contaminants ending up in the water. A quality screen will also prevent mosquito larvae from ending up in your water and turning the barrel into a breeding pool. A screen will also help ensure the safety of the barrel and keep it child and pet safe. Look for a metal or aluminum framed screen that can stand up to the wear or years of use. The screen should be cleaned as often as necessary to allow unobstructed water flow. 
Rain Barrel Placement
The rain barrel should be placed on sturdy ground as close to the downspout as possible. A full 190 Litre rain barrel will weigh in excess of 400 pounds and the last thing you want is the barrel to move around. If you have the space and the water requirements you can use multiple barrels in tandem. A downspout diverter for rain barrel can be very handy and give you more options for barrel placement.
Rainwater Collecting in Canada
Rainwater collecting in Canada is not only smart but recycling rainwater will reduce your burden on the local treated freshwater supply. In most municipalities in Canada fresh water is less available that we realize and it's a constant battle of supply versus demand. The Okanagan valley in British Columbia has one of the lowest available fresh water per person ratios in the entire country. 
While collecting rainwater in Canada might be a bit more challenging than in climates that don't experience freezing temperatures, it's really simple to winterize your rain barrel. A rain barrel should be emptied periodically to prevent algae and other sediment build up issues and for winterizing you want to make sure the barrel is emptied before the first frost or freeze. This will prevent any damage to the barrel, spigot or connectors during the frozen winter months. A tarp can be placed over the barrel to protect it from the harsh winter weather. 
We hope you enjoyed this article about rainwater collecting and how to set up a rain barrel. If you set up a rain barrel for rooftop rainwater harvesting you can count on years of free water and lower water bills. We recommend checking with your local provincial, state and municipal bylaws before harvesting water because there may be restrictions on the amount of water you can harvest and even illegal to collect rainwater.
---
---
---
---
---
---
Disclaimer
Please use all appropriate and proper safety precautions when attempting projects on this website. All projects are attempted at the reader's own risk. 

Duralawn® participates in the Amazon Services LLC Associates Program, as an Amazon Associate we may earn a commission from qualifying purchases.
Duralawn® artificial grass installations, products and service in Kelowna, Vernon, Penticton, etc since 2018.