Drip Irrigation
A drip irrigation system is the most efficient way to deliver water to container plants, vegetable gardens and landscaping beds. The technology has been used for years in the agriculture industry to deliver water to crops and it just makes sense to use it around your home or business. In addition to saving money you will lower your water consumption substantially and you can even automate your irrigation with the many controllers and timers available.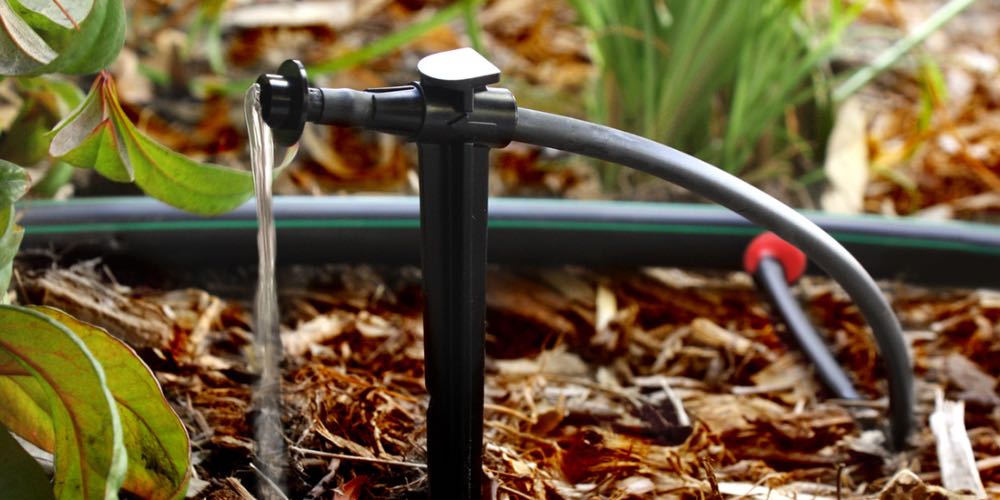 You may be redesigning your landscape because you want a new look or you want to reduce the maintenance required to keep it looking great year round. Low water xeriscaping plants and artificial grass combined with drip irrigation is an excellent option when thinking about the future. The latest drip irrigation products on the market today allow for precise placement and targeted spot watering. The days of watering the fence, sidewalk or driveway are long gone and you will be pleasantly surprised at how much lower you monthly water utility will be. 
We are going to take a look at exactly what drip irrigation is and why it's a great option to help the environment and how it can save you time and money. It can be confusing when you hear terms like; drippers, bubblers, emitters, micro sprayers and soaker tubing but we are going to explain everything you need to know about them, when they should be used and how to install drip irrigation.
What is Drip Irrigation?
Drip irrigation is a method of delivering water directly to the root zone of flowers, plants, trees and large crops. A drip irrigation system consists of PVC, tubes, valves and emitters strategically placed on the surface or under mulch for maximum watering efficiency. It's slow and precise and also know as spot irrigation or trickle irrigation. When it's combined with a smart water controller and soil moisture sensor it's the ultimate in low maintenance landscaping irrigation. 
It's common to find drip irrigation being used in residential applications across Canada as part of drought-resistant xeriscaping. As water conservation becomes increasingly imperative, smart initiatives like drip irrigation and low-water, climate appropriate plants will be great options for home and business owners in Kelowna, the Okanagan Valley and across North America. 
In addition to delivering water exactly where you need it, the flow rate of drip emitters can be adjusted anywhere from 2 litres per hour to 20 litres per minute.
---
---
Drip Irrigation Advantages
The drip irrigation advantages are numerous and go far beyond just conserving water. When you take a look at all the advantages of drip irrigation and automated water controllers it's hard to imagine a simpler method of irrigating. Let's take a look at the benefits of drip irrigation that you can enjoy in your own front or backyard.
Most efficient water delivery method that reduces water usage by up to 60%. 
Improves the health, growth and resilience of plants. 
Reduces or even eliminates weed growth. 
Very low maintenance especially when used with an automated irrigation controller.
Easy to install. 
Lower monthly water utility bills.
Environmentally friendly.
Ideal for xeriscaping landscapes. 
Reduces soil erosion.
Effective for irrigating ground that isn't level. 
Lessens the effects of soil nutrient leaching. 
Eliminates the need for electricity if pressure irrigation is used. 
Prevents mulch discolouration and mold caused by overwatering. 
Drip Irrigation Equipment
The term drip irrigation can be used to describe a range of watering techniques and while they are similar they do have some distinct differences. A true drip irrigation system will use much less water than an inground sprinkler system that uses pop-up spray heads. A soaker hose is more effective than a blanket spray watering design but not nearly as effective as spot watering using trickle drip head emitters. Let's take a look at the different types of drip irrigation equipment designed for spot and area watering. 
Drippers 
The best drip irrigation method is to use dripper head emitters that specifically target an area whether it's a potted plant, a row of vegetables or a tree in a landscaping bed. The direct slow drip spot watering greatly reduces water loss from evaporation and delivers it right where you need it. Give colour coded micro flow dripper heads a try that will deliver exactly the right amount of water per hour so there's no guessing or overwatering.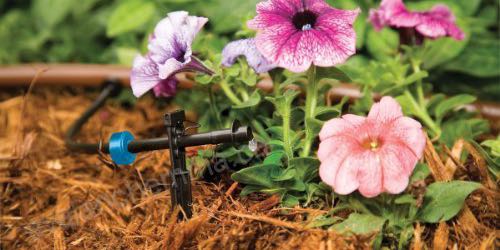 Micro Sprayers
While micro sprayers don't boast the same water conservation qualities as drippers they can still be part of a smart landscape design. They can be placed exactly where you want to receive spray watering close to the ground. The adjustable heads allow you to adjust the amount of water and distance of the spray or even turn them off. The customizability including adjustable height stakes and water flow rates ranging from 0 to 30 gallons per hour make them worth serious consideration for any modern yard.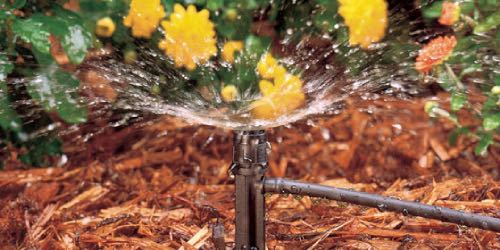 Micro Bubblers
A micro bubbler is a hybrid of the drip emitter and micro spray head nozzle. A bubbler emitter is ideal for small garden areas that need a larger distribution instead of precise drip heads. The bubblers cover half and full circle patterns depending on whether you need 180 or 360 degrees of targeted watering. The bubble heads have finger tip control which allows for custom flow control and even a full shut off.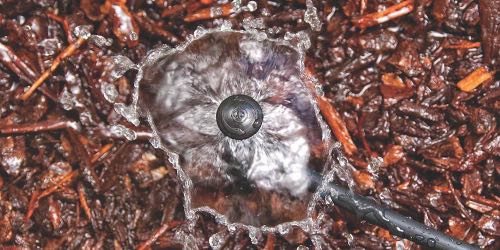 Soaker Tubes
Soaker tubes or porous soaker hoses are a great option for small areas like flower and vegetable gardens or used in combination with drip or spray emitters as part of a larger landscape. A soaker hose has irrigation holes pre-punched along the entire length of the hose. This means that you will need to purchase a soaker hose that will work with the area you want to irrigate. The only way you can adjust water delivery is to use a pressure reducer at the connection site or attach a water timer or controller.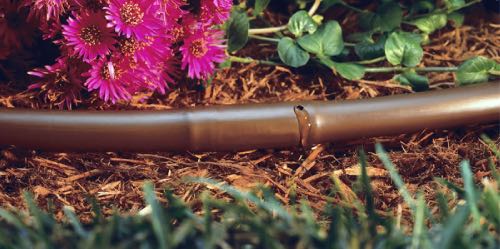 ---
Rachio 8 Zone Smart Irrigation Controller
---
If you click this link and make a purchase, we may earn a commission.
---
Drip Irrigation Installation
If you are considering upgrading to a more water-friendly and cost efficient drip irrigation system for your own yard or business we recommend hiring a professional to install the system. The drip irrigation installation process will include pre-planning and design to incorporate adequate water for all vegetation while keeping in mind other factors like water pressure, terrain and even mulch. If you are incorporating artificial grass in your low maintenance landscape it may be possible to convert your existing sprinklers because you won't need them for the lawn anymore!
Drip Irrigation Maintenance
Part of owning a drip irrigation system is the maintenance required to keep it running smoothly every year. A properly installed system that has a pressure regulator and filter should only require a yearly line blowout as part of a complete drip irrigation winter care. In Canada where temperatures fall below zero Celsius it's important to remove all water from the system. This will prevent cracks in the tubing caused by freezing water expanding.
---

---
---
Cost of Drip Irrigation
The drip irrigation cost is one of the many benefits attracting home owners in Canada looking to upgrade their landscape watering and reduce maintenance time. A basic drip irrigation kit can be purchased for under $200 and if you install it yourself that's all you'll ever need to spend. If you install the system on a larger scale you will end up spending more but it will likely pay for itself in as little as a few years with the savings recouped from lower water utility bills. 
Drip Irrigation FAQs
We've put together a list of them most commonly asked questions about drip irrigation. After reading this page you should have a good idea who should use spot irrigation and where it's ideal to use vs sprinkler watering. If you care about the environment and want to do something good for your community it's an easy decision to upgrade to drip irrigation. 
Where should a drip irrigation system be used?
A drip irrigation system can be used in just about any new or existing landscape from small patio flower containers to large-scale nurseries. It's ideal for difficult terrain like steep slopes, odd shaped landscapes and areas that receives a lot of wind. Drip irrigation can be used in a greenhouse, on a patio, in a garden or a residential front yard flower bed. 
What are the disadvantages of drip irrigation?
There are a few disadvantages of drip irrigation when comparing it to traditional sprinkler or blanket watering. The emitter heads need to be carefully placed to ensure each flower, bush, plant or tree receives enough water, making it critical to design the irrigation network properly. The fact that you can't physically see the water is a potential downside for some and emphasizes the need to ensure proper design and emitter placement. 
The drip irrigation tubing is susceptible to being damage by insects, rodents, animals and even domestic pets. The tubing can be installed under mulch ore placed in such a way that prevents damage but it can be problematic. A common mistake made by new drip irrigation users is not using a pressure regulator to limit the flow rate which is often too high on residential water sources. A filter should also be used otherwise you can end up with clogging. 
How do you make sure the dripper system is working?
The easiest way is to turn the system on and check for moisture in the area of each emitter. Another way to ensure adequate flow is to check the flow with a water pressure test gauge. 
What is the biggest advantages of drip irrigation vs sprinklers?
The biggest advantage of drip irrigation vs sprinklers is the drastic reduction is water usage. This means you will be dramatically reducing your water utility bills and helping conserve your precious local water sheds. The installation is a lot easier that inground pop-up sprinkler systems and doesn't require any special tools or knowledge to set up. 
Where do I learn how to install drip irrigation if I want to do it myself?
If you are the do-it-yourself type you can carry out your own drip irrigation diy with a kit that comes with everything you need including instructions. You can also purchase parts separately for a custom set up with unique features. The best systems on the market today are easy to install and often don't require any special tools. Find out more information about the drip irrigation installation process including how smart irrigation controllers and water timers can make watering a breeze. 
Can drip irrigation be buried underground or under mulch?
While drip irrigation shouldn't be buried underground it can be installed above grade, under a mulch for cover. Keep in mind that sharp edged rock shouldn't be used directly on top of the tubing because it could puncture. 
How often or long should I water for using a drip irrigation system?
The required run times for drip irrigation will vary depending on weather, location, plant and soil type. It may take a couple weeks to learn your system and adjust the output until it's dialled in just right. Rain Bird has a lot of great information for drip irrigation beginners including suggested watering times for drip irrigation systems. 
---
---
---
---
---
---
Disclaimer
Please use all appropriate and proper safety precautions when attempting projects on this website. All projects are attempted at the reader's own risk. 

Duralawn® participates in the Amazon Services LLC Associates Program, as an Amazon Associate we may earn a commission from qualifying purchases.
Duralawn® artificial grass installations, products and service in Kelowna, Vernon, Penticton, etc since 2018.