Plant Hardiness Zones in Canada
Plant Hardiness Zones in Canada
The plant hardiness zones in Canada are defined by a number of different variables including local micro topography and snow cover. They are important for determining if a plant; flower, shrub or tree will survive in a given geographic area based on the lowest temperatures in an area. Plant hardiness zones have been used by farmers and gardeners since the early 1960's with great success and today's maps include local weather data and frost free periods that provide an even more accurate assessment.
All plant hardiness zones in Canada aren't the same so it's important to do your research and understand your unique local topography. Many municipalities in Canada and specifically the western provinces have multiple hardiness zones within the same geographic area. This can often be due to elevation differences but can also be affected by high daily temperatures, sunlight hours, shelter, frost tendencies, snow cover and rainfall. The growing zones are very helpful especially when combined with frost dates for your local area.
Plant Hardiness Zones in Canada Explained
What are plant hardiness zones? Plant hardiness zones in Canada are defined by the average climatic conditions in an area. The plant survival data was created by scientists using modern climate mapping techniques that include elevation and other climatic factors. The data has become more reliable over the years and has resulted in the plant hardiness zone maps that we use today with great success. It's worth noting that the biggest changes to the hardiness zones in recent years are in western Canada.
There are 9 hardiness zones in Canada ranging from the coldest (1) to the mildest (9). The zones are further broken down into sub-zones that separates them into two more specific zones. After you determine your local plant hardiness zone you can choose xeriscaping plants that are likely to survive in those local conditions with proper care. The ideal set up is to use locally successful xeriscaping plants that have been bread to survive in your local climate over hundreds or thousands of years. 
AeroGarden Indoor Hydroponic Garden with Salad Bar Seed Kit

Always homegrown, fresh and safe food.

If you click on this link and make a purchase, we may earn a commission. 
---
Plant Hardiness Zones in Canada Map
The following Plant Hardiness Zones of Canada map is courtesy of Agriculture and Agri-Food Canada. The map provides an overview of the distinct climate variations found across the country. Click the image of the map or the link above to access the fully interactive map to find your local plant hardiness zone.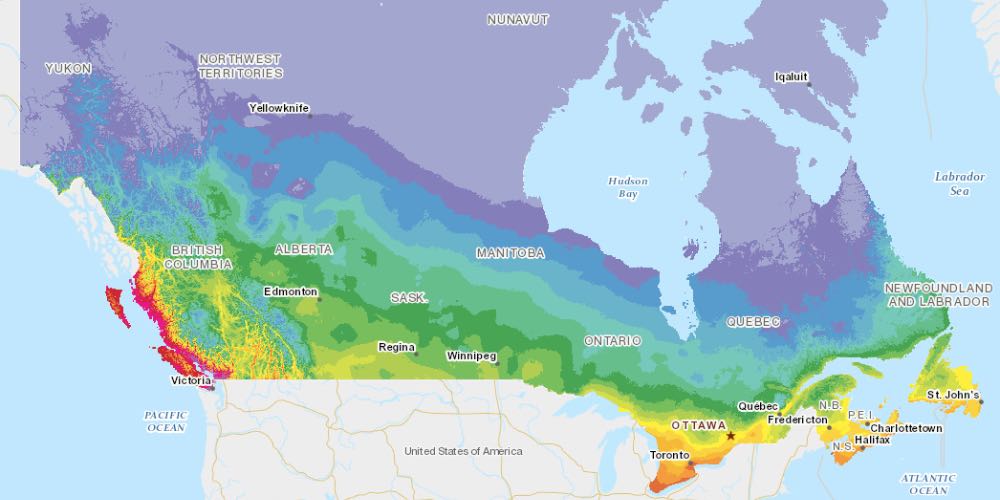 Plant Hardiness Zones of Canada courtesy of Agriculture and Agri-Food Canada
Plant Hardiness Zones in BC
Plant hardiness zones in Canada and especially British Columbia vary significantly. The variety of plants that will survive on the southern tip of Vancouver island near Victoria with the 9a plant hardiness zone rating is astounding and makes sense why it's home to such amazing gardens. On the other hand it can be challenging to keep plants alive in a location like Big White near Kelowna that has a much different climate and 4b plant hardiness zone rating.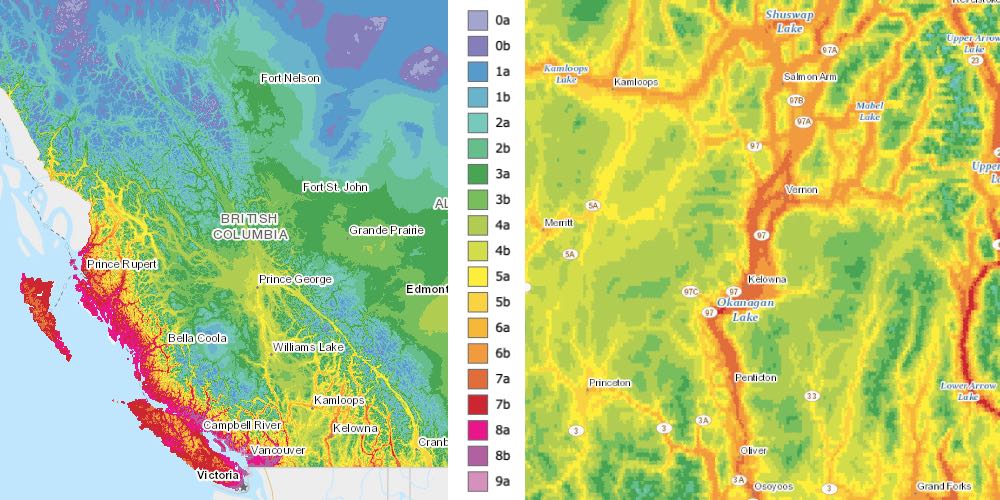 Plant Hardiness Zones of BC courtesy of Agriculture and Agri-Food Canada
Plant Hardiness Zone Temperature Ranges 
The plant hardiness zone temperatures in BC range from -3.9℃ in areas on the island and mainland near Vancouver to colder than -53.9℃ in some remote areas of northern British Columbia. 
< -53.9℃
-51.1℃ to -53.9℃
-48.3℃ to 51.1℃
-45.6℃ to -48.3℃
-42.8℃ to -45.6℃
-40℃ to -42.8℃
-37.2℃ to -40℃
-34.4℃ to -37.2℃
-31.7℃ to 34.4℃
-28.9 to -31.7℃
-26.1℃ to -28.9℃
-23.3℃ to -26.1℃
-20.6℃ to -23.3℃
-17.8℃ to -20.6℃
-15℃ to -17.8℃
-12.2℃ to -15℃
-9.4℃ to -12.2℃
-6.7℃ to -9.4℃
-3.9℃ to -6.9℃
---
---
Plant Hardiness Zones in Kelowna
The plant hardiness zones in Kelowna and surrounding areas are important not only for home gardens but the vast amount of agriculture and fruit growers in the Okanagan Valley. It's not surprising that Kelowna was home to one of Canada's largest tobacco plantations in the late 1800's and early 1900's because of the ideal growing conditions and frost-free growing days. In recent years it's become home to an abundance of fruit crops including grapes that help supply the numerous wineries. 
With these ideal growing conditions in mind there are limitations that Okanagan residents need to be aware of every year. The temperatures in Kelowna can reach a low of -23℃ in the winter, placing most of the city in a 6a plant hardiness zone. It's also worth noting that surrounding areas like Lake Country and West Kelowna are in a milder 7a zone. Let's take a look at the zones of other municipalities surrounding Kelowna in the valley. 
Armstrong
Coldstream
Enderby
Kelowna
Lake Country
Oliver
Osoyoos
Peachland
Penticton
Summerland
Vernon
West Kelowna
If you incorporate xeriscaping including native and climate appropriate plants into your landscaping plan you can be assured the plants will survive and thrive in your specific plant hardiness zone.
Survival Seed Vault 120 Varieties of Seeds, Herbs, Vegetables and Wildflowers

---

If you click on this link and make a purchase, we may earn a commission. 
---
Frost Dates 
The plants hardiness zones in Canada establish an extreme temperature low that an area receives in a given year. It's also important to know when to expect the first and last frost as well as the average length of frost free days. This data can be vitally important for fruit growers that need a certain amount of frost free days in a growing season. It's also important for the planting of seeds or seedlings, allowing enough time for the plant to mature and bear fruit or bloom.
Frost Dates in Kelowna 
The following frost dates for Kelowna and surrounding areas are based on averages from the past 30 years of data and should be used as a guideline only. Every year will experience different frost dates and temperature lows and we always recommend contacting your local nursery for more information about your local region. In addition to location, soil, sunlight and water there are other variables that also include proximity to Okanagan Lake. 

Last Frost
May 19
April 29
May 1
First Frost
September 20
October 4
October 5
Plant hardiness zones in Canada combined with local frost dates are extremely valuable when planning your landscape or growing a garden in your yard. Whether it's planning to pick fruit and vegetables before the final frost or blowing out the irrigation system keeping your frost date in mind is important. We hope you found this page explaining plant hardiness zones helpful and if you have any further questions or comments contact us and we'll reply as soon as we can. 
---
---
---
---
---
---
Disclaimer
Please use all appropriate and proper safety precautions when attempting projects on this website. All projects are attempted at the reader's own risk. 

Duralawn® participates in the Amazon Services LLC Associates Program, as an Amazon Associate we may earn a commission from qualifying purchases.
Duralawn® artificial grass installations, products and service in Kelowna, Vernon, Penticton, etc since 2018.