Artificial Grass Cost
Artificial grass cost and installation can be a deterrent for some home and business owners. With the national average in Canada for professional artificial grass installation ranging anywhere from $8,000 to $18,000 for a 1,000 square foot area, it is a substantial investment. While this might seem like a steep price to pay for an attractive, low-maintenance lawn it often pays for itself in as little as 8 to 10 years. This means that in the 20 or more years you own artificial grass you can expect 10 years or more of cost savings.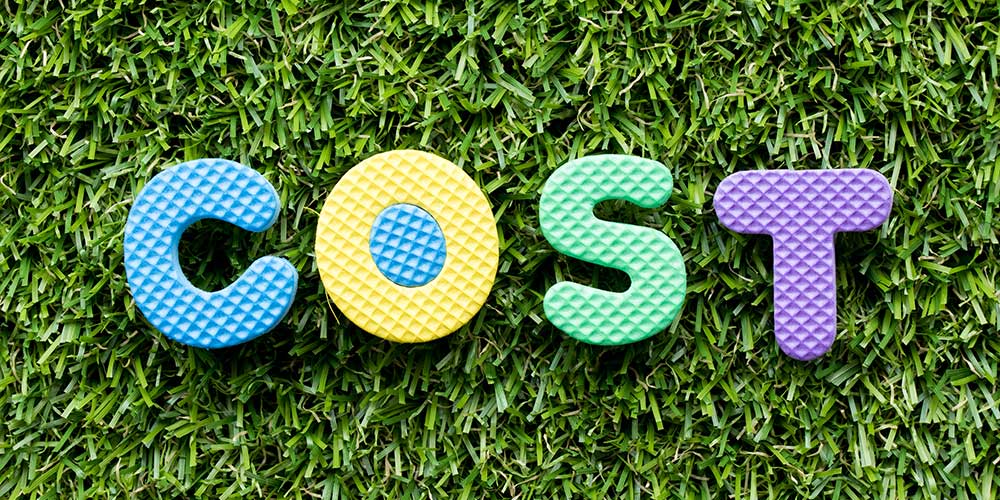 Artificial grass is very versatile and has been used for decades as an alternative to natural grass in professional sports, ornamental lawns and gardens, especially in Europe. In recent years it has gained popularity in North America and can be referred to as; synthetic grass, artificial lawn, fake grass and even the brand name Astroturf. The popularity of artificial grass is growing and is now commonly used for residential lawns, dog runs, play areas, pool surrounds, rooftops, decks and putting greens. Professional installers can even incorporate artificial grass into decorative concrete, pavers and brick to create elaborate, one-of-a-kind landscape designs.
The question for most residents of Canada considering upgrading to a synthetic lawn is the initial investment costs. Artificial grass cost totals can be misleading because the price of the turf itself is significantly lower than the cost of having the turf installed properly by a professional artificial grass installer. The complexity of most projects requires an expertise and specialized labour which ultimately make it more costly. It does come with the benefit of knowing the project will be completed properly, will look amazing for many years and often comes with a limited warranty.
We've put together a detailed cost comparison of installing artificial grass vs natural grass sod below to show you exactly how the savings can add up over time.
Artificial Grass Installation Cost
How much does artificial grass cost to install? When we break down the cost for installing artificial grass we need to look at 3 areas; materials, labour and fees. A professional installation by Duralawn® or another reputable company ensures that quality materials are being used, the grass looks as real as possible and the job is done properly with no corners cut during the entire process. It's often very easy to tell if a project was completed by a reputable installation service by looking at the final product. The table below shows the average cost to complete a 1,000 square foot artificial grass installation in Canada. 
---
Total Materials Cost
Total Labour Cost
Total Fees
Total Cost for 1,000 Square Feet
Average Cost for 1,000 Square Feet
$6,590 - $11,840
$2,000 - $6,000
$200 - $1,000
$8,790 - $18,840
$13,815
*Average total cost to install artificial grass in a 1,000 square foot area in Canada.
---

Materials
The materials required for installing artificial grass include the turf itself and other materials commonly used in landscape projects. The following items are used for a typical project and there may be additional items required like, foam underlay, floor tiles, flag set or a drainage membrane depending on the specifics of the job. 
Artificial gass
Crush chips
Bender board
Infill
Glue
Seaming cloth
Nails
Weed barrier
Misc
Artificial Grass
The average cost for a quality artificial grass in Canada ranges from $5 to $9 per square foot. There are numerous different styles to choose from that differ in colour, density, blade length, thatch, production material and overall construction quality. Synthetic turf is manufactured using polyethylene, polypropylene or nylon and subsequently vary in quality and price. 
Since artificial grass is produced and sold almost exclusively on 15 foot wide rolls and needs to be laid in the same grain direction, it's very difficult to complete a project without at least 10 to 15% waste. This means that the cost for the turf alone can be 10% higher than the actual calculated square footage. An area with a lot of curves and unique angles can cost substantially more than a rectangular or square lawn. 
Average cost for artificial grass to cover a 1,000 square foot area: $5,500 - $9,900.
---
Crusher Chips
Crusher chips are a mixture of 3/8" to 1/2" gravel and fines or sand and are ideal for creating a sub base for artificial grass. It's commonly used in the construction of driveways and pathways because of its ability to be compacted while still providing adequate drainage. It ranges in price from $25 to $40 per cubic yard of material. Every 100 square feet of area requires roughly one cubic yard of crusher chips to achieve a 2" to 3" thick base under the artificial grass.
Average cost for crusher chips to prepare a 1,000 square foot area: $250 - $400.
---
Gorilla Carts Heavy-Duty Cart with No-Flat Tires

---

If you click on this link and make a purchase, we may earn a commission. 
---
---
Bender Board
Bender board is a necessary artificial grass cost if you want to create a clean transition edge between the grass and areas with rocks or natural vegetation like gardens, bushes, plants or trees. It's not necessary where there is a hard edge like a concrete slab, brick pathway or pool coping. While you can get away without bender board, it just doesn't look as clean and you can end up with rock, mulch or dirt spilling onto the grass.
A quality landscape edging costs about $2.00 per foot if you include the stakes and screws or nails required to secure the edging. There are cheaper options of edging available that will reduce the material costs but won't look as good. Cheap or poorly installed bender board tends to slide and move over time, creating a gap between the grass and board. The average cost below assumes that half of a 1,000 square foot area with dimensions of 50' x 20' needs edging. 
Average cost for bender board edging to surround half of a 1,000 square foot area: $140.
Infill
Infill is often overlooked and even skipped by installers trying to reduce costs by cutting corners. The artificial grass infill is extremely important for ensuring the longevity of the turf and especially important if dogs will be using the lawn occasionally as a bathroom. While a basic silica sand is ok for ornamental lawns, a quality acrylic-coated antimicrobial infill is highly recommended for owners with dogs that urinate or defecate on the turf. Artificial grass can harbour germs and bacteria over time where dogs are present and not only produce strong odours, it can pose a health hazard. 
Infill varies substantially in price and comes in many different forms. A basic silica sand costs about $15 for a 50 pound bag, while an acrylic-coated sand can cost $40 for a 50 pound bag. The recommended infill amount is one pound per square foot but this can be higher for turf will a longer blade and thatch. 
Average cost to properly infill a 1,000 square foot area: $300 - $800.
Glue, Seaming Cloth, Nails and Weed Barrier
Artificial grass cost includes the materials necessary to secure the turf to the sub layer. This includes synthetic turf glue, seaming cloth, nails, perimeter spikes and weed barrier if necessary. The amount of each item is dependant on the specific job. A small area may not have any seems and an area frequented by dogs will require more fastening nails or screws to keep the turf secure.
Average cost for glue, cloth, nails and weed barrier for a 1,000 square foot area: $400 - $600.
---
Roberts Artificial Grass Turf Adhesive 1 Quart

---

If you click on this link and make a purchase, we may earn a commission. 
---
Miscellaneous
Miscellaneous artificial grass costs include a variety of products designed for specific types of installations. A putting green requires a cup and flag set and a playground may need foam underlay padding as required by a local building code. If you are installing on a deck, rooftop or patio you might require a locking sub-floor or a permeable membrane layer. The cost for these miscellaneous items is difficult to estimate but it may be necessary for your project. 
---
Artificial Grass
Crusher Chips
Bender Board
Infill - Sand or Antimicrobial
Glue, Seam Cloth, Nails
Miscellaneous
Total Materials Cost for 1,000 Square Feet

$5,500 - $9,900
$250 - $400
$140
$300 - $800
$400 - $600
$0
$6,590 - $11,840

*Average cost for materials to install 1,000 square feet of artificial grass in Canada.
---
---

Labour
The cost of labour for professional artificial grass installation in Canada largely depends on the specifics of the project. A small rectangular lawn on flat ground that requires no seams is going to require a minimal amount of labour. A large area with unique angles, elevation changes and multiple seams will require a substantial amount of labour. Every detail needs to be determined at the work site including; accessibility, existing material, location and other challenges. 
In some instances you may be quoted a labour cost that ranges from $2 to $6 per square foot and even higher. The expertise and difficulty of the project can range significantly especially if there are a lot of precision cuts that need to be made or bender board installed. A reputable artificial grass company can create some pretty amazing designs that incorporate water features, stamped concrete, pavers and brick. It's important to ask a lot of questions to determine the skill of the installer. 
You may also get quoted hourly for artificial grass installation labour. This can provide a clearer picture for the prospective customer since they can see the hours required to complete the project. No matter how it's charged you should be within the $2 to $6 per square foot range. The installation process, when done correctly, is labour intensive and most homeowners aren't aware of the amount of work required. A labour quote can include a team of 2 to 5 workers depending on the size of the project. 
Average cost for labour to install 1,000 square feet of artificial grass: $2,000 - $6,000.
---
---
---

Fees
The fees that companies are required to pay throughout the project make up a portion of the total artificial grass cost estimate. These operational fees include fuel for transportation of materials to and from the job site, disposal, delivery and rental fees. Fees are difficult to estimate because it depends on the location of the job, existing materials that need to be removed, local dumping or disposal rates and other factors. You may see specialty tool rental on your job estimate for items like a sod cutter, plate compactor and any other piece of equipment required to get the job done. 
Average amount for fees to install 1,000 square feet of artificial grass: $500 - $1,000.
---
---
---

Cost to Install Natural Grass Sod
The cost to install natural grass sod is quite a bit less than artificial grass. It's a tempting choice because it's a lot cheaper and after all, real is better than fake right? There are a few things to be aware of before making that decision including the endless costs required to keep real grass looking good year after year. If you are concerned about the environment you should consider that an average lawn in Canada requires over 200 litres of water for every square foot to keep it alive. That's 200,000 litres of water required every year for a 1,000 square foot natural grass lawn.
The following chart provides a breakdown of the cost to install a 1,000 square foot natural grass lawn in Canada and maintenance costs for the first year. It's a rough estimate but it will give you a really good idea of the initial costs to install the sod, as well as the yearly maintenance costs. Since the price of water seems to be rising every year it's likely the annual cost will be higher than estimated at the time of this article. 
Sod Installation @ $1.00 - $2.00 per square foot
Water @ $50 a month for 6 months
Fertilizer @ $0.25 per square foot
Weed Killer - pesticide, herbicide, fungicide
Lawn Maintenance @ $25 per week for 26 weeks
Total
$1,000 - $2,000
$300
$250
$200 - $300
$450 - $650
$2,200 - $3,500
*Average cost to install and maintain 1,000 square feet of natural grass the first year.
Cost to Maintain Natural Grass
If we take out the initial installation cost we come up with the following costs incurred every year for the average home owner with a 1,000 square foot natural grass lawn. Keep in mind we left out the cost of equipment, fuel and the time it takes to look after the lawn. It's estimated that the average home owner spends over 120 hours each year looking after their lawn in the form of watering, mowing, trimming, weeding, fertilizing and raking. 
The average annual cost to maintain 1,000 square feet of natural grass: $1,200 - $1,500.
---
---
---
Artificial Grass Cost Comparison
Artificial grass cost versus the cost to install natural grass is significantly different. If you are replacing a natural lawn that won't grow or has been destroyed by children or the family dog, you are likely tired of the never ending battle to keep natural looking good. The benefits of artificial grass are numerous and include the fact that it always looks good and requires little or no maintenance to keep it looking that way. Let's take a look at the cost comparison for a 1,000 square foot lawn in the first year and how many years it takes to pay for the investment.
Item
Initial Investment
Watering
Fertilizer
Weed Treatment
Maintenance
Total
Artificial Grass
$8,790 - $18,840
$0
$0
$0
$0 - $150
$8,940 - $18,990
Natural Grass
$1,000 - $2,000
$300
$250
$200 - $300
$450 - $650
$2,200 - $3,500
*First year artificial grass cost comparison vs natural grass for 1,000 square feet in Canada.
We'll start with the average cost for a professional artificial grass installation of $13,815 and for natural grass, $1,500. Then we'll add the average annual maintenance cost for artificial grass of $75 and $1,350 for natural grass. When we add these expenses up over the years it's easy to see how artificial grass eventually pays for itself with the savings from the reduced maintenance costs.  
Item
Initial Investment
1 Year
2 Years
3 Years
4 Years
5 Years
6 Years
7 Years
8 Years
9 Years
10 years
15 Years
20 Years
Artificial Grass
$13,815
$13,890
$13,965
$14,040
$14,115
$14,190
$14,265
$14,340
$14,415
$14,490
$14,565
$14,940
$15,315
Natural Grass
$1,500
$2,850
$4,200
$5,550
$6,900
$8,250
$9,600
$10,950
$12,300
$13,650
$15,000
$21,750
$28,500
*Estimated artificial grass cost analysis of a 1,000 square foot lawn vs natural grass.
The artificial grass cost and initial investment starts to pay for itself around the 10 year mark. It's likely there will be years where your artificial grass requires no maintenance at all which will shorten the amount of time until you pay for the initial investment. We also didn't account for the cost of equipment and fuel required to maintain natural grass which can be substantial when you purchase a lawn mover, trimmer, spreader and other lawn maintenance equipment. 
After 8 to 10 years you can count on enjoying your low maintenance, eco-friendly, drought resistant artificial grass lawn with no pesticides at virtually no cost. The money you save every year will be a bonus to the many years you'll get out of your new lawn.
---
---
---
---
---
---
Disclaimer
Please use all appropriate and proper safety precautions when attempting projects on this website. All projects are attempted at the reader's own risk. 

Duralawn® participates in the Amazon Services LLC Associates Program, as an Amazon Associate we may earn a commission from qualifying purchases.
Duralawn® artificial grass installations, products and service in Kelowna, Vernon, Penticton, etc since 2018.