Artificial Grass Edging
An attractive artificial grass edging is sometimes the finishing touch that sets a great looking yard apart from an average one. A properly installed edging system will add that final punctuation to your synthetic lawn area whether it's a large lawn or a putting green. In addition to providing the final touch when it comes to aesthetics, the trim will address the practical side of things by providing a barrier between the grass and adjacent aggregates. An often overlooked benefit is the prevention of weeds or other vegetation crossing into the grass underlay.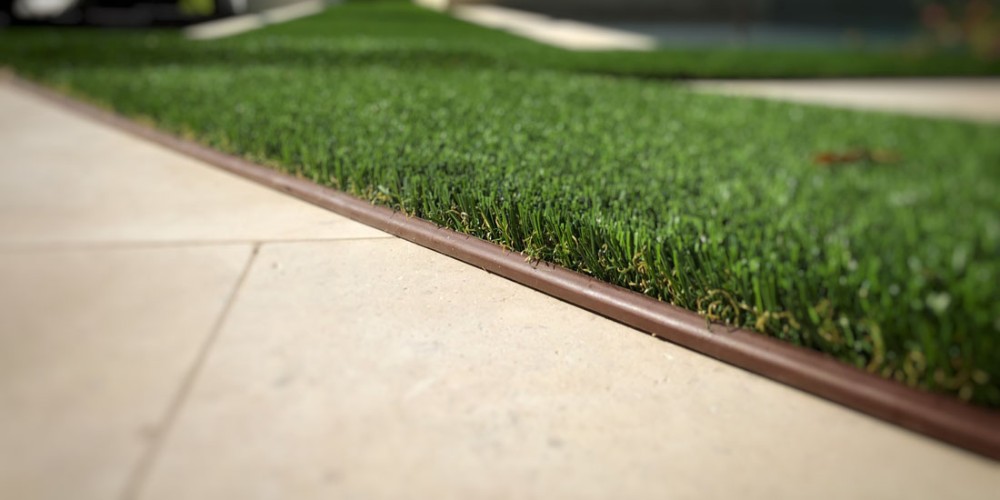 A border edge isn't required for every installation but in most cases it will provide a nice clean finish as well as providing some other practical benefits. High quality edging strips sometimes get overlooked whether it's to save a bit of money for a homeowner or an installer doesn't want to spend the extra time to do the job completely. We'll take a look at the reasons you'll want to consider artificial grass edging, they many different types available and how to install them for optimal results. 
Is Artificial Grass Edging Necessary?
Is artificial grass edging necessary? An edge trim isn't absolutely necessary but it's often worth the extra investment of time and money. If you're budgeting a new lawn area just for aesthetic purposes or to create a play area for children or pets, it really makes sense to use a finishing trim for the advantages it provides. Aside from the extra money and time to install, let's take a look at the benefits of artificial grass edging and be sure to keep reading for our edging installation tips.
Benefits of Artificial Grass Edging
Appearance. Easily the best thing about using structural border around synthetic grass is how good it looks. A border strip acts as a frame does around a print, it completes the job and with the variety of edging idea and colours to choose from, it really adds a finishing touch.
Prevent Spillage. It depends what type of aggregate or mulch you are using adjacent to the artificial but it's likely going to spill onto the grass over time. There's nothing worse than bark mulch, pebbles or dirt ending up on the grass because it not only looks messy, it can compromise the integrity of the grass by depositing organics in the grass base.
Edge Integrity. The edge is where synthetic grass is susceptible to being pulled up or dug up by an energetic dog. This is why when installing artificial grass for dogs or dogscaping it's important to secure the edge adequately. The other issue that can happen over time is the sub layer can erode or slide especially if on a slope, which looks bad and can cause premature wear and tear to the grass.
Weed Barrier. A border edging will prevent weeds from creeping through and growing into artificial grass, especially if it's used in combination with a weed control fabric. This is especially important if you live in an area susceptible to creeping weeds or the organic material is adjacent to the synthetic grass.
Raised Beds. There are certain edging options that will allow for small elevation changes. In some applications it may be necessary to allow for these small variations or you may want to get creative with a custom edging made of out of wood, concrete or even metal.
Artificial Grass Edging Ideas
The type of edging you choose should be based on your specific installation requirements. In some instances you may not need an edger because it already has existing edging on all sides. This is common in areas where the lawn is surrounded by a public street, driveway or concrete walkway. On the other hand if you need edging on all sides, you will need to assess and determine the best option based on the terrain. Finally, the decision can be narrowed down based on looks; based on matching an adjacent out building colour or house colour.
Composite
Wood
Steel
Concrete
Stone
1. Composite Edging
Composite edging for artificial grass is our favourite and is the most popular amongst professional landscapers. The composite plastic material is ultra durable while still being really easy to handle and install. It has the ability to be used in almost any application whether its to create a standalone edge or to bolster an existing edge against concrete pads or driveways. 
The added bonus with synthetic composite edging is that it looks really good for a long time. It won't fade, crack or wear and is available in almost any colour so you can coordinate with your existing landscaping scheme. 
In the landscaping world it's known as bend-a-board, bender board. The brand names Wonder Edge and Vertedge have synthetic composites in a variety of styles and colours for various applications.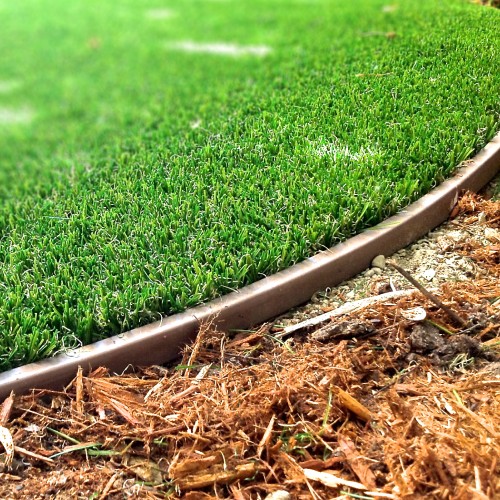 ---
Landscape Edging Coil with 5 Inch Stakes

---

If you click on this link and make a purchase, we may earn a commission. 
---
2. Wood Edging
The classic timber edging for artificial grass is always going to have its place because it's affordable, looks good and is relatively easy to install. If you're looking for a basic straight edger that'll act as a barrier between the sub layer gravel and adjacent aggregates without breaking the bank, this will suffice in some instances.
With wood trim edger you're going to have a ton of options, mostly in the varying sizes of woods that you can use. A basic 2 x 4 or tie will get the job done, but if you're looking for some retaining effect on a raised bed you can opt for a 2 x 8 or even a pressure treated sleeper. The price of lumber has been rising in recent years, making this option a bit unpredictable. If wood prices are high, you'd likely be better off using synthetic, that'll last a lot longer, won't warp, crack, rot or fade over time even when using the more expensive pressure treated wood.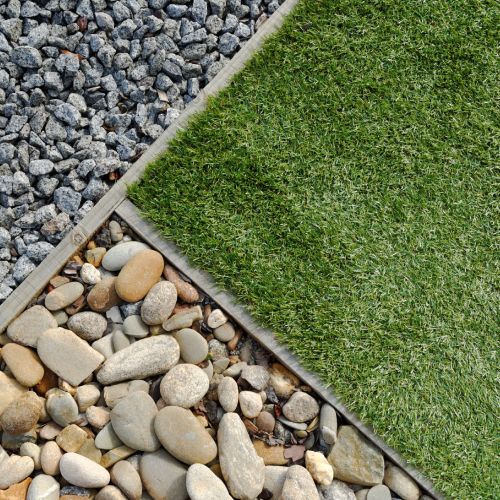 3. Concrete Edging
It goes without saying that concrete edging is one of the most sturdy and longest lasting ways to edge artificial grass. Whether it's an existing concrete edging along the side of a driveway, walkway or patio there really is nothing better as far as holding it's shape and providing a sturdy barrier. 
If you're looking at having a concrete edge placed just for the purpose of bordering your synthetic lawn area, it should be relatively easy to find an installer that will be familiar with installing a concrete artificial grass edging system. 
With concrete you will be getting a permanent border that will stand the test of time and with the many colour tints that you can choose with concrete you can't go wrong with this option that will require an upfront investment.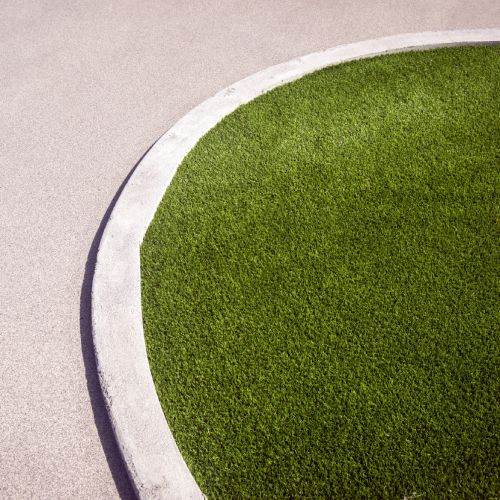 4. Steel Edging
Steel edging for artificial grass is the preferred system for some professionals. The main reason is due to its ease of installation and versatility. An aluminum trim will hold its shape and won't sag like some cheaper plastic edgers and since it's aluminum you won't have to worry about the metal oxidizing and rusting over time. Steel is an option but you will be limited to it's prefabbed shape and you won't be able to bend it or form custom curves.
The main advantage to metal edging is that it will last a very long time. In addition to being ultra durable you can count on it providing a sturdy edge that can handle foot traffic and just about anything as long as it's installed properly. 
The main downside steel or metal edging is the upfront cost that is comparable to the cost of synthetic composite plastics.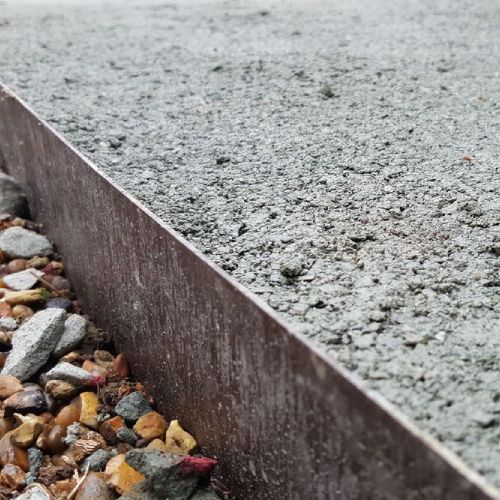 ---
Vevor 8 Inch Steel Landscape Edging

---

If you click on this link and make a purchase, we may earn a commission. 
---
5. Stone Edging
Artificial grass edging stones are a really great idea if you want to achieve a natural looking landscape. They work well in areas that have lots of plant vegetation, including rock mulch designed to accent the adjacent flower bed. 
The almost endless colours and styles available in stone and rock work make it a great option if you are looking for a certain colour combination either to match the adjacent decorative stone or other colour scheme. 
Stone or brick edging will likely be a bit more labour intensive to install. The sub layer under the stone or brick needs to be level and able to support the edge so it doesn't sag or slide over time. The other added challenge to consider is that it will take a steady hand to trim the grass edge to the stone trim making sure there aren't any gaps along the uneven border.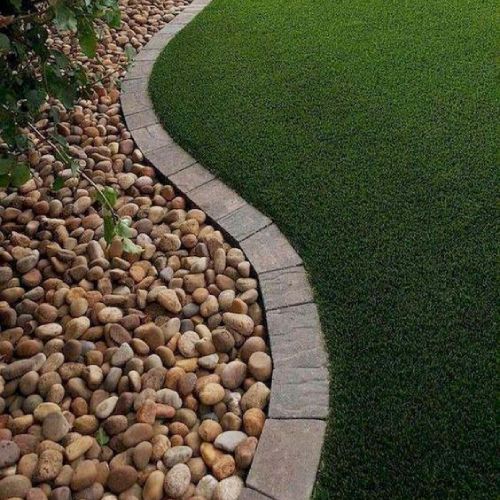 Artificial Grass Without Edging
If you decide to not use an edger of any kind you are definitely leaving yourself vulnerable to a number of potential problems. As we mentioned earlier, an edger is a great way to create a visual break in the landscape, between the green grass and whatever the top grade material is; decorate rock, bark mulch, etc. 
The practical downsides are where the real problems can arise. The rock or aggregate will tend to spill over onto the grass over time. This can happen with human, dog, wild animal traffic or from natural causes like wind or snow. The danger goes beyond the mess when the organic material seeps into the grass base and will potentially cause weeds and other growth like moss.
The money and time saved by not using a proper edging system will cause more headaches down the road making it not worth the risk.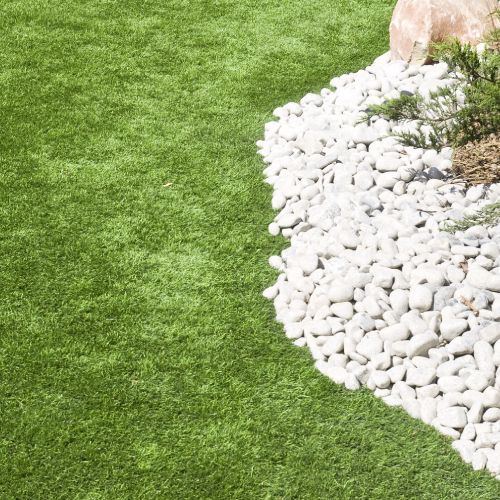 Best Artificial Grass Edging
The best artificial grass edging on the market today is undoubtably the synthetic plastics. The materials are so advanced that they will last at least 25 years in the harshest extremes of weather that can be experienced in Canada and North America. They will resist expansion and contraction that can sometimes happen with cheaper materials during the times of the year when temperatures drop to extreme lows and extreme highs. You can also count on the colour not fading even after years being exposed to the suns ultraviolet rays. 
Synthetic composites are designed to be rugged and that's exactly what you want in a landscaping edging trim. You need something that won't degrade, lose colour or lose form over time. Knowing that the edge is secure and in place means that the grass will stay in place, look great and last as long as possible.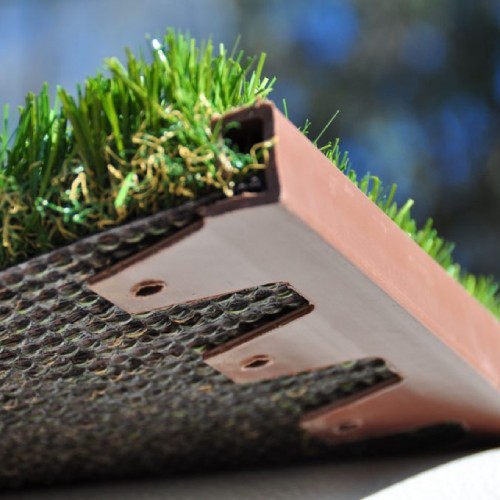 ---
Dreamscape Aluminum Edging with Nails

---

If you click on this link and make a purchase, we may earn a commission. 
---
How to Install Artificial Grass Edging
Equally as important as choosing the right landscape edging kit, installation needs the same careful attention. The benefits of a good edger will be realized and worth every minute if it's installed properly, and it doesn't need to be done a professional. Simply follow this step by step guide to installing artificial grass edging for best results. 
1. Place the Edging Border
The first step is to place the edging trim where you want it to sit in its final position. This will most commonly occur after you have removed all organic materials from the grass area and before you have replaced it with crusher chips or gravel. Whether you are using a flexible composite, rigid pressure treated timber or galvanized steel, you will need to secure the border in place using stakes or pins. The method will vary depending on the material but the goal is to secure the trim in place adequately so it doesn't move, sag, slide or pull up. 
The method of securing the trim should be discussed with your local hardware or landscaping supply store. There are stakes and pins available in wood, composite or metal and each has it's uses. An example is that if you are placing stakes into rocky soil, you will want to spend the extra money and use composite or metal stakes and pins. The stakes should be spaced at a rate that holds the trim in place and doesn't allow for any movement, with a higher rate of stakes needed for custom bends, arcs and along joints. 
2. Trim and Secure Artificial Grass
Once the trim is in place it's time to set, trim and secure the grass. The process of installing artificial grass is a complex one and should be researched before attempting or consulting an artificial grass installation professional. The importance of a properly secure trim will become evident when it's time to secure the grass along the edges. In some instances the nails will tack into the trim for added security which is often recommended when dogs will be using the grass area. The final result will be a secure and safe grass area that will last for many years even under the most extreme wear and weather conditions.  
---
---
---
---
---
---
Disclaimer
Please use all appropriate and proper safety precautions when attempting projects on this website. All projects are attempted at the reader's own risk. 

Duralawn® participates in the Amazon Services LLC Associates Program, as an Amazon Associate we may earn a commission from qualifying purchases.
Duralawn® artificial grass installations, products and service in Kelowna, Vernon, Penticton, etc since 2018.