Artificial Grass for Playgrounds
Artificial Grass for Playgrounds
Artificial grass for playgrounds has come a long way with improvements to durability, comfort and safety. The synthetic materials used to produce turf used for playgrounds, schools and daycares is ideal for high traffic areas that can be used all year long in any climate. Sports like soccer, baseball and football have been using artificial turf for years to provide a durable and high performing playing surface. That technology is now available to home owners with backyard play areas, daycare centers and school playgrounds.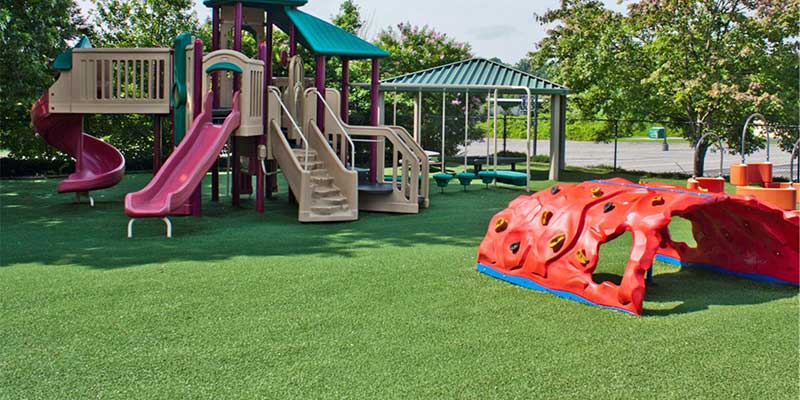 The benefits of using artificial grass for playgrounds has lead to a growing number of schools transforming their playgrounds from areas of dead grass, mud and gravel into colourful, comfortable and clean places for children to enjoy. The result is a safer place to play that can withstand heavy use while staying clean in any weather or season. In addition, many schools and daycares are investing in artificial turf because it will save them money in the long run versus using real grass. 
We are going to take a look at the reasons why installing artificial grass in playgrounds and play areas just makes sense. The increased safety, cost savings and very low maintenance are just a few of the reasons why home owners, daycare operators and school directors are choosing synthetic over regular grass.
5 Reasons to Install Artificial Grass for Playgrounds
We are going to go over the reasons why installing artificial grass for playgrounds is a smart decision when it comes to safety, cost and comfort. At the end of the article you should have a really good understanding of the benefits, cost and lifespan of synthetic turf. If you're new to artificial grass you may be surprised to learn that the benefits include that fact that it actually feels softer and looks better than regular grass, has an improved safety rating making it ideal for pets and children and lasts up to 30 years. 
1. Reduce Maintenance Cost and Time
The biggest benefit to installing artificial grass in playgrounds is the substantial reduction in maintenance. This reduction in maintenance can lead to substantial savings especially if you currently contract your landscaping costs to an external provider. Artificial grass has a substantial upfront cost that actually gets recouped in maintenance savings in as little as 5-10 years. No more watering, mowing, adding chemicals, or purchasing expensive equipment that requires regular fuel and maintenance. 
2. Improved Safety
The latest technology in artificial grass has made it extremely durable and able to handle high amounts of foot traffic. It won't break down or erode so you can count on it to last a long time. In addition to turf composition, combined with a quality foam underlay, artificial grass for playgrounds is incredibly safe. A cushiony soft underlay is the perfect solution for on top of concrete, asphalt or other areas that need to be brought up to the latest safety codes. Playground turf padding that meets government safety requirements will provide safety and valuable peace of mind. Learn more by visiting the Canada Safety Council - Playground Safety page. 
3. A Healthy Choice
It seems counter-intuitive to think that artificial grass is healthier than natural grass, but it really is. Artificial grass doesn't require toxic chemicals or fertilizers to stay green, control weeds or kill insects. It won't negatively affect children that have allergies to grass including allergic rhinitis or hay fever. Artificial grass doesn't harbour potentially harmful insects or rodents and won't produce any pollen that can be breathed in by unsuspecting children. 
4. Versatile
Artificial grass for playgrounds is incredibly versatile. It can be installed just about anywhere and enjoyed anytime of the year. It doesn't require a certain amount of sunlight hours or watering every morning before the sun rises. It won't get muddy, develop potentially hazardous potholes that can create a huge mess that parents, teachers or daycare workers have to deal with when the weather isn't ideal. You can transform almost any area including underneath trampolines or transform the area around your pool into a natural-looking, comfortable and functional area for children to enjoy.
5. Looks Great
It's human nature to be drawn to something that is attractive or beautiful and it even applies to children's play areas. A playground that is full of colour is much more likely to be used than an old worn-out structure sitting on mud or dirt. Artificial grass for playgrounds creates an attractive backdrop for a new playground structure. It looks vibrant and green year round with the added benefit of being soft to touch. It stays that way regardless of the temperature or weather and is an excellent idea for areas where natural grass won't grow. 
Best Artificial Grass for Playgrounds
The best artificial grass for playground applications including schools and daycares should be able to stand up to high amounts of foot traffic. The ideal turf will have a low blade height that will resist compacting. A higher density turf will resist wear and tear and stay looking great a lot longer than a low density turf. A high stitch count will also feel incredibly soft to walk on, even with bare feet while looking great all the time. 
Artificial Grass for Playgrounds FAQs
We've put together a list of frequently asked questions when it comes to artificial grass for school playgrounds. If you are considering an artificial grass product hopefully your questions or concerns were answered by reading this article or by reading through the following questions and answers. If we missed anything we'd like to hear from you so we can add it to our website to better educate others. 
Artificial grass is designed to be slip-resistant. When installed properly artificial grass has a very high drainage rate so you don't get any standing water or pooling. It dries out very quickly and retains its original dry state which is why it's so popular in professional sports.
Yes. In fact it's safer than regular grass when you install underlay foam with an approved safety rating. A foam underlay is required by law in most jurisdictions that helps ensure the safest possible environment for your children whether it's in the backyard, at school or daycare center.
The cost for artificial grass varies depending on a few variables. The average residential application ranges between $8.00-$15.00 per square foot while a playground, school or daycare will have a slightly higher cost if foam underlay is installed.
A quality artificial grass with a high density and low pile height should last 10-15 years or longer in most playground applications. The amount of traffic the turf receives and whether the turf receives regular maintenance will factor into the appearance and performance over its lifespan. 
---
---
---
---
---
---
Disclaimer
Please use all appropriate and proper safety precautions when attempting projects on this website. All projects are attempted at the reader's own risk. 

Duralawn® participates in the Amazon Services LLC Associates Program, as an Amazon Associate we may earn a commission from qualifying purchases.
Duralawn® artificial grass installations, products and service in Kelowna, Vernon, Penticton, etc since 2018.