Artificial Grass for Pools
Artificial Grass for Pools
Artificial grass for pools and surrounding areas that replaces the traditional harsh concrete is growing in popularity for many good reasons including comfort and low maintenance. The latest artificial grass products combine the luxurious look of freshly cut, healthy grass with a real-ness that's never been found in a synthetic grass until now. The backyard pool is a great place to escape the heat in the summer and whether it's the kids enjoying a swim after school, family visiting from out of town or neighbours dropping by.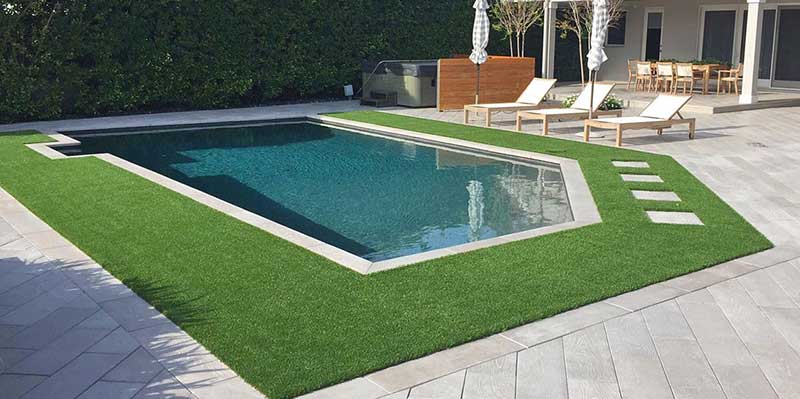 The use of artificial grass for pool surrounds and backyard landscaping in general has become increasingly popular in Canada, especially in areas that receive long stretches of extreme heat and drought-like conditions. Natural grass turns brown, dries out and struggles for survival unless copious amounts of water, fertilizers and chemicals are added to keep it barely alive. The artificial grass alternative is much easier and will save you money in the long run, and that's just one of the many benefits of artificial grass.
The Benefits of Artificial Grass for Pools
Artificial grass and pools go really well together. The allure of having natural-looking, lush green grass around the pool is completely attainable and it might surprise you that it's better than natural grass in almost every way. In addition to having the nicest pool area on the block you also get to experience the following advantages of having artificial grass around your pool whether you are installing artificial grass on concrete or creating a feature area under a pergola. 
Soft Comfort
After a relaxing swim you can count on artificial grass for pools to feel incredibly soft even on bare feet. The technology used to create the best synthetic grasses today delivers unsurpassed comfort and softness that far exceeds the feel of natural grass. Children and dogs love how it feels as evident when you see them playing and rolling around. Artificial grass makes lounging or soaking in the sun on a towel much more enjoyable especially if you or your dog has an allergy to natural grass. 
Increased Safety
Children and even adults run around the pool on occasion whether it's to execute the next perfect dive off the diving board or running to get a towel to dry off. We are often told to walk on the pool deck or when we are near the pool because a slip could mean falling and hurting ourselves on the concrete or even worse. While artificial grass isn't completely slip-resistant it is a lot less slippery than natural grass and mud. It also helps soften the blow in the event of a fall and reduces those nasty knee scrapes that we've all experienced at some point.
When artificial grass is installed correctly it has incredible drainage properties that can handle any amount of splash-out from a pool. The water will very quickly drain through the grass and dry out in the sun. The polyethylene materials used in todays synthetic grasses are designed for durability, UV resilience and can handle high foot traffic near and around even the busiest swimming pools. 
Stays Clean 
If you like to keep your backyard pool area clean and tidy you're going to appreciate what artificial grass for pools will bring to your mini oasis. Imagine a beautifully manicured lawn that stays that way all year long without all the headache and mess that comes along with maintaining it. The grass clippings that never seem to go away or the dirt and mud that can turn up can both easily get tracked into an adjacent pool by children, pets and even wind.
In addition to keeping your pool area and pool water free of dirt, debris, clippings and other organics found in natural grass you can also count on less bugs ending up in your pool. If you own a dog or multiple dogs you've likely used a dog paw cleaner and you'll appreciate how much less dirt they collect on their paws and subsequently track into the house. 
No Chemicals
A final benefit to using artificial grass for pools is it doesn't require any potential harmful chemicals to maintain. The downside to keeping natural grass looking green, healthy and weed free in the hot Okanagan heat is the usage of chemicals like pesticides and herbicides. They can be very dangerous with side effects ranging from mild illness to more severe health problems that put you, your children and pets at risk.
Pool water contains chemicals to keep it sanitary and safe to swim in like chlorine and chemical stabilizers. They can cause natural grass burning especially during draining and backwashing. Artificial grass isn't affected by pool water, it won't discolour or bleach even during heavy splash out. You can enjoy artificial grass on the deck for as long as you keep your pool open during the year!
Natural Grass vs Artificial Grass for Pool Areas
The benefits of artificial grass for pools make it an attractive option for surrounding your pool instead of a concrete or wood deck. You can even enhance your backyard with an adjacent area for children or pets to play and enjoy the outdoors when taking a break from the pool that will stay clean all season long. Let's take a look at how natural grass and artificial grass compare when used as outdoor carpet for pool decks. 
Artificial Grass
Low maintenance
Excellent drainage
No mud or puddles
Resists slipping
No grass clippings tracked into the pool
Looks great all season
Environmentally friendly
High up front cost
Tends to retain heat in direct sunlight
Natural Grass
High maintenance
Moderate drainage
Susceptible to mud or puddles
Slippery when wet
Grass clippings can end up in pool
Expensive to keep looking great all season
Requires a lot of water in hot months
Low up front cost
Moderates temperature 
A big difference when comparing artificial grass for pools with natural grass is the up front cost which can be substantial. It's estimated that it can take 2-3 years to recoup the initial cost of an artificial grass installation. When you take into consideration that you won't need to water, mow, aerate, fertilize, weed, or edge the lawn the cost and time savings make it more than worth while for most home owners. 

---
Artificial grass does retain more heat when it's exposed to direct sunlight compared to natural grass. It is easy to cool by giving it a quick spray with water from a garden hose or we recommend using a shade cover around your pool like a sail, umbrella or natural vegetation. 
Artificial Grass Pool Surrounds
An artificial grass pool surround is the ultimate in luxury that brings a new level of comfort to any inground pool area. Instead of surrounding a pool with harsh and abrasive concrete you can enjoy soft and eye catching artificial grass right next your pool. Imagine enjoying soft grass under your feet all season long without the mess, puddles, and harsh feeling of concrete on your feet. 
Using artificial grass around your pool instead of concrete or installing grass on top of concrete is now possible. Artificial grass can drain in excess of 50 litres of water per minute through the permeable backing making it the perfect solution. Instead of splashed out pool water creating puddles, draining into an adjacent garden or carrying dirty water back into your pool it drains right through the grass. 
You can say goodbye to puddles, scrapes, slick concrete and start enjoying the softness of artificial grass right next to your pool. There's something special about being able to go from walking on soft grass to slipping into inviting pool water. If you are considering installing artificial grass around your pool or on top of an existing concrete pool deck speak to your local artificial grass expert or contact us for more information. 
Best Artificial Grass for Pool Area Landscaping
When choosing the best artificial grass for pools whether it's for a pool surround or an adjacent area there are a few things to look for. You want to find the right balance that will ensure the grass will hold up to high traffic while being comfortable for those bare feet. The great news is that artificial grass is perfect for pool applications because of the high drainage rate, non-slip properties and even remain cooler to touch than regular concrete. 
Pile Height
The shorter the pile height the more resistant a synthetic turf will be to wear and usage. A pool area will hopefully have children playing and running on it and you want to make sure it lasts many years. A shorter pile height tends to have a more even blade distribution underfoot that will feel the best on bare feet. A pile height of 20-35mm is recommended for pool applications. 
Pile Density
Pile density is an important consideration when choosing the best artificial grass for pools whether it's a deck or near the pool. A general rule is the denser the grass the better it will feel to touch and the better it looks aesthetically from all angles. Artificial grass around pools will be walked on and viewed from an angle that is much different than a front yard that has a mostly decorative use. A density of 70oz or higher is recommended for pool applications. 
Artificial Grass for Pools FAQs
If you are considering artificial grass for pools you probably still have some questions especially if artificial grass is new to you. We hope you have found this article helpful but if we have missed anything please contact us and one of our artificial grass experts will be happy to answer your question or just to hear your comment or suggestion. 
A quality artificial grass will not be affected or discolour when it's exposed to pool water. It will stand up to chlorine and salt and drain it safely into the sub layer underneath. On the contrary, natural grass can be burned and make it very hard to regrow natural grass even again if it absorbs water that contains chlorine and salt.
Absolutely, artificial turf can handle a lot of weight. It's similar to carpet in how it reacts to objects being placed on it. A large flat surface will press the grass fibres down and will bounce back when the object is removed. A chair leg or table leg may leave a temporary mark but if it's going to be used long term we suggest using a mat or something similar to prevent damage to the grass.
Yes. An above ground pool filled with water weighs a lot but as long as the sub layer was prepared properly the artificial grass will not be damaged or have any problems holding the weight. The grass blades will flatten under the pool and should rebound quite nicely if the pool is ever drained or moved.
Yes. Artificial grass produced today features UV resistant materials and components that give it a high heat and fire rating. It won't discolour from the UV rays from the sun and it will hold its colour even when exposed to chlorine and salt.
Artificial grass is designed to be non-slip and with the high drainage properties it won't hold water which means it will dry out very fast in the sun. When compared to natural grass that can retain water it is a superior product from a safety perspective with regards to slips and falls around a pool.
---
---
---
---
---
---
Disclaimer
Please use all appropriate and proper safety precautions when attempting projects on this website. All projects are attempted at the reader's own risk. 

Duralawn® participates in the Amazon Services LLC Associates Program, as an Amazon Associate we may earn a commission from qualifying purchases.
Duralawn® artificial grass installations, products and service in Kelowna, Vernon, Penticton, etc since 2018.