Disadvantages of Artificial Grass
The Disadvantages of Artificial Grass
The disadvantages of artificial grass make the idea of switching to a synthetic lawn a deal breaker for some home and business owners. It's an unfortunate fact but everything has downsides, except when you're talking about pie and ice cream. As great as synthetic grass is there are a few things that you might find problematic enough to steer you away but we'll let you decide for yourself.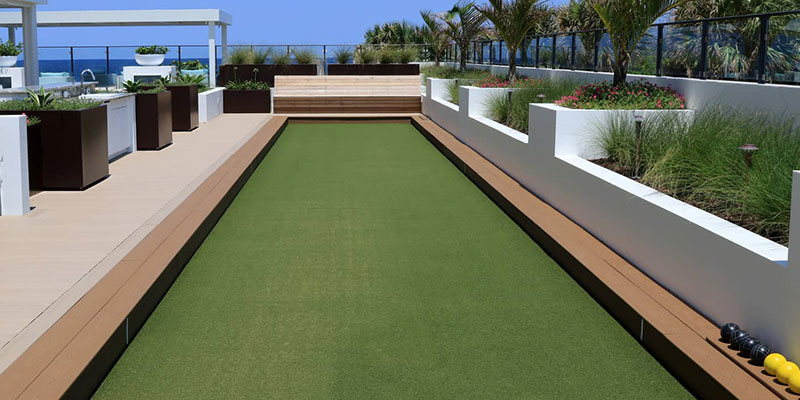 If you are reading this article because you are curious about artificial grass or cautious because you have heard something negative, you're in the right place. We are going to break down every reason you might want to think twice before installing an artificial grass lawn at your home or enhancing your business landscaping. Our goal is to educate you about the bad and the benefits of artificial grass so you aren't surprised by anything along the way.
5 Disadvantages of Artificial Grass
We are going to start by looking at 5 disadvantages of artificial grass. While some might find these a deterrent some may find them minor nuisances that can be lived with in light of all the benefits. In any event it's great to know the limitations and downsides of artificial grass going into it so you know what to expect. 
Cost
The upfront cost of artificial grass is hands down the biggest downside of upgrading to synthetic grass. It's not just the cost of the grass itself that ranges between $5 and $9 per square foot, it's the other costs associated with installing artificial grass. The removal of an existing natural lawn, site preparation and installation all require a substantial amount of labour, and cost. When you add the cost of materials like infill, glue, cloth and nails you can expect to pay at least $10 to $15 per square foot for a new artificial grass lawn. An average 500 square foot lawn will cost $5,000 to $7,500 to install. 
Fasmov Artificial Grass Rug Carpet for Outdoors

Artificial grass great for decks, pet areas, balconies.

If you click on this link and make a purchase, we may earn a commission. 
---
Not Natural
The fact that it just isn't natural is first on the list of disadvantages. A healthy natural green lawn is an emotional thing and even provides a sense of pride for some homeowners. In Canada, or somewhere like California, a lush growing lawn can even be looked at as a status symbol. It takes a lot of money, time and effort to keep a lawn green in the blazing hot and dry summer. The psychological effect of removing a natural lawn and replacing it with something artificial is a very hard concept for some home owners and if you actually like mowing your natural lawn you will find this even harder. 
Upkeep
While this might not warrant being on the list of disadvantages of artificial grass it's nice to know with all the misinformation out there. Artificial grass is not maintenance free and does require a bit of work to keep it looking good year after year. Regular artificial grass maintenance will also ensure that it lasts 20-25 years which means you'll be enjoying low maintenance for a long time. Just like changing the oil in your car, regular upkeep will protect your investment and prevent costly repairs or replacement in the future. 
You won't need to water, mow, rake, trim, thatch or fertilize your new artificial grass lawn but you will need to broom or blow leaves and other debris off of it to keep it clean. We also recommend hiring a professional artificial grass maintenance service for a once a year service that will bloom the grass blades and help extend the life of the grass. If you have children or pets we also suggest incorporating a cleaning routine that includes an enzyme cleaner that kills bacteria that can end up on your lawn from blood, sweat, urine and feces. 
Artificial Grass Power Brush Cleaner

Electric grass sweeper with bag collector.

If you click on this link and make a purchase, we may earn a commission. 
---
Retains Heat
Fake grass retains more heat than natural grass and that is a fact. Natural grass holds moisture and in turn stays cooler to the touch than synthetic grass. This is especially noticeable in the hot summer months when it receives direct sunlight throughout the day. It's one of the most frustrating disadvantages for anyone that has children and pets that find it too hot to walk on midday. 
There are some solutions that can be put into place if it's addressed early on before the installation process. You can choose a lighter coloured artificial grass that won't absorb as much heat. A white or light coloured silica sand infill will help repel solar heat energy from direct sunlight. We recommend using permanent or temporary shade structures like umbrellas, sails or pergolas that will largely keep the grass cool even on the hottest summer days. The easiest way to quickly cool artificial grass is to give it a light spray with water from a garden hose or sprinkler. 
Looks Fake
Our list of disadvantages of artificial grass wouldn't be complete without taking a look at the appearance of synthetic lawns. There is no question that some artificial grass looks fake and the blades resemble the needles of an 1980's fake Christmas tree. Luckily this trend has passed and the artificial grass products manufactured today actually look like real grass and some are so real you might not even know it's fake until you get up close. 
Artificial Grass Frequently Asked Questions
Now that we've gone over the disadvantages of artificial grass it's time to go over some commonly asked questions. We've put together a list of questions we get asked by prospective and current customers with answers that might surprise you. If you are new to the idea of synthetic grass or slightly resistant to the idea of removing something natural and replacing it with plastic you might find the following questions and answers informative. 
A high quality artificial grass will last 25 years or longer. It's typical for reputable manufacturers to offer 25 year warranties to back their product. 
A properly installed and prepared synthetic lawn won't experience any weeds. This includes using a compacted gravel crush sub base and weed barrier fabric. 
Yes. Artificial grass is 100% recyclable and programs are already in place. The highest quality grasses use plant-based materials to reduce the amount of petroleum based products used during the manufacturing process.
Synthetic grass is designed with safety in mind and is completely safe for everyone using it including children and pets. The quality standards of synthetic turf today make it effectively safer than natural grass. Children and pets won't be exposed to the potentially harmful pesticides, fertilizers and other toxic chemicals used in the maintenance of natural grass.
It won't fade in the sun even after several years of direct sunlight, at least to the point of being noticeable. The manufacturing process of quality products includes a treatment that provides UV stabilization with the sole purpose of preventing colour fading.
It requires a substantial initial investment. It's estimated that a home owner that upgrades to artificial grass will recoup the amount spent on installing artificial grass in as little as 5 to 10 years. Every year a home owner can expect to save money on water, lawn maintenance equipment and lawn maintenance costs.
Artificial grass may become slippery when it gets wet. A benefit is it won't stay wet for long after it stops raining, the sprinklers shut off or pool water is splashed onto it. You also won't get puddles that can eventually lead to muddy or wet areas that children seem to find and track into the house.
Sand is used as an infill for a few important reasons. It supports the grass fibres by keeping them standing up straighter and more resistant to premature wear. A sand infill also weighs a lot and keeps the grass flat and flush with the sub layer underneath helping prevent ripples. The proper amount of infill will not be visible if it's brushed into the thatch layer properly. 
Under the turf backing you will find a layer that includes a mixture of sand and rock that provides a sturdy base while allowing water to drain at a high rate.
You definitely won't have to water artificial grass. A quick spray with a garden hose is a great way to cool artificial grass and a great way to rinse urine through the turf in areas frequented by dogs or pets.
---
---
---
---
---
---
Disclaimer
Please use all appropriate and proper safety precautions when attempting projects on this website. All projects are attempted at the reader's own risk. 

Duralawn® participates in the Amazon Services LLC Associates Program, as an Amazon Associate we may earn a commission from qualifying purchases.
Duralawn® artificial grass installations, products and service in Kelowna, Vernon, Penticton, etc since 2018.