Artificial Grass Maintenance Service
Artificial Grass Maintenance Service
Duralawn is proud to be one of the only certified artificial grass maintenance service companies in Kelowna and the Okanagan Valley. We provide full service inspection and detail as often as required depending on the needs of your grass. Our fully comprehensive cleaning service includes pet odour elimination and prevention, blooming, infill cleaning, and organic debris removal including leaves, twigs and pet hair.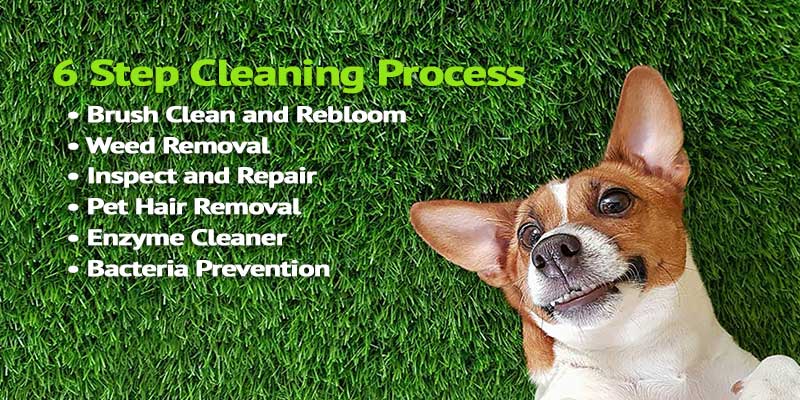 ---
---
Duralawn® Cleaning Service Packages
Duralawn offers 3 artificial grass maintenance service packages so you can choose the one that's best for you. The Bronze package is ideal for residential lawn owners that don't own pets and need a routine spring or fall clean. The Silver and Gold packages are specifically designed for artificial grass owners with dogs or pets that use the grass regularly and may have developed odours. 
Bronze
Brush Clean
Vacuum
Bloom
Weed Removal
Inspection
Repair*
Silver
Brush Clean
Vacuum
Bloom
Weed Removal
Inspection
Repair*
Pet Hair Removal
Enzyme Clean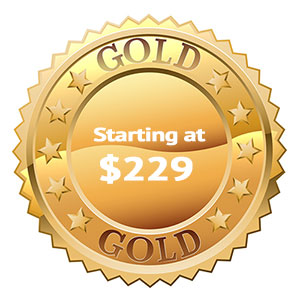 Gold
Brush Clean
Vacuum
Bloom
Weed Removal
Inspection
Repair*
Pet Hair Removal
Enzyme Clean
Bacteria Protection

---
Artificial Grass Maintenance Services
All of our maintenance services are carried out with best artificial grass maintenance tools designed specifically for artificial grass cleaning and maintenance. If you plan on doing your own artificial grass maintenance be sure to speak with one of our experts. If you have any questions about specific products or procedures we are always here to help and answer questions. Let's take a look at everything your local Duralawn cleaning expert will do to get your lawn looking as good as possible when they arrive at your home or business.
---
Brush Clean
Artificial grass that's covered in leaves, twigs or anything that blows onto it not only looks bad but it can also lead to weed growth and premature aging of the turf. If you have large trees in your yard or nearby you should keep leaves off the grass during periods of shedding or as needed. We recommend that handy home or business owners purchase a power broom or backpack blower to do intermittent cleaning between regular maintenance visits. If you want to leave it to us to look after on a regular basis, that's what we do best.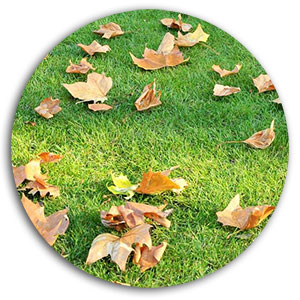 Bloom
Blooming is an important part of our comprehensive artificial grass maintenance service for a few reasons. Standing the blades up vertically gives grass a more natural look and it also make it more resilient to wear and tear. If your lawn experiences a large amount of human or pet foot traffic this step is even more important. The longer you can keep the grass clean and bloomed, the longer it will last and stay looking great. The best device to bloom artificial grass is an electric or gas power broom and a stiff push broom for small areas.
Weed Removal
Synthetic turf can develop weeds when the right conditions are present and sometimes they are impossible to prevent. They can grow when seeds are blown onto the turf and germinate in the infill, the main reason why keeping organics off the turf is so important. Weeds can also develop along the edges of the turf adjacent to a garden where organic soil is present near the ground surface. Our weed removal includes manually removing them by hand and doesn't involve any potentially harmful weed killing chemicals.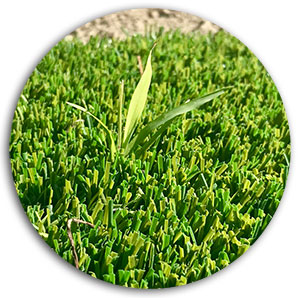 Inspect and Repair
Included in all of our artificial grass maintenance service packages is a complete turf inspection. This includes identifying any existing or potential problems that may arise from poor installation procedures. We'll take a look at drainage and settling as well as overall turf integrity including fasteners, seem joints and expansion issues. If minor repairs are needed we will fix them at no extra cost and when large repairs are required we will discuss them with you and provide a cost estimate for materials and labour. 
Pet Hair Removal
Dogs and pets love artificial grass. If you have a dog that sheds you will inevitably get a build up of hair on your lawn in the area that they spend the most time. In addition to artificial grass feeling great to roll and play on, it can collect hair that should be removed regularly. Pet hair that isn't removed can fall between the grass blades and collect on top of the infill. This layer of hair can harbour potentially harmful bacteria, reduce drainage and cause strong odours especially in the hot summer months.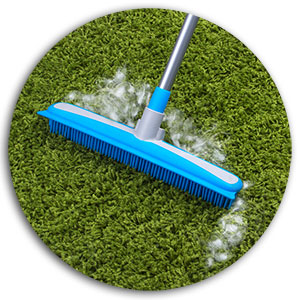 Enzyme Cleaner
If you own pets that use the artificial grass as a place to pee and poop, a bio-enzymatic cleaner that kills bacteria on contact is a must. Most artificial grass maintenance service companies don't include this important step that keeps synthetic lawn safe for pets, children and anyone using the grass. Organics like feces, urine and vomit can lead to the development of potentially harmful bacteria and odours if not treated at the source with an approved enzyme cleaner. We use BioTurf BioS+ Artificial Grass Enzyme Cleaner that's organic, non-toxic, eco-friendly and smells great. 
Bacteria Prevention
If odours are an issue with your lawn the infill may need a boost with an anti-microbial artificial grass infill designed to eliminate bacteria, mold and viruses. The bacteria and ammonia that produce the foul odours can be prevented in the first place by using an approved bacteria fighting infill like Envirofill by GreenTech. A high performance infill designed specifically for pets should be used with all artificial grass installations where pets will be using the grass as a bathroom.
*Additional charges may apply if the repairs are determined to be extensive. This includes additional materials, alterations to materials or significant time required to remedy the identified issue. Any alterations and added fees will be discussed with the home or business owner before carrying out the additional services.  
**Prices quoted are based on turf areas 500 square feet and under. Areas larger than 500 square feet are subject to an additional fee of $10 per 100 square feet.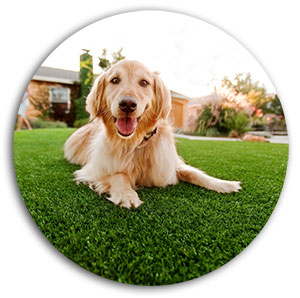 Artificial Grass Maintenance Service Cost
Artificial grass maintenance service cost is based on the amount of time it takes to carry out the cleaning tasks. The biggest factor is the size of the area to be cleaned based on the total area in square feet. The average residential home has a 500 square foot lawn but that varies significantly depending on the city and neighbourhood you live in. The cost of labour, equipment and cleaning supplies is calculated to come up with a fair price for maintenance service. 
Duralawn strives to provide the highest quality cleaning service in the Okanagan at the most affordable prices in the industry. The products and techniques we use are second to none and it shows in our record of customer satisfaction and amazing results. If you are a handy owner and you would like to look after your lawn yourself be sure to visit our artificial grass maintenance information page. 
If you live in any of the following areas and require a professional artificial grass cleaning service we can help; Kelowna, West Kelowna, Lake Country, Coldstream, Vernon, Summerland, Peachland, Penticton, Salmon Arm and Kamloops. 
Artificial Grass Maintenance Service Tips
Artificial grass does require some maintenance especially if you want it to look good for many years. The little bit of regular maintenance you carry out on your own or with the help of a certified artificial turf cleaning professional is worth every penny to preserve your investment. Just by reading the information on this page is a great start to understanding what is involved in maintaining and servicing your synthetic lawn. Even if you hire a professional for your artificial grass maintenance service it's a great idea to continue with in-between visits.
If you own pets that use the lawn regularly it's important to remove poop as soon as possible. 
Rinse urine through the turf regularly especially during long periods of no rainfall.
Try to avoid walking on the same area of the turf to prevent premature wear.
Keep the turf clean and free of organics as much as possible to keep infill clean.
Use an enzymatic cleaner to kill potentially harmful and odour-causing bacteria. 
Prevent flattening of grass blades by brushing or brooming as often as needed. 
If you have any questions we are here to help. The best thing you can do is to get educated on how to take care of your lawn and hire a certified artificial grass maintenance service specialist at least once a year to make sure you are protecting your investment.
---
---
---
---
---
---
Disclaimer
Please use all appropriate and proper safety precautions when attempting projects on this website. All projects are attempted at the reader's own risk. 

Duralawn® participates in the Amazon Services LLC Associates Program, as an Amazon Associate we may earn a commission from qualifying purchases.
Duralawn® artificial grass installations, products and service in Kelowna, Vernon, Penticton, etc since 2018.