Vibratory Plate Compactor
Vibratory Plate Compactor
A vibratory plate compactor is an essential piece of equipment for large artificial grass projects. Using the right tools for the job is important when it comes to synthetic turf landscape preparation and you especially don't want to skip compacting the sub layer of crushed gravel and sand. A properly packed base will prevent any shifting, dipping or potholes that may lead to costly headaches down the road.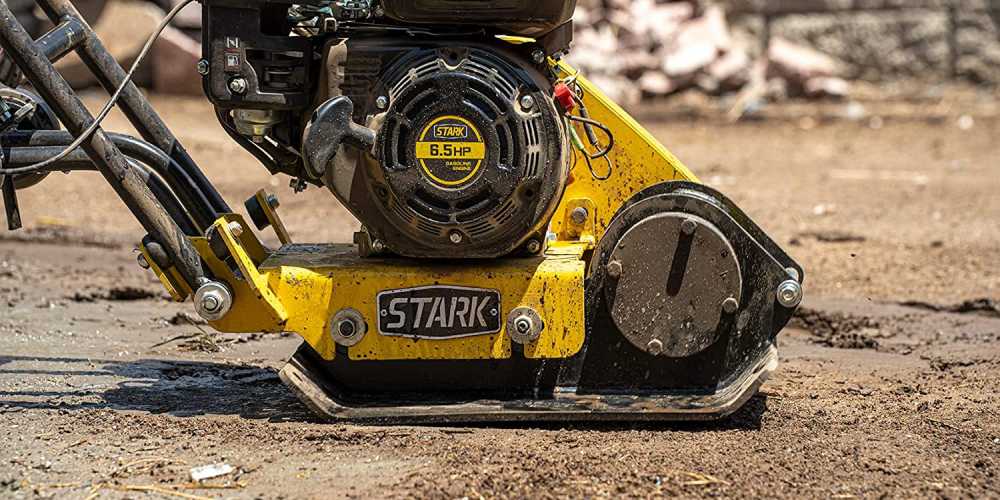 A manually operated plate tamper can be rented from almost any tool rental shop and you can purchase a machine if you plan on using it more frequently. They are invaluable for compacting gravel and sand as part of a professional artificial grass project and they can also be used for walkways, driveways and other precise construction work. With their simple design and operation they have one purpose and that is to compact aggregates to provide a solid foundation to work on.
What is a Vibratory Plate Compactor?
A vibratory plate compactor also known as a plate tamper is a power tool that uses a combination of weight and vibration to compact loose aggregate materials. The typical weight of a manual, walk-behind unit ranges from 125 - 200 pounds, are powered by gasoline and in recent years, battery power. The vibration plate width for a common single plate compactor ranges between 12 - 20 inches, each size having it's unique advantages and disadvantages.
Advantages and Disadvantages of a Vibratory Plate Compactor
The biggest advantage to using a plate compactor when installing artificial grass is the quality and uniformity you can achieve for the base layer. The gravel sub layer is the backbone or support for synthetic grass and if it isn't solid, even or level you can get an array of problems including shifting, settling or potholes. A plate tamper will help create a smooth surface with minimal imperfections so your final product looks great. You can also be sure that a well compacted crush layer will provide excellent grab strength for the artificial grass nails. 
The main disadvantage to using a vibratory plate compactor is their bulkiness and they can be awkward when trying to transport. Oftentimes you will need to use them in a backyard where the terrain can be difficult, especially when trying to carry a 200 pound machine. Look for a unit that has a wheeled base or use a wheelbarrow or cart to get the machine into a location where it's too difficult to drag or carry. 
Gorilla Carts Heavy-Duty Steel Cart with Removable Sides

---

If you click on this link and make a purchase, we may earn a commission. 
---
---
Best Vibratory Plate Compactors
When choosing the best vibratory plate compactor for your project there are a few things to consider. The two most important variances are the size of the vibration plate and the overall weight of the unit. A general rule is to use the biggest packer possible while keeping in mind the size of the area to be compacted and the access to the site. A packer with a large plate will pack faster and provide a more even finished product with the downside of being more difficult to maneuver and transport to the job site. 
Single Direction Vibratory Plate
A single direction vibratory plate is the most common type of packer on the market today. With a typical gas powered engine ranging from 3.0 to 7.0 HP you can get any small to medium sized job done in a few hours. All manually operated packers are designed to be self propelled, with the speed being controlled by decreasing or increasing the throttle. 
It's common to find water tanks on some units for weight adjustment so you can empty for transport and refilling once on the job site. Also look for models that come with attached rollers that'll make transportation in and out of some jobs a lot easier. 
Additional features to keep in mind when choosing the best vibratory plate compactor include shock absorption for added user comfort or battery powered options. (see below)
Electric Vibratory Plate
The electric vibratory plate is a new addition to the world of zero emission packers. You get the same packing power as with gas powered units without the added hassle of adding oil and gas and is a lot quieter to operate. The maintenance-free electric motor increases the service life and eliminates problems with dirt and debris accumulations in the engine. 
It's incredibly easy to operate with the push of a button even at low temperatures or altitudes. The battery is easily removed without tools and swapped out with a previously charged battery for continuous use. The rechargeable batteries can be used many times and on multiple different units if required. 
This eco-friendly option boasts no exhaust emissions meaning the operator is exposed either. This allows the unit to be operated quietly in almost any environment including confined spaces.
Reversible Vibratory Plate
A lightweight reversible vibratory plate is a powerful tool with a ton of versatility. They are ideal for base preparation in tight spaces where mobility and maneuverability are restricted. The compact design, low operating height make it easy to use and transport. 
Look for features like integrated wheel sets that can make it a lot easier than lifting from one jobs site to another. This will not only save your back but it's a lot safer to move compared to lifting or dragging through rough the often rough terrain found on job sites. 
The Wacker Neuson reversible plate is top of the line because of its heavy-duty, wear resistant materials that ultimately give it a very long service life with high resale value. 
Remote Controlled Vibratory Plate
The latest and best plate compactor for large projects is the remote controlled option from Wacker Neuson. This award winning product packs at a very high rate with it's 47 inch wide plate and precision controls. The hydraulic steering system allows the unit to make incredibly clean turns while on the move. 
It comes standard with a divided base plate that allows it be controlled a lot easier and precise than typical packers. This makes getting into hard to reach areas with twists and turns a lot easier. 
This unit weighs over 1,500 lbs and designed for large jobs typically in commercial landscape projects but it might be appealing for larger residential jobs with good access due to the convenience and speed of compaction.
Vibratory Plate Compactor Specifications
Using the right packer whether it's purchasing a unit for your day to day business operations or for a one time rental, is important. We're going to take a look at the major differences between units so you can make an informed decision the next time you choose a packer. A high quality packer should get almost any sized job completed and if you're investing in one, it should last many years with proper maintenance. 
Plate size
Weight
Power source
Horse power (gas)
12-20 inches wide & 14-24 inches long
140 to 210 pounds (single direction)
Gas & rechargeable battery
3.5 to 7.0HP
---
---
---
Vibrating Plate Compactor Alternatives
When it comes to installing artificial grass you may not always be able to use a plate compactor for the base prep. This could be due to limiting factors like accessibility or the job is a small one and it just doesn't make sense to haul a machine to the site. There are some alternatives to using a plate compactor that will get the job done but it will take a little elbow grease, patience and the knowledge to achieve the same result. 
Drum Roller
A landscape drum roller is a lighter, move convenient option for packing gravel or smoothing out an uneven artificial grass or putting green area. It's not as effective as a plate compactor but can be useful in some applications.
Hand Tamper
A hand tamper is a tool that every landscaper should own because it's versatile and easy to transport to any job site. They're available in different base sizes but and limited to small jobs or landscape edging because of their small footprint.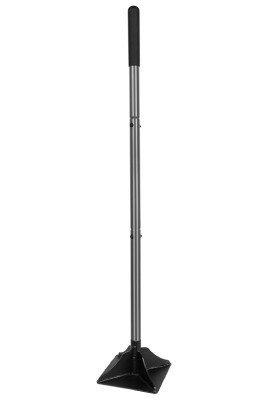 Rubber Mallet
A rubber mallet is another great touch up tool for artificial grass installers. It can be carried in a kit bag and used for minor levelling touch ups that are hard to reach and flattening down high spots caused by loose gravel.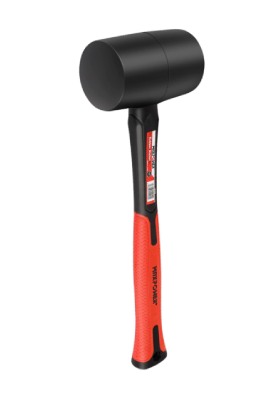 ---
---
---
Vibratory Hammer vs Vibratory Plate Compactor
There are a few differences between a vibratory jumping jack and vibratory plate compactor. The biggest is that a jack hammer is designed for maximum compaction depth and won't create a smooth finished surface. It's ideal for compacting after excavation beyond one foot depth whereas a plate compactor is better at surface compaction and creating a workable finished product. In most artificial grass applications you won't need to use a landscape tamping rammer as you aren't excavating beyond 6 inches depth.  
---
---
---
---
---
---
Disclaimer
Please use all appropriate and proper safety precautions when attempting projects on this website. All projects are attempted at the reader's own risk. 

Duralawn® participates in the Amazon Services LLC Associates Program, as an Amazon Associate we may earn a commission from qualifying purchases.
Duralawn® artificial grass installations, products and service in Kelowna, Vernon, Penticton, etc since 2018.