---
---
4 Best Artificial Grass Nails
Using the best artificial grass nails will ensure that the job will withstand the test of time including adventurous children, curious pets or extreme weather. The first step is to make sure the grass stays in one place without getting pulled up or overturned with use. Choosing the right fixing nails to secure the turf to the subfloor underneath is extremely important to a successful artificial grass installation.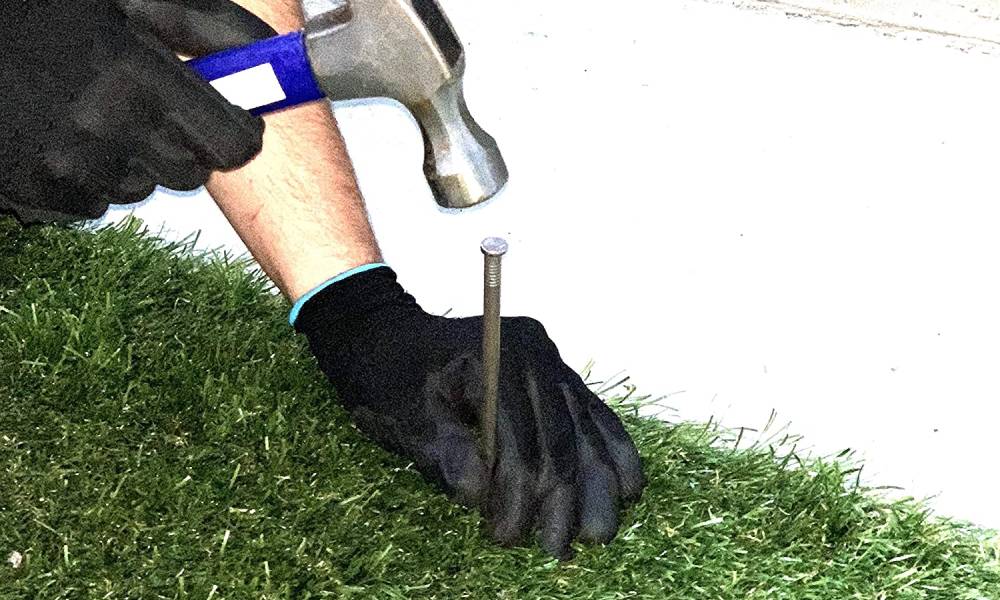 While it may be confusing to choose the right nail for the job, it's important to understand the difference between galvanized, spiral and even more importantly, the length of the nail. While using galvanized nails will ensure the nail lasts a long time with minimal rusting, it's often unnecessary to pay for a zinc coated nail. A non-galvanized nail is actually preferred for most artificial grass installations because as the nail rusts, the rust fuses with the surrounding substrate to create an even stronger bond. 
Best Artificial Grass Nails
Are you looking to install your own artificial grass at home? The following list will help guide you if you are purchasing landscape fastening nails for your own use or business. Whatever the scenario, this list of the best artificial grass nails is sure to help you make your decision a whole lot easier. You can be confident that once you are finished and you put the final nail into the turf, you've got a quality product that's going to do the job. 
1. One Stop Outdoor 6" Artificial Grass Nails  
Are you looking for an artificial grass nail that the professionals use? These ungalvanized landscaping nails are made in the United States and they are the highest quality nail we've ever used for our installations. Secure your synthetic turf properly with these 4 gauge, .238 shank diameter fastening spikes that will keep your turf down for years no matter what you throw at it. As the nail rusts over time, the rust secures the nail in place making it's grab very strong that only gets better over time. 
---
---
---
2. MAOMBA 6" Artificial Grass Stakes
The MAOMBA Artificial Grass Stakes come in a galvanized spiral pattern and are available at a reasonable price. They are durable and come in 6 inch lengths so you can count on them holding down and protecting your synthetic lawn for many years. They feature a sturdy, weather resistant zinc coating that will prevent rust, corrosion and cracking over time. The spiral design provides better friction and holding power that will help them resist loosening. This is a great choice if you need a securing nail that will last a long time.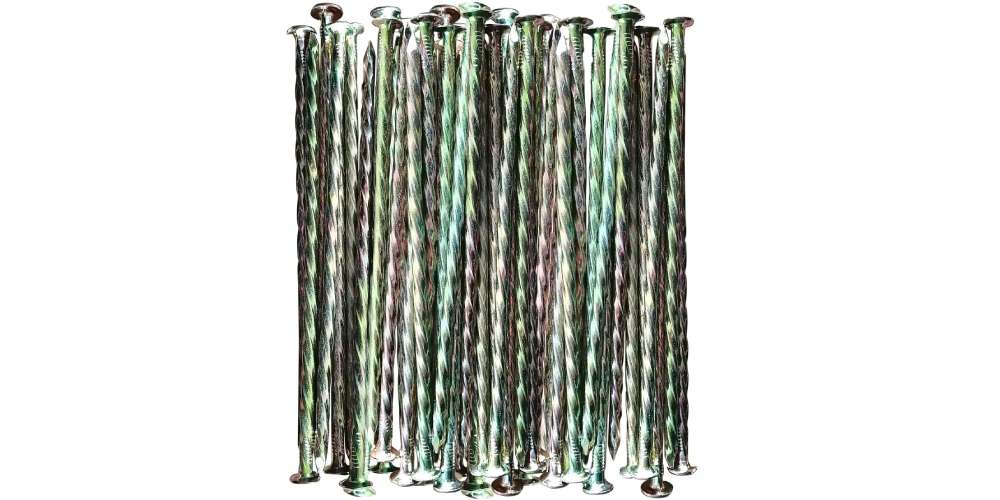 ---
---
---
3. Yishengsl 6.3" Spiral Landscape Edging Spikes
These solid metal landscape edging spikes take second place because of their strength and durability is unmatched. They have been hot-dip galvanized as part of their anti-rust treatment leaving them incredibly durable. The little bit of added length at 6.3 inches give them a slightly better grabbing power without being to difficult to pin. The firm metal structure allows these spikes to be driven into almost any ground, including packed road crush. Overall a great choice for a professional and long lasting hold. 
---
---
---
4. One Stop Outdoor 8" Plastic Artificial Grass Nails
The longest artificial grass nail you should need to use is an 8" plastic product made in the USA. This professional grade nail is designed to be installed with a rubber mallet or by hand depending on the soil density. It's a multi purpose spike that's ideal for landscape edging, fastening weed barrier fabric and some artificial grass applications where the substrate isn't too hard. The spiral construction allows for a friction fasten and hold and will not rust or deteriorate over time like other metal nails.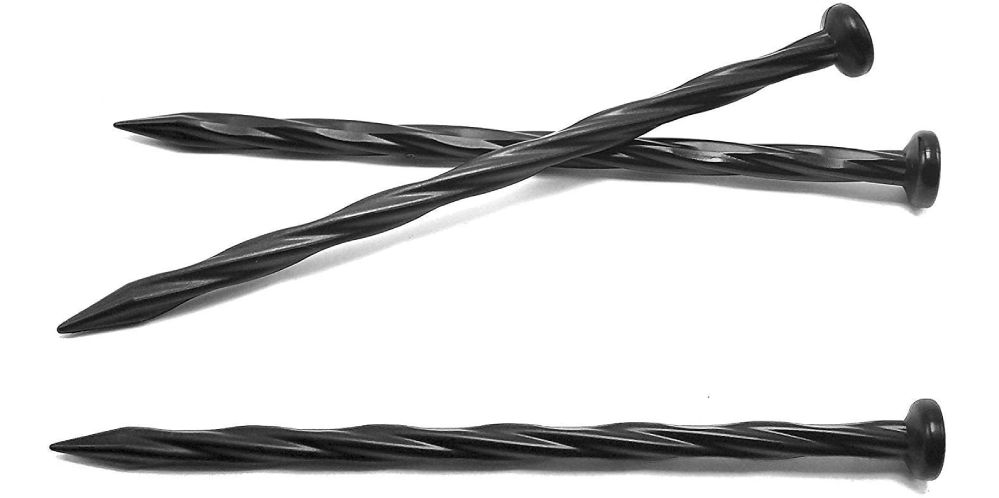 ---
---
---
When installing an artificial grass putting green you should never use a nail longer than 3 inches in length because the head of the nail won't hide in the short putting green surface. 
---
---
How do you Nail Artificial Grass?
The sole purpose of artificial grass nails is to hold the turf in place, while resisting sliding and lifting. They are usually only tacked around the perimeter and occasionally along seems as an extra measure to keep the grass down in addition to artificial grass glue. In installs where seams are in excess of 20 feet, the combination of glue and nails adds a little extra security to prevent the grass from shifting. 
The actual placing of the nail is similar to hammering a nail into wood, except you need to be more careful so you don't catch the grass blade under the nail head, or create a dent in the ground, which may be noticeable. In order to prevent pinching the grass under the nail head, ensure that you spread the grass blades as you get to the last couple swings of the hammer. Gently tap the nail so that the head of the nail sits snuggly against the backing of the artificial grass, and not further. 
The spacing between spikes is dependant on the traffic, type of grass and other factors. A spacing range of 4 to 10" is ideal and roughly 1 inch in from the edge of the synthetic turf. Along seams it's good practice to offset the nails so they aren't lined exactly opposite each other. The key is to be patient when nailing artificial grass and it's a skill that gets easier over time. If you are installing artificial grass for a dog be certain that the spikes are fully set so they aren't easily pulled out by a curious puppy. 
When securing turf using nails or spikes, be sure to practice safety to avoid costly or harmful mistakes. Be aware of what is under the turf including, hitting an electrical cable or puncturing an irrigation line can be costly or cause serious injury. 
What Type of Nails Do I Use for Artificial Grass?
The type of nail you use for installing artificial grass will depend on the unique project you are working on. Most jobs should be completed using a 5.5" or 6" non-galvanized nail unless you need more fastening power, where you can use up to an 8" spike. In rare circumstances you may need to use a screw for fastening to edging board or a material not conducive to using a nail. Landscape pins shouldn't be used to fasten artificial grass because they simply don't have the fastening strength of a nail or spike. 
A galvanized nail has been treated with a molten zinc coating with the purpose of protecting the underlying material from corrosion, rusting and structural damage. 
---
Other Uses for Artificial Grass Nails
Not only are artificial grass spikes good for installing synthetic lawns and putting greens, they have many other uses including but not limited to:
Tent Stakes. Have you ever lost your tent stakes or just given up on trying to get those plastic stakes in and out of the ground? Spikes make for great replacement tent pegs. 
Weed Barrier Fabric. If the wind is making it difficult to place your weed barrier or you simply don't want it to bunch up, landscape spikes can be use to keep weed fabric in place. 
Timber Spikes. The metal spikes in particular can be used to fasten heavy pieces of timber wherever you might need them as an edging for synthetic turf. 
Paver Edging. Artificial grass nails can be utilized for holding paver restraints in place, securing them from moving as ground settles over time.
---
---
---
---
---
---
Disclaimer
Please use all appropriate and proper safety precautions when attempting projects on this website. All projects are attempted at the reader's own risk. 

Duralawn® participates in the Amazon Services LLC Associates Program, as an Amazon Associate we may earn a commission from qualifying purchases.
Duralawn® artificial grass installations, products and service in Kelowna, Vernon, Penticton, etc since 2018.