Wood Deck Tiles
Wood deck tiles can easily transform a dull patio or deck into a vibrant, modern and attractive place to entertain or relax. With the many options available in interlocking composite, faux and real wood tiles you can create the space of your dreams for a lot less than you might think. The best wood deck tiles on the market today can be installed by anyone in a couple hours and not to mention they are super easy to clean and maintain.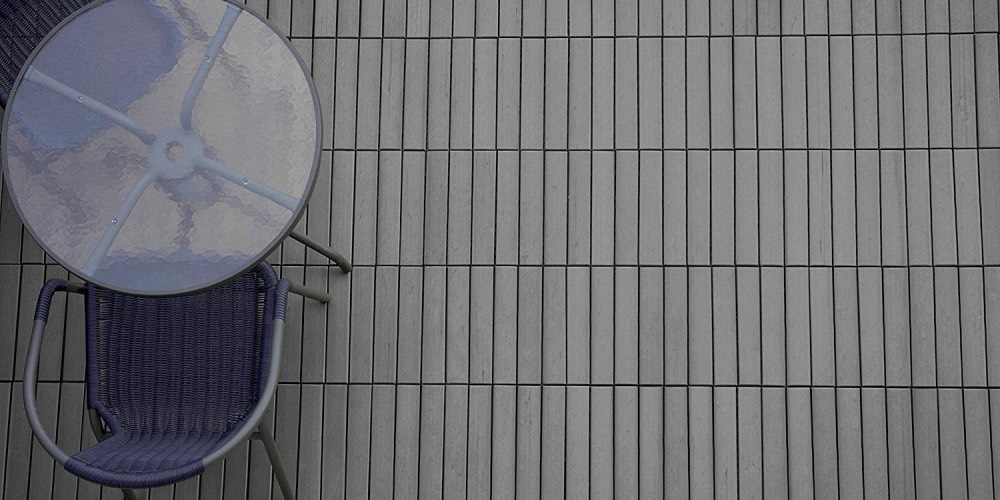 Whether you are transforming your backyard lounging area, condo balcony or installing poolside deck tiles over abrasive concrete we are confident there's a design and colour that's right for your project. If you are concerned about the harsh weather conditions and if the deck tiles will stand up to the temperature extremeness in Canada, many of the best wood deck tiles brands have great warranties so you can buy with complete confidence. 
---
---
---
Benefits of Wood Deck Tiles
The best wood deck tiles will take an old and worn out concrete patio, wood deck and make it look brand new in almost no time. The latest interlocking artificial grass deck tiles combined with wood tiles can be laid out in almost any pattern for a unique and clean look that's also practical. In addition to being incredibly easy to install you can count on the following benefits when choosing a deck tile to transform your indoor or outdoor living space. 
Easy to install. Installing wood deck tiles is so easy you'll have a hard time going back to any other type of deck covering. Each piece snaps together and can be custom cut to fit to just about any space regardless of size or features. 
Incredibly versatile. Tiles are available in real wood, faux wood, engineered polymer and other composite materials which translates to finding the right product for your unique deck. In addition to multiple colour options you can get creative in how you lay the interlocking tiles out for a look that's just right. 
Durable. Quality wood deck tiles are resistant to mold, mildew and rot making them ideal for a low maintenance, no hassle flooring option that's even great for dog areas. 
Low maintenance. No painting, staining or sanding required - maintain a great looking deck surface year after year without the headache of regular wood decking and harsh concrete. 
Canada approved. The extreme weather and temperatures in Canada can wreak havoc on regular painted wood decks. Wood deck tiles made of composite materials like engineered polymer will survive even the harshest weather including rain, snow and intense UV rays from the sun.  
---
---
---
Wood Deck Tile Installation
Let's take a look at how to install wood deck tiles on concrete, grass or wood. One of the biggest advantages to using tiles is the ease of installation and variety of spaces they can be applied. The interlocking, snap-together tiles are lightweight and can easily be cut to any size. The main issue or concern when installing wood deck tiles is ensuring there is adequate drainage for water to pass through and wash away unobstructed. 
---
---
Installing Wood Deck Tiles Over a Concrete Patio
Installing wood deck tiles over concrete patios might be the easiest upgrade you can make to your outdoor living space, and you may even have some fun doing it. The tiles can be placed directly onto the clean, debris-free concrete surface assuming that the existing drainage is adequate and the concrete isn't compromised. A quick way to test drainage is to pour water on the surface and make sure it flows away from the house or towards a drain.
Any crack in the concrete that is wider than 1 inch should be filled with a concrete filler compound but the beauty of wood deck tiles is they hide minor imperfections in the concrete surface. You should start in the most visible corner space and work outwards in each direction. The tiles can be cut handsaw or jigsaw to create a smooth and attractive edge and a transition edge can beautify the final product. 
Bare Decor Solid Teak Interlocking Floor Tiles

---

If you click on this link and make a purchase, we may earn a commission. 
---
Wood Deck Tiles over Grass
Can you put wood deck tiles on grass? Yes, you can place the interlocking tiles on any surface that will support the weight but there are a few things to keep in mind. Drainage is extremely important and placing tiles directly on grass may impede proper drainage especially during times of heavy rain. The tiles may flex, dislodge and lose form if the sub layer isn't strong and able to hold its form. We don't recommend installing interlocking deck tiles directly on top of grass unless the base is very compact and will hold its form over time. 
The best solution is to remove the grass and a few inches of organics and replace with gravel or road crush. After packing the gravel you can count on a sturdy base that won't lose its shape while still allowing for enough water drainage throughout the year. This process is required when installing artificial grass properly for the purpose of drainage and stability.
Wood Deck Tiles on a Wood Deck
Installing wood deck tiles on a wood deck might seem redundant unless you've fought the uphill battle of trying to keep a painted or stained wood deck looking good for several years. It's common for the paint to chip or fade and stained wood has a terrible time with the sun's ultraviolet rays. Mix in a bit of rain, snow, ice and foot traffic and you've got a high maintenance deck on your hands. 
As long as the wood deck isn't rotted, split or otherwise compromised you simply lay the tiles on top of the wood slats in whichever pattern you desire. Ensure there is adequate drainage and you are ready to enjoy years of low maintenance while enjoying a great looking deck.
Wood Deck Tiles on Gravel and Dirt
The main concern when installing wood deck tiles on gravel and dirt is the integrity of the surface. While composite wood deck tiles will hide the ground underneath very nicely, they do need a stable base that won't flex, sink or move especially when experiencing foot traffic or loaded with furniture. Ensure the ground is packed if you do lay the tiles directly on gravel or dirt and keep in mind drainage and compaction.
Wood Deck Tile Maintenance
Wood deck tile maintenance is incredibly easy and for some it's the main reason they choose to install tiles versus any other product. The tiles are completely permeable which will allow any liquid to pass through unobstructed. This includes rain, snow, a spilled drink and even dog or cat urine. Dog and cat owner's can easily spray the tiles down and wash any urine away into the adjacent drain or drainage area. 
Cleaning wood deck tiles is often as easy as spraying with a garden hose and attachment. Stubborn stains or dirt can be remedied by removing the dirty tile or tiles, cleaning them and clicking back into place. In the case of stubborn stains or damage to a tile, you can easily replace a tile by using the same method.
Wood Deck Tiles and Artificial Grass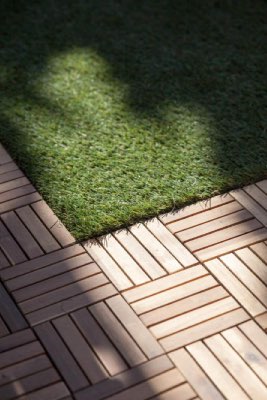 The combination of wood deck tiles and artificial grass will deliver a clean look with the benefit of being incredibly durable and low maintenance. Whether you choose an artificial grass product that rolls out or the easy to install artificial grass tiles, you can count on a practical living space that's great for entertaining, relaxing, a kids play space or as a pet bathroom area. 
The endless possibilities when using wood deck tiles on your back yard patio make them a great choice especially if you don't want to spend time and money with upkeep for a regular painted wood deck or dull concrete slab. Their versatility, drainage and design make them great as a swimming pool deck tile; check out these other great artificial grass for deck ideas. If you'd like more information about wooden deck tiles and how they could enhance your deck, patio or yard contact us with your questions. 
---
---
---
---
---
---
Disclaimer
Please use all appropriate and proper safety precautions when attempting projects on this website. All projects are attempted at the reader's own risk. 

Duralawn® participates in the Amazon Services LLC Associates Program, as an Amazon Associate we may earn a commission from qualifying purchases.
Duralawn® artificial grass installations, products and service in Kelowna, Vernon, Penticton, etc since 2018.