Artificial Grass Deck Tiles
Artificial Grass Deck Tiles
Artificial grass deck tiles are a new product that combines the latest technology in synthetic grass and composite flooring tiles. The interlocking tiles are extremely easy to install on just about any flat and hard surface making them a great option for instantly transforming any space. Increase the usability and comfort of a deck or add some colour and a touch of nature to a dull concrete patio for a lot less than you might think. 
Artificial grass deck tiles are a great option for balconies, roofs, poolside and can be a game changer if you have a dog and live in a confined space. The interlocking design make them incredibly easy to install and can be completed by just about anyone with a little bit of DIY elbow grease. The affordable price makes them one of the best choices for anyone considering upgrading to their outdoor living space and you may want to consider an artificial grass rug. 
---
---
Benefits of Artificial Grass Deck Tiles
Let's take a look at the benefits of artificial grass deck tiles followed by the limitations of interlocking tiles. As with any new product there are going to be applications where they may not be ideal but after reading this article you should have a really good idea if synthetic grass tiles are something you want to install in your backyard or on your balcony. 
Easy to install. The lock together, interlocking installation is a breeze making them ideal for hard to reach areas like apartment balconies and small backyards. 
Easy to clean. The tiles can be cleaned by spraying off with a garden hose or you can even lift them and clean them with water and soap. As long as there is proper drainage you can clean artificial grass deck tiles as often as needed with their built in drainage, especially if they are used as a pet bathroom. See Drainage below.
Safe for children and pets.

The tiles are made with no toxic chemicals and will create a much softer and safer surface than existing hard concrete or wood. 

Incredibly versatile. Artificial grass deck tiles can be used almost anywhere that you want to add the look of real grass. The ease of assembly and disassembly make them portable and durable enough as artificial grass for dogs. 

---
Artificial Grass Deck Tiles vs Rolls
When comparing artificial grass deck tiles to regular synthetic grass carpet rolls the difference is subtle but it can be substantial depending on your application. Interlocking tiles are easy to install and even removed or adjust as often as needed making them ideal for creating a temporary grass area.  
The main downside to tiles is the seams are somewhat visible along the edge of each interlocking piece. The tiles are 1 foot by 1 foot in size so there will be a number of seams showing. While this might deter some owner's it can create a unique visual appearance that's both modern and attractive. It does limit the use of tiles to small areas that coincide with areas where artificial grass rolls are difficult to install. 
The final biggest difference is the installation process, which we will discuss in further detail below. Artificial grass deck tiles are ideally installed on a level and hard surface that has existing drainage in place. This could be a patio or deck and even an indoor area assuming adequate drainage. Installing artificial grass rolls permanently requires the installation of a layer of crush gravel that isn't practical for some decks, patios and rooftops.  
Artificial Grass Deck Tiles Installation
Let's take a loot at how to install artificial grass deck tiles on concrete and wood. The installation of interlocking synthetic grass tiles is simple. The tiles are lightweight and lock together very easily with a snap. This makes laying artificial grass tiles incredibly easy and manageable by just about anyone with a bit of time on their hands.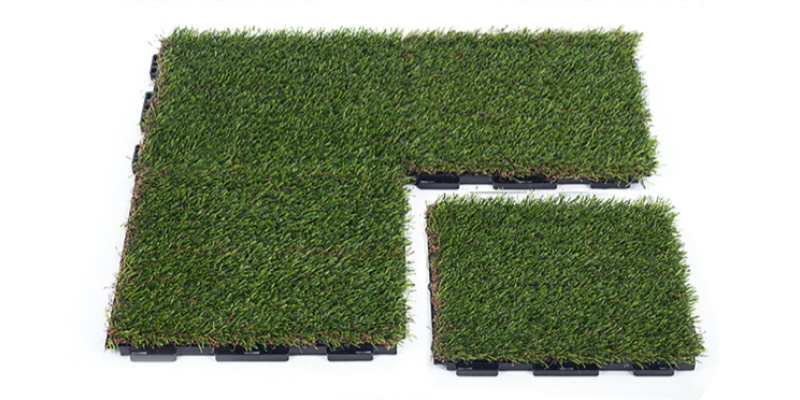 The biggest concern is ensuring that there is enough drainage to allow water to pass from the area to receive the tiles. In most cases the area will already have drainage established especially if you are adding artificial grass to an existing concrete or wood deck. The tiles themselves are designed to be permeable meaning that any water will drain through the grass fibres and through the tile underneath, making them great for pets and any outdoor setting. 

Other than making sure that the subsurface is hard and has adequate drainage, the installation of artificial grass deck tiles is simple. You can place the tiles in a square area or you can get creative and combine the grass tiles with wood deck tiles to create a modern look that your family and neighbours are going to love.
---
---
---
---
---
---
Disclaimer
Please use all appropriate and proper safety precautions when attempting projects on this website. All projects are attempted at the reader's own risk. 

Duralawn® participates in the Amazon Services LLC Associates Program, as an Amazon Associate we may earn a commission from qualifying purchases.
Duralawn® artificial grass installations, products and service in Kelowna, Vernon, Penticton, etc since 2018.