Artificial Grass for Decks
Artificial Grass for Decks
Artificial grass for decks, patios and rooftops is a growing trend in Canada because of how easy it is to add soft comfort and lush green life-like grass to almost any space. Increasing the function and comfort of an outdoor living area has never been easier. It's the ideal solution for creating a place to relax, play area for children or a space for pets to enjoy all with the added benefit of being incredibly low maintenance.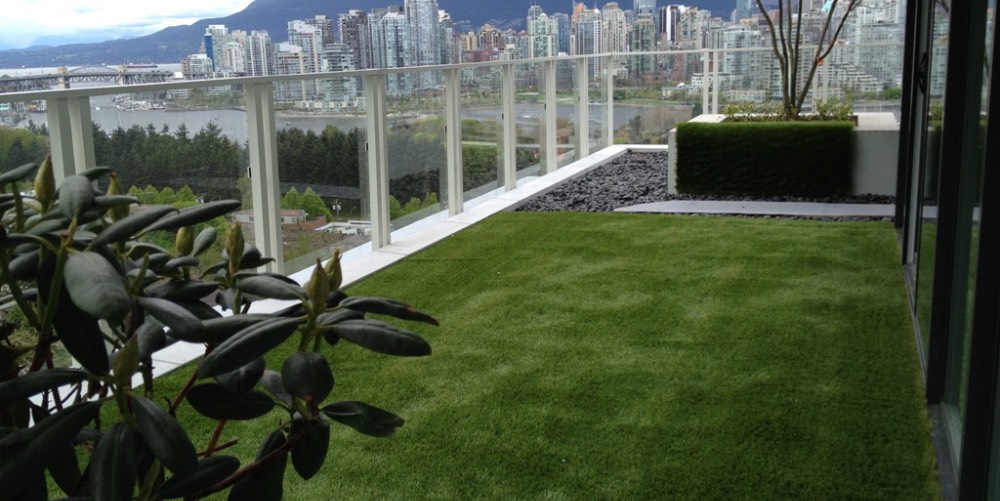 The residential and commercial applications of artificial grass for decks is almost endless. You can easily transform a wood deck into a comfortable place to lounge and enjoy the soft blades of grass on your bare feet with ultra easy to install synthetic grass deck tiles. An apartment balcony high above ground level will bring the look and feel of nature to your outdoor space. A rooftop patio with it's amazing views will only be enhanced with lawn that is so real looking you will forget it's artificial. 
---
---
Benefits of Artificial Grass for Decks
The benefits of artificial grass on a deck are numerous and go beyond providing some colour to an existing dull surface whether it's cracked concrete, faded wood or a hot tarred roof. The quality and craftsmanship of todays very best artificial grass products allow professional artificial grass installers and handy DIY home owners to create some very cool indoor and outdoor living spaces. Let's take a look at some of the benefits of adding artificial grass to a deck, patio or rooftop. 
Increase the useable area of an outdoor space
Create a place to entertain or relax
A place for children to play and enjoy
An ideal pet restroom area that can be cleaned up quickly and easily
Add colour to an otherwise dull, concrete environment
Introduce a soft surface around a pool or play area
No splinters and is "bare-foot friendly"
Incorporate a putting green on a large deck or rooftop
Here are some additional reasons you may want to choose an artificial grass rug for your deck as opposed to other surfaces like wood, tile or concrete. 

Easy to install
Ultra low maintenance
Lightweight compared to other deck or rooftop materials
Cooler than other dark flooring finished like tiles or stained wood
No fading or discolouration when exposed to heat, UV and other weather extremes
Fire rated material that's required for most commercial applications
Installing Artificial Grass on Decks
Installing artificial grass on a deck, patio or rooftop can take a bit of preplanning. The biggest concern is making sure there is adequate drainage that will allow water to drain through the permeable turf. The installation for a basic ground level wood deck will be a lot simpler than a rooftop deck that requires drainage tiles and underlay foam. Let's take a look at the different types of artificial grass installations.
Wood Decks
Installing artificial grass on wood decks is appealing if you want to cover up old, worn out deck board, and you may even want to consider wood deck tiles. It's a great way to add some colour and create a softer surface to enjoy. The grass can lay directly on the wood assuming that the gaps between the wood boards are not too large and the wood is not rotten. If the gaps are too large they will show through the turf and you may need to use a floating tile or something similar (see below). 
Assuming the board spacing is small enough that it won't show through and the boards are in good condition you simply lay the artificial grass on the wood. It can be fastened with industrial staples, nails or screws combined with an artificial grass glue that won't fail under extreme outdoor conditions. The trimming, seaming and other finishing procedures are the same as any other artificial grass installation.

Concrete Decks
Installing artificial grass on concrete or a pool deck is similar with an emphasis on proper drainage. The backing of artificial grass is permeable and water will drain through to whatever is underneath. In the case of wood decks the water will drain through to the boards underneath and through the gaps but with concrete the water has nowhere to go. If there isn't enough water runoff you can end up with pooling or mold and you may need to drill drainage holes through the concrete. 
Rooftop Decks
The concept of creating a lush, green oasis on a rooftop patio with artificial grass is a growing trend especially in intercity areas where concrete dominates the scenery. Installing grass on top of shingles on a flat roof is relatively easy but again drainage needs to be considered. Assuming the shingles aren't compromised it can be done by first placing floating drainage tiles under the grass. This ensure water moves laterally and into the appropriate drainage channels preexisting on the roof. A waterproof foam underlay can also be used between the tiles and grass backing for added comfort and uniformity. 
Decking Underlay
As mentioned above, decking underlay may be necessary or you might consider it for the added comfort and soft feel underfoot. Just as you would notice with a quality underlay beneath carpet, a quality foam underlay will provide an unmatched feel and added comfort that you're going to appreciate. A drainage tile can be used to help achieve uniformity with adjacent materials and of course required for some application to ensure adequate water movement. 
How to Clean Artificial Grass for Decks 
Cleaning artificial grass for decks is simple and one of the reasons why it's a great choice for most outdoor spaces. It can be brushed just as you would carry out your regular artificial grass maintenance or for larger space you can use a blower to remove debris. It can be sprayed down occasionally if it requires additional cleaning or you have a pet that uses the area as a bathroom. A biodegradable enzyme cleaner can be used to break down bacteria if you have dogs that use the grass. 
Artificial Grass for Decks Cost
The cost to install artificial grass on a deck can range depending on the complexity of the project. A simple backyard concrete slab can be done in as little as a few hours where a large rooftop patio lounging area may take several weeks. If you have questions about the cost of installing artificial grass at your home or business contact us and we'll reply to your inquiry as soon as possible. 
---
---
---
---
---
---
Disclaimer
Please use all appropriate and proper safety precautions when attempting projects on this website. All projects are attempted at the reader's own risk. 

Duralawn® participates in the Amazon Services LLC Associates Program, as an Amazon Associate we may earn a commission from qualifying purchases.
Duralawn® artificial grass installations, products and service in Kelowna, Vernon, Penticton, etc since 2018.