Dogscaping
Dogscaping is a term being used more often every day and there's good reason for it. The idea of creating a harmonious blend of dog friendly landscaping and your favourite plants is possible, and it will even stay looking great year after year! The days of crushed flower beds, holes or burn marks in your lawn and dirt all over the place can be avoided with a bit of preplanning and smart landscape design strategies.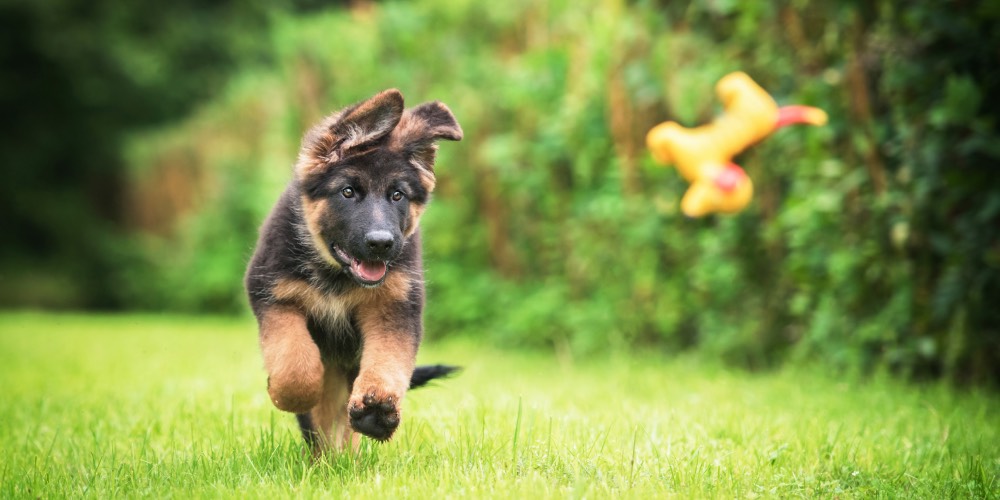 Whether your dog is a digger, chewer, shredder, climber or jumper you likely have a good idea of it's habits including where it likes to patrol, lounge and play. Planning the best dog friendly landscaping will come down to understanding your dogs specific needs including methods of preventing artificial grass from getting too hot. It can be extremely informative to observer how your dog interacts with the yard while looking for clues on how to put your dogscaping ideas into place. 
What is Dogscaping?
Dogscaping is a form of landscaping that incorporates the needs, habits and enjoyment of your dog. The ultimate goal is to create a dog friendly landscape that is both aesthetically pleasing yet practical for your furry loved one.  
7 Dogscaping Ideas
Our list of dog friendly landscaping ideas is designed to provide some options whether you want to increase the enjoyment of your loved one, keep your yard looking good or reduce the time you spend maintaining your yard. With an estimated 6 million dogs in Canada and about 35% of Canadian households owning at least one dog, the idea of blending your yard to be conducive to both you and your dog is an important one. 
1) Dog Friendly Plants
At the forefront of dogscaping is the use of plants that are safe for dogs. Unfortunately some plants pose a serious risk to your dogs health and the worst part as your dog may be attracted to them. The list of dangerous plants is extensive, here's a list of 11 Toxic Plants for Pets provided by the BCSPCA. Many dog owners are surprised to learn that tomato and aloe vera plants can be very harmful if ingested by dogs.
Consider using plants that repel fleas like; lavender, rosemary and mint or plants that your dog can eat like; wheat grass, strawberries and blueberries. 
On the positive side of things, plants can be very beneficial for dogs by providing shade, shelter and temperature moderation. Check out our list of xeriscape ideas that includes plants that will enhance your dogs environment while looking good throughout the season. A thyme or moss ground cover is a fantastic way to keep your yard clean and cool while a juniper hedge or shade tree will help keep temperatures down during the summer.

---
2) Artificial Grass
A life like artificial grass area surrounded by your favourite plants and hardscaping is a great way to give your dog a place to run, play and relax. Dogscaping with artificial grass specifically designed for dogs is growing in popularity because dogs love it and the added benefits make it more than appealing for dog owners. If your dog likes to dig holes all over the yard because it's bored, attempting to escape or trying to cool down on those hot summer days this solution could be a no brainer. 
Insects, fleas, ticks and even grubs can make their home in natural grass or dead vegetations and also pose a potential risk of finding their way into your home. The replacing of your existing natural grass lawn with synthetic grass is a smart way to reduce maintenance, keep your yard and dog clean and even save money in the long run. If your beloved family pet has a dog grass allergy you can take comfort knowing that your dog is happy and you're bettering their health.
Learn more about installing artificial grass for dogs. 
3) Activities
Keeping your dog entertained is an important part of your dogscaping plan not only because it will help prevent digging, chewing and escaping but it will provide important stimulation for your dog. We are all busy with our day to day lives that we can't always be there to interact with our pets and that is where activities and active design can come in handy.
Toys, balls and chew toys are an easy solution or you may want to place a structure like a tunnel that can provide hours of entertainment. A sandbox or contained area with sand or fine gravel can be a great place for your dog to play, dig and even keep cool. A hanging dog toy that attaches to a tree can also be a great way to entertain and even provide exercise. 

4) Perimeter
The perimeter of any yard is very important if you have a dog especially if your breed likes to escape or is territorial by nature. The safety of your dog and neighbours is paramount and a quality fence should include sturdy constructed wood or chain link. If you want to add another perimeter barrier you might want to consider chicken wire to prevent digging underneath the fence. A wireless dog fence might come in handy and add some peace of mind for some dog owners if your dog has a history of escaping. 
Since some dogs are very territorial you may want to consider incorporating a patrol path into your dogscaping plan. This can be achieved by adding a 2 foot wide pathway made of gravel or crushed rock that runs along the fence way. You can even include a hedge that runs along the path that will provide both privacy and shade. If you want to get creative it's a great idea to install a lookout rock or perch where your dog can see the surrounding yard. 
5) Water Feature
A water feature might not work for everyone but they can be a great addition to any dogscaping design. We all need water to survive and dogs are no exception when it comes to keeping hydrated especially during the hot summer months. Accessible water in your yard is important for obvious reasons and there is no better way to have water accessible at all time than a water feature or fountain.
If you don't have the space for a pond or you choose a more water wise approach be sure to keep a water bowl outside at all times. A bowl of clean and fresh water can be a life changer for your dog and an insulated dog water bowl is worth every penny. A self-filling water device is ideal for thirsty dogs that are left on their own for longer periods of time especially when high temperatures are expected. 

6) Bathroom
All dogs need to go to the bathroom and to avoid seeing your yard turn into a large toilet there's a few great dogscaping ideas that are worth serious consideration. If pee stains are an issue you can try changing your dogs diet or you can upgrade to artificial grass. One of the many benefits of artificial grass is the built in drainage that allows urine to drain right through and with the occasional rinse with a garden house you won't ever smell it. Dog poop can be easily scooped away and kept sanitary with an enzyme cleaner used as often as needed. 
A designated pee spot is another great idea that can come in the form of a sandbox or any areas separate from your garden or kids area. A dog pee post or something similar is a great way to train your dog to pee in the same place which allows for easy clean up and maintenance. 
7) Shelter and Shade
Providing shelter and shade for your dog is important to prevent heat stroke in the summer and it also helps keep your dog dry during the rainy months. A heated dog house shelter is an easy option but if your dog doesn't like the idea you can get get creative with shade plants and trees, a pergola, umbrella or a covered playpen. There are numerous options that will work with your yard and dogscaping plan just keep in mind space limitations and your local weather tendencies. 
While a lot can be done by making some simple changes to your yard, you may need to train your pet. This can include using a designated area to use a a bathroom or providing an area to dig and bury that favourite bone. Canines and humans have been coexisting together for centuries and there's no reason why we can't both live in harmony today.


As with any changes to your landscape it can be smart to incorporate ideas over time to ease burden and cost. This method of trial and error will allow you to see what works and what doesn't. Every dog is different in personality and will have unique tastes so don't always rely on the most popular dog toy or latest trend in dogscaping.  
---
---
---
---
---
---
Disclaimer
Please use all appropriate and proper safety precautions when attempting projects on this website. All projects are attempted at the reader's own risk. 

Duralawn® participates in the Amazon Services LLC Associates Program, as an Amazon Associate we may earn a commission from qualifying purchases.
Duralawn® artificial grass installations, products and service in Kelowna, Vernon, Penticton, etc since 2018.