What Damages Artificial Grass?
What Damages Artificial Grass?
Artificial grass seems pretty much indestructible when it comes to standing up to harsh weather extremes, foot traffic and relentless ultraviolet rays from the sun. The truth is that artificial grass is pretty tough and it can stand up to a lot of things but it does have limits. We'll take a look at what can damage artificial grass or leave it susceptible to premature aging along with the things you can do to prevent damage.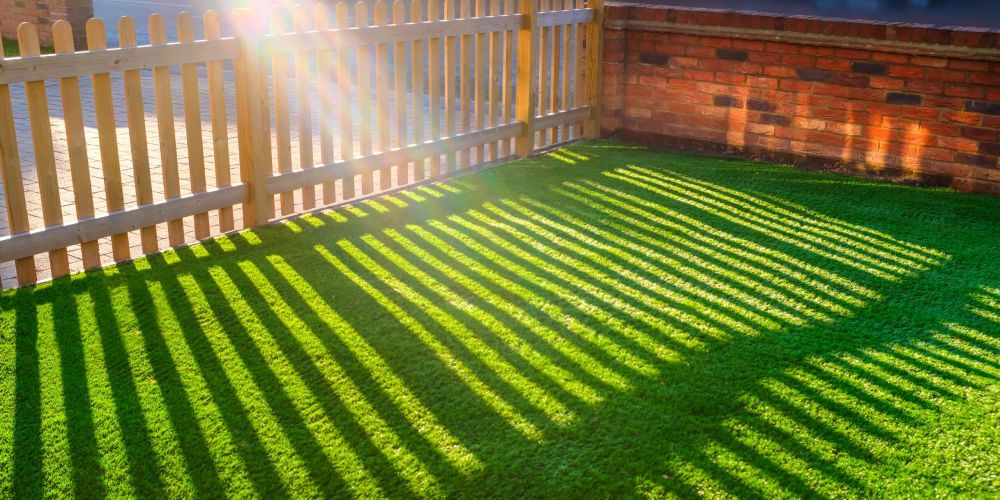 A good maintenance routine is key to keeping artificial grass clean, healthy and in top shape. The cleaner the grass is kept and the more often the grass blades are refreshed the better. Looking after the basics will give your synthetic grass or putting green the best chance of standing up to wear and tear caused by humans, pets and mother nature. Whether you're considering upgrading or want to learn more about your investment you'll want to check out our list below of what damages artificial grass.
List of What Damages Artificial Grass
There are numerous things that can lead to premature wear or damage to your turf. While some are common sense, there may be some that will surprise you. The good news is that all the things on our list can be prevented with some forethought and prevention. 
Fire
Intense Sunlight
Chemicals
Adhesives
Oils
Sharp Objects
Heavy Items
Weeds
Snow
Fire
Heat from a fire pit, bbq grill and even a dropped cigarette can be very destructive to artificial grass. All quality synthetic grasses are fire rated which means they shouldn't ignite, but they will melt or disfigure when directly exposed to fire. The safe distance for grass away from sources of heat will vary depending on the heat intensity and the grass material but you'll have to use some common sense here to avoid damage caused by heat. 
Tip: Avoid using any items that emit extreme heat or have fire as a heat source near artificial grass.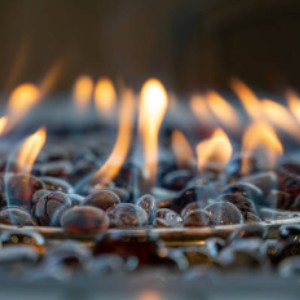 Intense Sunlight
Any high quality artificial grass is designed to withstand ultraviolet UV rays from even the most intense sunlight. This includes resistance to fading, wilting or breaking down. You can run into issues with a low quality grass where a window or multiple windows are reflecting concentrated extreme heat onto a specific area causing melting or wilting. This can be remedied by using a high quality nylon grass or introducing natural or artificial shade. 
Tip: Plant trees or shrubs for shade or install a man made structure like an umbrella or screen.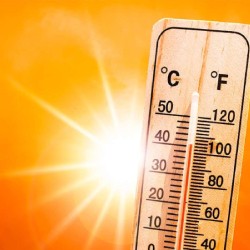 ---
Purple Leaf Solar LED Umbrella

Aluminum cantilever with 360˚ degree rotation and swivel. 

If you click on this link and make a purchase, we may earn a commission. 

---
---
Chemicals
There are some chemicals that should be kept away including anything caustic, corrosive or flammable as they will discolour or break down the grass if spilled. This includes; mildew stain removers, rust removers, grill cleaners, drain openers and pesticides. If you own a pool, chemicals like chlorine or sodium hydroxide pH increaser can also cause damage if contact is made in their concentrated form. If a spill occurs consult product specifications for the proper chemical spill response.
Tip: Avoid using any corrosive or flammable chemicals and liquids near artificial grass.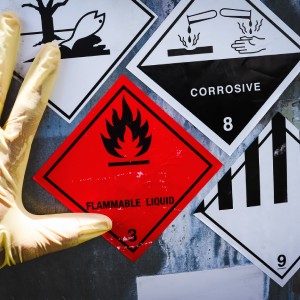 Adhesives
Adhesives will bind to the grass fibers and alter the appearance. This could be something like gum from a careless child or an industrial adhesive. While something like gum can be removed by freezing, an industrial adhesive may result in needing to remove the section of grass and replacing it with a new undamaged piece. Glues will result in damage ranging from minor discolouration to large areas that need to be professionally repaired. 
Tip: Freeze gum to remove and research how to remove your specific adhesive.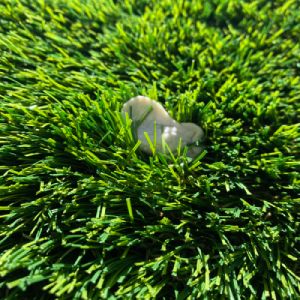 Oils
Almost all oils are bad for artificial grass including motor oils and oil based paints. In addition to oils, any petroleum based product like gasoline or kerosene if spilled can cause damage by breaking down the grass fibers. It's best to avoid using these products around synthetic lawns but if you have to, be sure to add a protective barrier on the grass like a tarp or blanket incase of an accidental spill or leak.
Tip: Clean any spill immediately with a mild soap or detergent solution.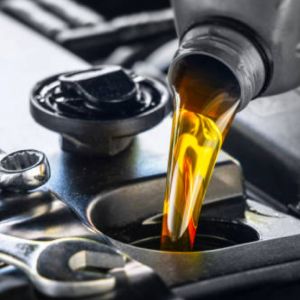 Sharp Objects
What damages artificial grass the quickest is blunt contact with a sharp object. The individual grass blades are at risk of being cut or severed but may not be noticeable unless a significant area is damaged. Items such as shovels and rakes with metal tines can cause significant damage. Also avoid placing heavy furniture with sharp contacts or edges and avoid anything that involves puncturing through the turf. 
Tip: Remove the affected area and replace with a new piece of matching grass.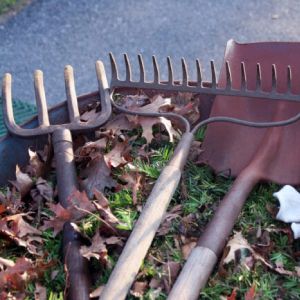 Heavy Items
You should be cautious of any heavy weight placed on artificial grass for long periods of time. It may lead to premature wear in the form of matting that can be hard to reverse. A vehicle parked for a long period of time or heavy furniture will cause flattening. Another culprit is concentrated foot traffic, for which we recommend using an artificial grass power broom frequently on areas of high usage to prevent permanent matting. 
Tip: Rotate heavy objects to reduce concentrated wear and power brush the affected areas often.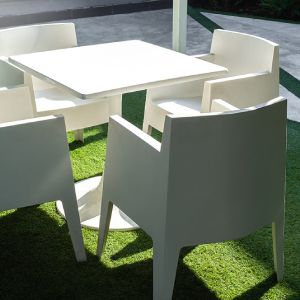 ---
Artificial Grass Power Broom

---

If you click on this link and make a purchase, we may earn a commission. 
---
Weeds
Preventing weeds is important because they look bad and they can also lead to premature wear. Keeping artificial grass weed control in mind during installation is an important step in prevention but if you still experience weeds you should address it right away. Weeds can lead to mould and permanent staining as well as compromising the integrity of the grass. 
Tip: Prevent weeds before they appear by using a weed barrier fabric or edger board. If weeds are already present try a vinegar and water solution. 
Snow
We hesitated putting this on our list of what damages artificial grass because snow itself won't cause damage, but it has the potential. Where we sometimes see premature wear is when snow has accumulated and is subsequently walked on during the winter months. The combination of accumulated snow and ice with high foot traffic can be very hard on synthetic grasses and may ultimately lead to irreversible matting, especially in lower quality grasses. 
Tip: Avoid high foot traffic on grass with heavy snow or ice pack especially during the cold winter months.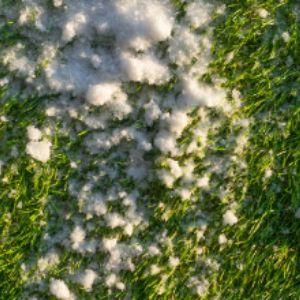 What Doesn't Damage Artificial Grass
We've taken a good look at what damages artificial grass and how to prevent or avoid it. There are however some things that are important to know that won't cause damage. The most common is whether dog poop and urine will stain artificial grass, and the answer is they won't. Dog poo is simply removed and urine will drain through the grass, especially if you introduce water via a sprinkler. Using a good enzyme cleaner for artificial grass will address any longterm potential affects like odour or bacteria. 
Pool water won't stain artificial grass as long as it's balanced properly. This means that pool splash out from a healthy pool won't discolour or cause any premature wear. In fact, artificial grass around pools is a great idea because it's clean and will provide a soft surface to walk or lay on. Finally, it's important to point out that the suns ultraviolet rays won't break down or cause fading on any quality synthetic grass so you can be confident even in the hottest, sunniest parts of the world.
How to Repair Artificial Grass
The process of repairing artificial grass can range from something as simple as tacking a corner back down, repairing ripples or replacing a large section due to heat damage or a chemical spill. The best way to prevent issues is to follow a regular maintenance routine for your lawn including brooming and infill replacement if necessary. This will keep the grass in a condition that best allows it to avoid being permanently damaged. 
If the artificial grass repair is large or requires a section to be replaced, hopefully the installer left the scraps leftover during the installation. The scraps from the original installation will ensure that the color, texture and grain match exactly which will be important for a seamless repair. 
The first step to repairing a section of grass is to cut out the affected area as neatly as possible with a straight edge. You will then need to cut the replacement section to fit into the area that was removed, ensuring that the grain is leaning the same direction as the surrounding area. You will likely need to use a seam tape, adhesive and nails to ensure the grass doesn't move. 
---
---
---
---
---
---
Disclaimer
Please use all appropriate and proper safety precautions when attempting projects on this website. All projects are attempted at the reader's own risk. 

Duralawn® participates in the Amazon Services LLC Associates Program, as an Amazon Associate we may earn a commission from qualifying purchases.
Duralawn® artificial grass installations, products and service in Kelowna, Vernon, Penticton, etc since 2018.