---
---
Artificial Grass Maintenance Equipment
Using the best artificial grass maintenance equipment will make the task of keeping your grass clean and safe an easy one. We all appreciate the minimal upkeep and it's likely one of the reasons you chose a synthetic grass over natural grass in the first place but it does require some maintenance from time to time. This can include spot cleaning to remove leaves or a thorough deep cleanse with a power brush to remove organic materials from the infill. All of this in an effort to prevent weeds or harboured bacteria, virus and germs that can develop if pets are present. 
If you are the type that enjoys the relaxation of raking the lawn or feeling the throttle of a gas powered leaf blower you are in luck. The best artificial grass maintenance equipment ranges from a simple rake designed to be gentle on the grass blades to a sophisticated artificial grass power brush that's a cross between a typical sweeper and a traditional lawn mower. As artificial grass has grown in popularity so has the need for the absolute best tools for artificial grass maintenance for professional landscapers and typical residential synthetic grass owners.
Artificial Grass Maintenance Equipment Guide
The best synthetic grass maintenance equipment should save time and make the job easier regardless if it's to maintain a putting green, residential lawn, children's play area or a large commercial project. In the world of artificial grass maintenance it's commonplace to get asked what the best tool is for a certain task. Since it's a relatively new industry to Canada and North America it can be a bit confusing and frankly hard to find the right tool to complete the job properly. 
Power Brush
A power broom for artificial grass was once a tool that only professionals used during the artificial grass installation process to set infill and bloom the grass blades for appearance and increased function. With the latest developments in cordless power there's now an artificial grass power brush option for residential synthetic turf owners that'll make the biggest turf cleanups a lot less of a hassle. The result will be a lawn that looks better year round and you'll be adding years to your investment both in appearance and function. It's definitely worth adding to your artificial grass maintenance equipment arsenal. 
---
Leaf Rake
The most basic artificial grass lawn maintenance tool is the rake. While this might seem like a no brainer there are numerous varieties out there and most of them aren't ideal for artificial grass. There are some rakes that are OK for maintaining synthetic grass and there are a few that are ideal. Buying the right rake assures that you aren't damaging the grass blades, fragile thatch or protective backing material when carrying out your spot cleaning. You might be surprised that the best artificial grass rake is a lightweight, curved bristle device that makes raking a breeze. 
Tip: Look for a plastic or nylon bristle rake that's gentle on turf but strong enough to corral debris.
---
Push Broom
A simple push broom is part of every handy homeowner's arsenal likely because it's great for sweeping sidewalks and driveways. There's nothing worse than having to use an indoor broom for an outdoor job or vice versa, hence the importance of a good push broom. When it comes to artificial grass, a quality push broom can often be adequate for small cleaning projects. A quick spot clean after a small tree sheds its leaves or a bush drops flowers can be swept up by brooming with the grass grain, followed up by pushing against the grain to groom the turf to a standing position. 
Tip: A simple stiff bristled push broom is great for spot cleaning and blooming the grass blades. 
---
Electric Leaf Blower
This fantastic tool may already be sitting in your garage or shed and if not it's definitely an artificial grass maintenance equipment must have. Any number of variables can lead to trees losing their leaves or branches; a freak wind storm, cooling temperatures and even disease. The result is an unsightly mess of leaves and twigs that any homeowner with shedding trees can appreciate, or not. The resulting mess should be cleaned up as quickly as possible to prevent the leaves breaking down and filtering down into the infill material where it can lead to weeds, bacterial growth and worse.
A quality electric leaf blower will make quick work of leaves and the top rated leaf blowers have more than enough wind power to remove small branches. After corralling the leaves with the blower they can be mulched down to a fraction of their size, bagged and removed.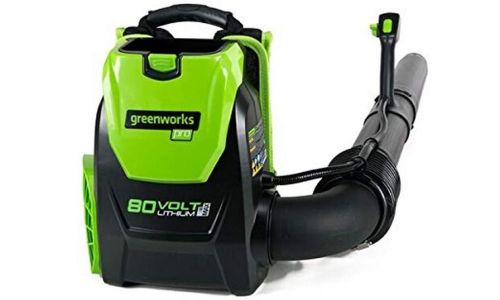 Tip: If you don't have one now is the time because it's great for artificial grass and other yard cleanup.
---
Cleaner
To round out our list of artificial grass cleaning equipment we would be negligent to not mention how valuable a good cleaner is especially if you have dogs that use the grass as a bathroom. Any professional landscaper should be using a cleaner that safely kills bacteria and viruses as part of their artificial grass maintenance cleaning service. This is typically an active enzyme culture that is completely safe to use around children and pets, is non-toxic and environmentally friendly. 
The best cleaners for artificial grass are usually marketed as pet cleaner and deodorizers and have evolved from indoor carpet cleaners. It's common to find them available in concentrate form so be sure to identify the concentration level before using. The cleaner concentrates are best applied using a typical garden hose and hose end sprayer and can go a long way when diluted to the usual 10:1 ratio, enough to clean large yards many times over.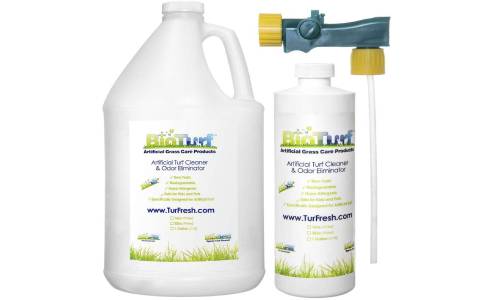 Tip: Find an enzyme cleaner concentrate that's pet friendly and non-toxic for value and safety. 
---
---
---
Artificial Grass Maintenance Tips
In addition to using the best artificial grass maintenance equipment there are some important things to keep in mind once you are the proud owner of artificial grass. You likely made a substantial investment to have synthetic installed and by simply following a few important rules you can enjoy your investment for many years to come. All artificial grasses aren't created equal and neither are the tools used to maintain it, so hopefully this article has helped.
Keep it Clean
The ultimate goal of using the best artificial grass maintenance equipment is to keep the synthetic grass clean as often as possible. It really is that simple and by doing so you'll be preventing potential headaches down the road like weeds growing through the turf. In keeping the grass free of dirt and debris it'll look better and function better, in the case of a putting green with the added benefit of prolonging the turfs life. The potential downsides to allowing debris and organics to settle into the grass include; weeds, germs, bacterias, viruses and potentially insects and critters taking hold. 
Go Green
With the latest advancements in green technology and specifically battery power, there's even more reason to take advantage of the latest gadgets. With the introduction of the lithium-ion battery there have been some amazing products introduced in the home and garden maintenance world. There's great options in power brooms, backpack blowers and vacuums that will get the job done and keep your artificial grass maintenance equipment regime environmentally friendly. The added bonus is you won't have to deal with gas, oil, engines that won't start and annoying the neighbours. 
Hire a Professional
You've invested in a residential artificial grass lawn or putting green and you just don't have the time to maintain it, or you simply don't want to. As mentioned above, synthetic grass does require some minor maintenance at least once a year and what better way than to hire a local professional artificial grass maintenance company to do it for you. The best time to carry out yearly maintenance is in the fall and also the ideal time to complete the artificial grass winter care steps. Let the experts keep your synthetic grass in tip-top shape and also have the added peace of mind that it's done properly.
If you use the top rated artificial grass maintenance equipment you can be sure that you are giving your grass the best chance to look great for as long as possible. If you aren't comfortable looking after your own lawn or putting green you can always hire a professional artificial grass maintenance service to do it for you and it'll be worth every penny. 
Duralawn
>
Artificial Grass Maintenance
---
---
---
---
---
---
---
---
Disclaimer
Please use all appropriate and proper safety precautions when attempting projects on this website. All projects are attempted at the reader's own risk. 

Duralawn® participates in the Amazon Services LLC Associates Program, as an Amazon Associate we may earn a commission from qualifying purchases.
Duralawn® artificial grass installations, products and service in Kelowna, Vernon, Penticton, etc since 2018.