Artificial Grass for Dogs
Artificial Grass for Dogs
Artificial grass for dogs and pets will provide a cleaner and lower maintenance place for your loved ones to play and relax. Upgrading your existing grass with artificial turf will also reduce the risk of your pet being exposed to potentially harmful chemicals that can be present in real grass lawns. We are going to go over the advantages of synthetic turf and how it can be part of a smart dogscaping plan including the best types of artificial grass for dogs, how to install for best results and keep it clean and sanitary all year long.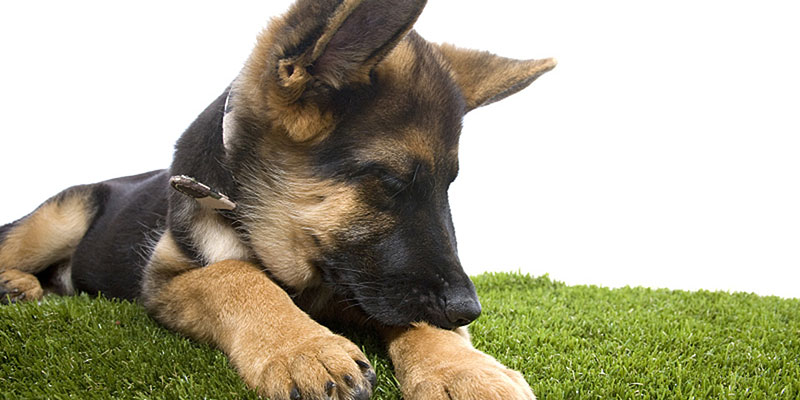 If you are reading this you probably have questions about artificial grass and whether it's suitable for your dog. You might be wondering if it's possible to keep it clean and what happens when a dog pees and poops on it. Inevitably most dogs end up using the grass as a litter box and that might even be the reason you're here in the first place. You might be tired of the never-ending game of trying to keep your existing natural lawn looking nice and green or prevent dirt getting tracked into the house on muddy paws.
Is Artificial Grass Suitable for Dogs?
Yes, artificial grass is suitable for dogs and most prefer it over regular grass. We can only observe them enjoying it but its evident right away that most dogs feel at home and very comfortable on artificial turf. It's softer than regular grass and it's almost always clean and dry due to the excellent drainage. Rain or shine you can count on a great looking green lawn that won't turn into a mess of mud and grass clippings that will eventually find its way into your home. Does artificial grass get too hot for dog and cat paws during the peak summer months in Canada?
Benefits of Artificial Grass for Dogs
There are many benefits to artificial grass for dogs and most owners that have upgraded to synthetic turf will wish they had upgraded sooner. If you fight the battle against dead patches and burnt yellow circles every year you understand how frustrating it can be to keep natural grass looking good. The challenges and headaches of trying to keep a regular lawn in pristine condition will be a thing of past.   

Real Grass vs Artificial Grass for Dogs
When comparing artificial vs real grass the most common question we get is whether it's safe for dogs to be on all the time. It's actually a safer surface for dogs to play on because it doesn't require chemicals to stay green and it won't harbour potentially harmful bugs, insects or weeds that can lead to potentially harmful allergies. You'll never have to spend money on professional lawn maintenance, fertilizers and lawn treatments like pesticides.
No Harmful Chemicals
If you are like most pet owners, you care about your dog like it's part of the family. A non-toxic artificial grass is not only safe for your loved one but it provides a healthier environment compared to natural grass. You will no longer need to use harmful chemicals to keep the lawn green all year long. This includes; fertilizers, weed killers, insecticides and anything else used to keep a lawn alive in harsh Canadian weather. Upgrading to fake grass will also help prevent flea and tick infestations that can occur in some areas in British Columbia.
No More Mud and Dirt
A yard with a fake grass lawn will create a comfortable, safe environment that your dog and you will love, minus the mess of course. Most dogs, like children, seem to be able to find mud and dirt wherever it might be and it's never enough to just step in it or roll in it once. It leads to mucky paws that need to be cleaned with a paw cleaner otherwise dirt will eventually end up inside your house. 
Dog Daycares and Kennels Use It
There's no better indication that artificial grass is dog approved than the growing popularity of it being used in dog potty patches, dog daycares and kennels. The hard-wearing properties and low maintenance make it ideal for heavy usage at home or a commercial kennel. When you combine that with the other benefits including the cleanliness and comfort it's easy to see why home owners and dog daycares are switching to artificial turf. 
---
---
Installing Artificial Grass for Dogs
When installing artificial grass for dogs there are a few major differences compared to regular usage. If you are having turf installed it's a good idea to let your turf installer know ahead of time that dogs will be frequenting the grass. It should be part of your original sales discussion because there are a few considerations beyond choosing the best artificial grass for your dog or pet. In addition to discussing the turf warranty and fire safety rating you should be sure to discuss the following installation specifics. 
Adequate Drainage
Allowing for proper drainage is an important part of a proper dog usage installation. If you live in a climate that experiences a lot of rain it is also imperative that you have proper drainage. You want to make sure that when your dog pees on the grass the urine drains through the turf so it can disperse underground. When you give the grass a rinse with a garden hose or when it rains, the ammonia odors associated with dog pee won't stick around. 
Anti-Microbial Infill
An often forgotten part of synthetic grass lawns is an organic infill material that has many useful benefits, especially for dog owners. In most cases a regular silica sand is adequate but when it comes to dogs and urine there is no doubt that an anti-microbial infill is worth every penny. The increased cost will help keep urine smells at bay and help prevent growth of other potentially smelly or dangerous organisms. In addition to eliminating odours you can count on organic infills to keep the lawn cooler than regular sand.
Edges Securely Fastened
A concern that some dog owners have when considering synthetic grass is whether their dog will damage the grass by digging it up or pulling on the edges. If you have a dog that enjoys digging or biting just about anything and anywhere you can feel safe with properly installed grass. After talking with a professional turf installer about your concerns they will ensure that the edges are securely fastened with extra fasteners. Learn more about ensuring the welfare of your pet at home including how to safely keep your dog in a yard by WikiHow.
---
---
Cleaning Artificial Grass for Dogs
If you're wondering how to clean artificial grass for dogs you aren't alone. It's a question we get asked a lot especially if you have multiple dogs that use the lawn to pee and poop on. You clean poop the same way you would on natural grass by scooping it up and disposing it. The area where the poop was can be sprayed with a garden hose or you can let nature take care of it and wait until it rains, at your discretion.
Clean Dog Urine and Prevent the Smell
Dog urine is a bit different because it isn't visible and your dog likely has a dog toilet area or favourite spot they like to pee. The good news is that the drainage design in artificial grass allows for rain, snow and anything liquid to drain through the grass infill layer, including dog urine. It then drains down through holes punched in the turf backing and into the sub base layer where it feeds through to the ground underneath. Rain is generally adequate for keeping your lawn clean and free from the ammonia smell associated with dog urine.  
To clean dog urine and prevent the smell we recommend spraying the bathroom area with a garden hose. This should be done as often as needed and will depend on variables like how much your dog pees and how often it rains. You may be perfectly ok to let rain wash the urine through but if you notice the ammonia smell, spraying the area should be sufficient. If you have stubborn odors you may need to use an enzyme cleaner or pet deodorizer.
Remove Dog Hair from Artificial Grass
If your dog sheds you may end up with a significant amount of dog hair on the lawn. Your dog is most likely going to love being on the artificial grass and inevitably they're going to shed on it. The good news is that it's relatively easy to get rid of and you have a couple options for doing it. The first option is to use a push broom or vacuum to spot clean the surface. The second and more thorough option is to use a synthetic grass power brush to collect the hair quickly, easily and contain it in an attached bag.
---
---
Artificial Grass for Dogs Specifications
When choosing the best artificial grass for dogs there are 2 qualities to keep in mind. These characteristics of the ideal turf for dogs will help ensure that you are providing the most durable, low maintenance and comfortable area for your pets. We recommend speaking with your local turf installer to ask which types of grass meet the following requirements. 
Pile Height - Grass Blade Length 
When it comes to the best artificial grass for dogs you can go with any blade length but you will get increased longevity and keep it looking great longer with a shorter pile height. The shorter the pile height the better it will wear if you have dogs or it's exposed to regular foot traffic. We recommend a blade length between 1-2 inches if its made from polyethylene or polypropylene. If the grass is made out of nylon you can increase your ideal pile height range from 1-2 1/2 inches because of nylons increased strength. 
Ideal Pile Height: 1-2"
Pile Density - Grass Thickness
The density or thickness is important when considering it's ability to withstand wear and tear. If your dog is prone to digging or uses the dog run to literally run endless circles you want to make sure you use a thick grass with a high density rating. The denser the fibre count the more dog friendly the turf is as a general rule. You want make sure that you have a density higher than 16,000 stitches per square meter. The higher the density the better it will stand up to not only traffic from your dog but wear in general. 
Ideal Pile Density: 65 oz or higher
Artificial Grass for Dogs FAQs
If you still have questions about artificial grass for dogs we've put together a list of frequently asked questions. If you own a dog or have multiple dogs and live in Canada we can help and at the very least answer questions you might have so you can make an informed decision. Artificial turf is pet friendly, most say it's way better than regular grass and we hope you get to see for yourself. 
Yes. A quality artificial turf installed properly will stand up to anything a dog can throw at it including digging and running in circles.
Yes. It's a safer environment than your existing natural grass because it doesn't harbour potentially harmful chemicals, insects, or weeds. A non-toxic artificial grass for dogs is safe and we bet your dog is going to love it.
No. Urine won't stain or discolour quality artificial grass even if it's exposed to it everyday. Turf is designed to stand up to extreme conditions including harsh weather, the suns intense ultraviolet UV rays and just about anything else.
Dog poop is scooped up as you would on regular grass and pee can either be sprayed into the grass where it can be filtered to the sub base layer or left for the rain to rinse through.
Yes. Artificial grass can be installed just about anywhere including walls. A professional installer that has knowledge in installations can transform just about any area into a safe, fun and enjoyable place for your pet to enjoy all year long.
Artificial grass ranges in price from $7-$15 per square foot for a professional installation. This price range include the cost for preparation, materials, installation and labour which translates to between $2,800 and $6,000 for a 400 square foot lawn.
---
---
---
---
---
---
Disclaimer
Please use all appropriate and proper safety precautions when attempting projects on this website. All projects are attempted at the reader's own risk. 

Duralawn® participates in the Amazon Services LLC Associates Program, as an Amazon Associate we may earn a commission from qualifying purchases.
Duralawn® artificial grass installations, products and service in Kelowna, Vernon, Penticton, etc since 2018.