Artificial Grass Tape
Artificial grass tape is relatively new product that's used to secure two pieces of turf together permanently. It's been growing in popularity over the past few years because it's simply easier and more convenient to use than the traditional seam cloth and glue combination. Adhesive joining tape holds grass in place just as well, costs less and takes a lot less time to install than the messy glue alternative. It's a no brainer for landscapers, do-it-yourselfers and business owners as a great option for seaming synthetic grass. 
The process of binding together two pieces of artificial grass is a simple one once you know what you're doing. It can be relatively easy if the pieces are small and easy to manipulate and more difficult when dealing with larger sections. And once an invisible seam is achieved you want to keep it looking that way forever with a permanent bonding adhesive strip. In addition to finding the right product it's important to follow the steps below that detail the process of using adhesive tape to hold artificial grass in place. 
How to Use Artificial Grass Tape
When taking a look at how to tape artificial grass there are a series of steps that need to be carried out in order to achieve an invisible seam. Hiding the seam is difficult but with careful attention to detail you can achieve a near-perfect seam. There's nothing worse than an unsightly seam running across your lawn because unfortunately your eye gets drawn to it. Let's take a look at the steps to go through in order to get the perfect seam.
Trim Grass Edges
Line up the Seam
Set Seam Gap
Place Seam Tape
Set Grass
Secure Grass
1. Trim Grass Edges
The first step when taping artificial grass is to make sure that you have two good edges to seam together. This involves cutting as close as possible to the gauge row without cutting into the grass fibres as this will compromise the look of the seam. You want a nice straight line so you can butt the two edges together to form the seam.
Pro Tip:
Always cut from the back side of the grass and be careful not to cut the grass blades. If you are seaming a factory edge of the roll, cut and remove 3 to 4 gauge rows so you are seaming a clean edge.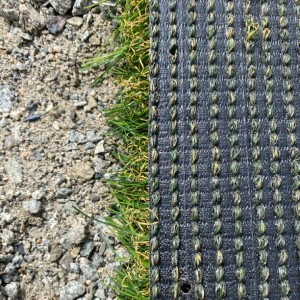 *shown upside down for reference
---
Olfa Rubber Handle Heavy Duty Utility Knife

---

If you click on this link and make a purchase, we may earn a commission. 
---
2. Line up the Seam
After you've cut both edges it's time to line them up. This may require the use of a carpet kicker and the goal is to achieve about a 1/4 inch gap along the entire seam. This gap should mimic the gauge row spacing in your grass. It's very likely you will get subtle variances in spacing due to manufacture deviations, stretching during installation or imperfect cutting.
Pro Tip:
Start from one end and secure the grass with temporary nails about 6 inches from the seam so it won't move. Ensure that you are lining up the gauge rows parallel to each other and the grain direction is the same.
*shown upside down for reference
3. Set Seam Gap
After the joint is lined up and you've placed temporary nails every few feet and about 6 inches away from the seam, it's time to prepare for the tape application. Start by folding the grass back at one end and holding with temporary nail. Do this along the entire length of the seam and on both sides. The goal is to create a gap or channel where you can place the seam tape down.
Pro Tip:
The gap after folding the turf back should be about 12 inches, 6 inches on each side of the seam. Take care not to step or kneel on any of the temporary nails in the grass.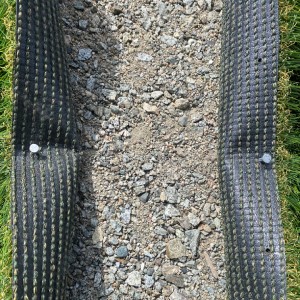 4. Place Seam Tape
After measuring the seam length and cutting the appropriate amount from the roll of seam tape, it's time to place it. Start by securing one end of the tape, sticky side up, with a nail so it won't move. Then extend the tape to the other end of the seam and secure again with a nail. If the seam is really long you may need to secure the tape at certain spots along the seam so it stays lined up along the seam. 
Pro Tip:
With 2 people this step is a lot easier as one person can stand on each end of the seam and secure it. You want to line up the half way point of the tape with where the seam will land as best as possible.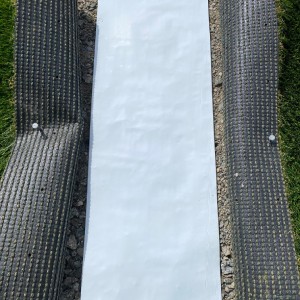 ---
Non-Galvanized Professional Landscape Nails

---

If you click on this link and make a purchase, we may earn a commission. 
---
5. Set Grass
Once the tape is in place it's time to secure one side of the grass by removing one half of the tape film. If your seam tape film isn't separated in two halves, you will need to remove the entire film sheet at this stage. Start at one end and slowly lower the grass by removing the temporary nails until it's sticking to the tape. Do this for the entire length of the seam, and repeat for the other side.
Pro Tip:
As you lower the grass be careful not to bend or flatten the blades down so they don't stick to the tape. If you are setting both sides at once try to lower the grass to the seam tape simultaneously.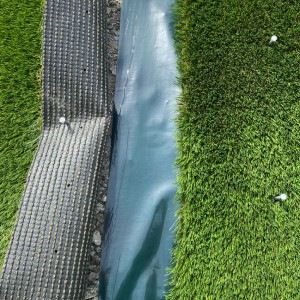 6. Secure Grass
After the grass is set onto the seam and you're happy with the result it's time to secure it. Applying weight along the seam will ensure that the grass backing is binding with the tape. This can be done by stepping gently along the seam or placing weight in some form. As an optional step you can place artificial grass nails along the seam every 1 to 3 feet for added fastening strength. 
Pro Tip:
At this step you can make minor adjustments to the seam gap if necessary by manipulating with nails. You may want to add nails along the seam for added security especially if the seam is over 20 feet long.
Best Artificial Grass Tape
The best artificial grass tape on the market will save you time and money and is a great choice if you don't like working with glue. You'll want to look for a self-adhesive tape that's non-toxic, waterproof and is able to stand up to being outdoors. The expansion and contraction that can happen with some glues and tapes when exposed to fluctuating temperatures can be an issue. The following is a list of features to look for when choosing the right seaming tape at the right price. 
Heavy Duty Artificial Grass Seam Jointing Tape

---

If you click on this link and make a purchase, we may earn a commission. 
---
Tape Width. The width of the tape should be at least 6 inches which would allow for about 3 inches on each side of the seam. Any less than that makes it difficult to achieve a proper bond with the turf backing.
Materials. Make sure that it's waterproof, made of heavy duty materials that will stand up to all types of weather and temperature ranges including UV protection.
Non-toxic. An environmentally friendly artificial grass tape will give you peace of mind that your children and pets will be safe enjoying the new lawn. 
Backing film. A backing paper film that can be removed one half at a time will make the seaming process a lot easier and reduce the risk of mistakes. 
Double sided. If you are placing grass on a surface that tape will bond to, you may want to consider double sided tape for added bonding capabilities.
How to Join Artificial Grass Without Tape
We don't recommend joining artificial grass without tape unless there's a specific reason behind your decision. If you don't have tape or for whatever reason you can't use it, you will definitely need to brace the grass with nails or something similar. The last thing you want is the grass to shift around after it's installed. If you are setting up a temporary grass area we would recommend still using tape and cutting the tape to remove it when you want to remove the grass. 
---
---
---
---
---
---
Disclaimer
Please use all appropriate and proper safety precautions when attempting projects on this website. All projects are attempted at the reader's own risk. 

Duralawn® participates in the Amazon Services LLC Associates Program, as an Amazon Associate we may earn a commission from qualifying purchases.
Duralawn® artificial grass installations, products and service in Kelowna, Vernon, Penticton, etc since 2018.