5 Best Dog Pee Pads
The best dog pee pads on the market are extremely reliable and you can use them just about anywhere with confidence knowing they will eliminate odours and won't leak onto the floor beneath. They can be used indoors, outdoors or as part of an artificial grass dog potty system that incorporates an absorbent layer with life-like synthetic grass and a non-slip base. Whether you are looking for a puppy training pad or an incontinence pad for an aging furry family member, there's many options to choose from ranging in price and size. 
If you've ever come home to a smelly mess you will appreciate what dog pee pads can provide. There are many reasons why a dog may pee on the floor ranging from lack of training, medical issues, old age or it's just too cold outside. A strategically placed pee pad and a bit of potty training can make dog ownership so much easier and hassle free. The best reusable dog pee pads on the market turn the chore of potty time into a much easier one, not to mention they're budget friendly because you can wash and reuse as often as necessary. 
Best Dog Pee Pads
The following best dog pee pad reviews are based on expert knowledge, customer reviews and overall product quality. All the products listed below are eco-friendly, non-toxic and ideal for use indoors and outdoors as part of a potty tray system or on their own. If odour control is important for you, we recommend purchasing a product that utilizes active carbon to break down the bacteria that causes urine smells. The convenience of disposable dog pee pads is great but it's worth considering eco-friendly, washable options if you are on a budget. 
1. Amazon Basics Regular Dog Pee Pads
The best indoor dog pee pads on the market feature multiple layers designed for maximum absorbency and leak-proof protection for floors. Amazon Basics Puppy Training Pads are affordable and available in the standard size of 22" x 22", making them ideal for small to medium dogs. They are perfect for puppy training due to the included attractant and the ability to absorb and hold urine in a gel state makes them clean, tidy and easy to handle. If you're looking for bulk dog pee pads, quantities of 50, 100 and 150 are available for added convenience and staying on budget.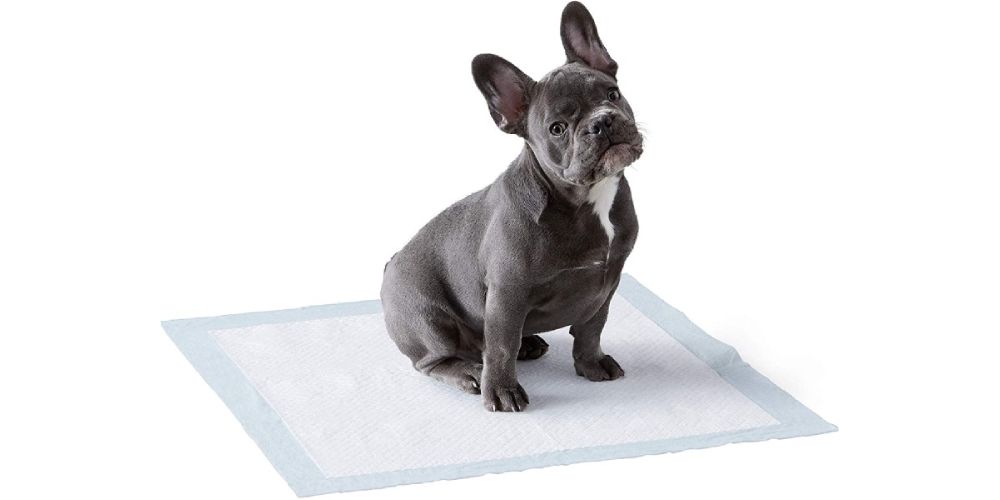 ---
---
---
2. Amazon Basics Carbon Dog Training Pads
If you are concerned at all about odours from urine you will absolutely love the Amazon Basics Carbon Dog Pee Pads. They feature a layer of carbon for complete odour control so can use these pee pads anywhere; indoors, outdoors, in a car, on a boat, or in an airport. The 5 layer technology includes an ultra absorbent, leak proof layer that turns liquid into gel, and locks both the urine and smell inside. Enjoy hassle-free cleanup with these disposable dog pee pads that are available in two sizes; 22" x 22" and 28" x 34".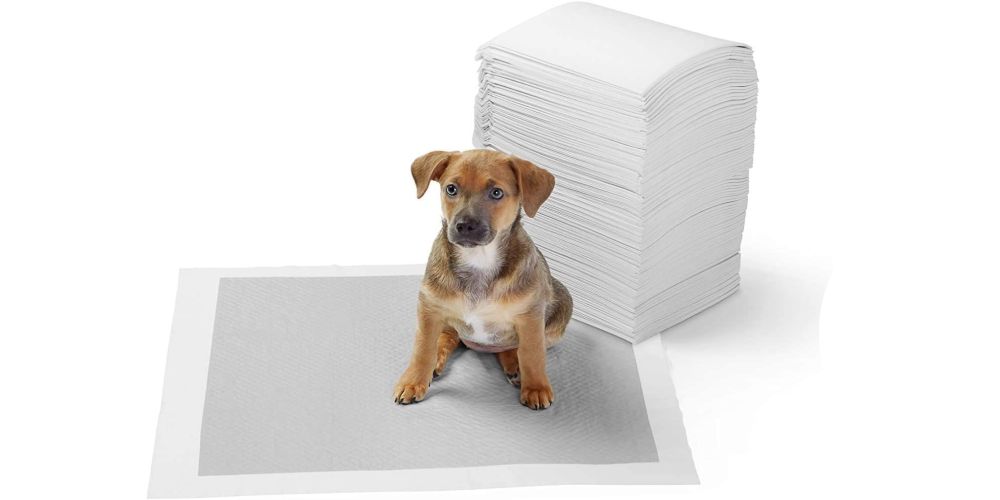 ---
---
---
3. American Kennel Club Extra Large Training Pads
Are you looking for extra large antibacterial dog pee pads that boast up to 75% more absorbency than other leading brands? The American Kennel Club Extra Large Dog Pee Pads are available in 30" x 28" size and wholesale packs of up to 50. You can count on 24 hour protection, maximum absorbency, minimal odours and even an array of fresh scents including; eucalyptus, lavender and lemon. These pads are excellent for lining crates, carriers or as an ultra absorbent layer as part of an artificial grass dog potty system. 
---
---
---
Best Washable Dog Pee Pads
A washable dog pee pad blanket is a life saver for some dog owners. The comfort, quality and versatility of the best washable pee pads on the market today make them both practical and fit into just about any decor. It's a great way to extend your dogs bathroom area inside during the cold winter months or keep it confined to a small space on a deck, patio or kennel. An added bonus is that the reusable dog pee pads listed below are machine washable, super absorbent, water proof and have an anti-slip backing. 
4. Portin Washable Dog Pee Pads
Looking for an eco-friendly pee pad option? Reusable and washable dog pee pads are a great idea that's environmentally friendly while still doing the same job as disposable pads. The leak proof design features absorbent cotton, waterproof materials and a non-slip bottom to keep the mat in place during use. The ultrasonic design of the Portin Washable Dog Pee Pad helps prevent bacteria and minimizes odour so you can use them just about anywhere; on the floor, in a car, on the sofa or a kennel. Available in large size of approximately 40" x 27".
---
---
---
5. Trendy Den Washable Large Dog Pee Pads
Are you looking for a quality dog pee pad that's versatile enough to be used in kennels or as a whelping pad? The Trendy Den Large Dog Pee Pads are machine washable, making them economical and friendly for the environment. The pads feature a waterproof barrier to prevent leaks, a non-slip base to keep it in place and quality materials that ensure the pee pad will last a long time. This multi-layer pad is available in one size of 32" x 38" and a neutral grey colour that will look great almost anywhere.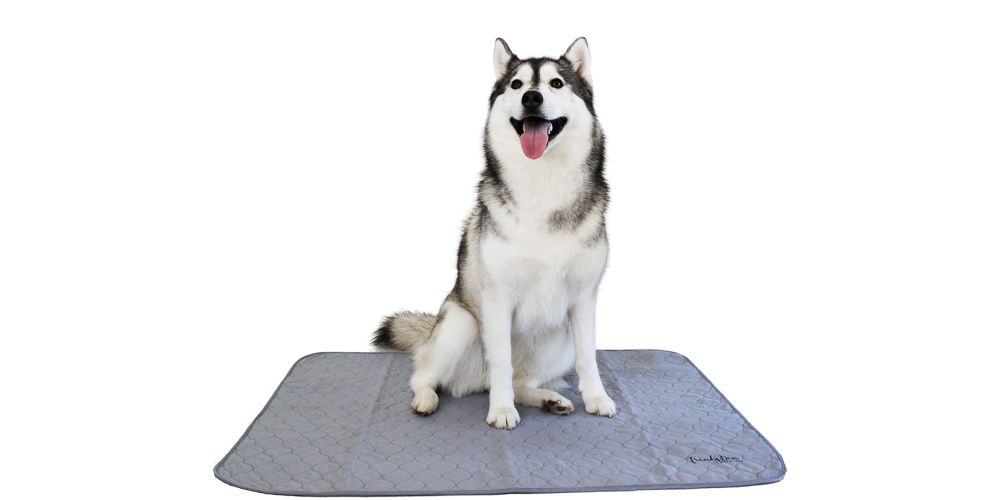 ---
---
---
How to Get a Dog to Use Pee Pads
Let's take a look at how to use dog pee pads and how to get your dog to use it successfully. It's important to understand that all dogs are unique and you may need a lot of patience before the habit of using the pad is developed. It's worth taking the time to see things from your dogs perspective and even consider some of the ideas we presented about dogscaping for a happy dog. A happy dog in general will behave better and ultimately lead to success in their daily habits including potty training. 
How to Use Dog Pee Pads
The first step is to unfold and place the dog pee pad in an area that is both convenient and practical. You may want to start indoors in an area near where they sleep and eat but eventually they will be transitioned outside onto a deck, balcony or into a kennel. 
Place your puppy or dog on the training pad throughout the day to get them accustomed to it. This will range from every couple hours to only a few times a day depending on how often your dog pees. Dogs usually relieve themselves shortly after a meal and more frequently in the summer when they drink more water. 
If your dog relieves themself in an area other than the pad, take them to the pad immediately.
Any time that your dog relieves themself on the dog pee pad, use verbal positive reenforcement cues like "potty" or "go potty". Use this cue every time they use the pad so they begin to associate the phrase with potty time. You may also want to consider rewarding your dog with a treat.
If you are using a disposable dog pee pad, dispose of it as needed. Most disposable pads can be used for multiple potties due to their excellent absorption. Wash your reusable training pad when urine is no longer locked away, odours develop and you can even clean it with a deodorant pet spray that kills bacteria found in pee and poop. 
As your dog learns to use the potty pad consistently, you can move the pad closer to the exterior door and eventually outside or wherever you desire them to go to the bathroom. 
Dog Pee Pad Tips
While some dogs will seem to use pee pads like it's second nature, others will fight it for whatever reason. You may even have the unpleasant experience of your puppy or dog chewing on the pee pad instead of peeing on it. Another common concern is how to reduce or get rid of urine smell, which is especially important if you are using the pad in your bedroom, car or indoors.
If your dog is persistent about chewing on the pee pad we recommend using a reusable pee pad blanket with a thicker material. If that doesn't work you can try using an artificial grass dog potty system that uses multiple layers. The top layer of artificial grass will likely act as a deterrent to chewing while the absorbent layer hides out of reach.
There are two ways that we recommend. The first is to use a training pad system that has active carbon in one of the layers. The carbon will effectively eliminate or greatly reduce the smell that originates from bacteria and ammonia in dog urine. The second way is to use an enzymatic pet cleaner spray that safely eliminates bacteria and leaves a fresh scent.
While some dog pee pads have a built in attractant that works for some, it isn't necessary. With a bit of patience and good habit development you should be able to train your puppy or dog to use a pad. See our step by step guide on how to get a dog to use pee pads above. 
Pee pads are good for dogs and their owners. They are a safe and affordable way to develop good bathroom habits even in difficult circumstances. If you live in an apartment or a dog is confined to a balcony, patio, deck or cage temporarily they are more than ideal. With the absorption technology, moisture wicking and carbon odour control they are definitely worth considering for most dog owners.
While disposable or single use pee pads are not recyclable, you may want to consider a washable dog pee pad because it can be reused once it has been machine washed.
---
---
---
---
---
---
Disclaimer
Please use all appropriate and proper safety precautions when attempting projects on this website. All projects are attempted at the reader's own risk. 

Duralawn® participates in the Amazon Services LLC Associates Program, as an Amazon Associate we may earn a commission from qualifying purchases.
Duralawn® artificial grass installations, products and service in Kelowna, Vernon, Penticton, etc since 2018.