Artificial Grass Dog Potty
5 Best Artificial Grass Dog Potty
An artificial grass dog potty is considered a miracle by some pet owners because it solves a lot of the problems dog and pet owners have when it comes to potty training. The days of the backyard grass getting ripped up and littered with poop are gone and you can say goodbye to those unsightly brown circles. Artificial grass is ideal as a bathroom patch for your dog to pee and poo, and it's also a great one-two combination when used as an alternative to natural grass in your backyard living space.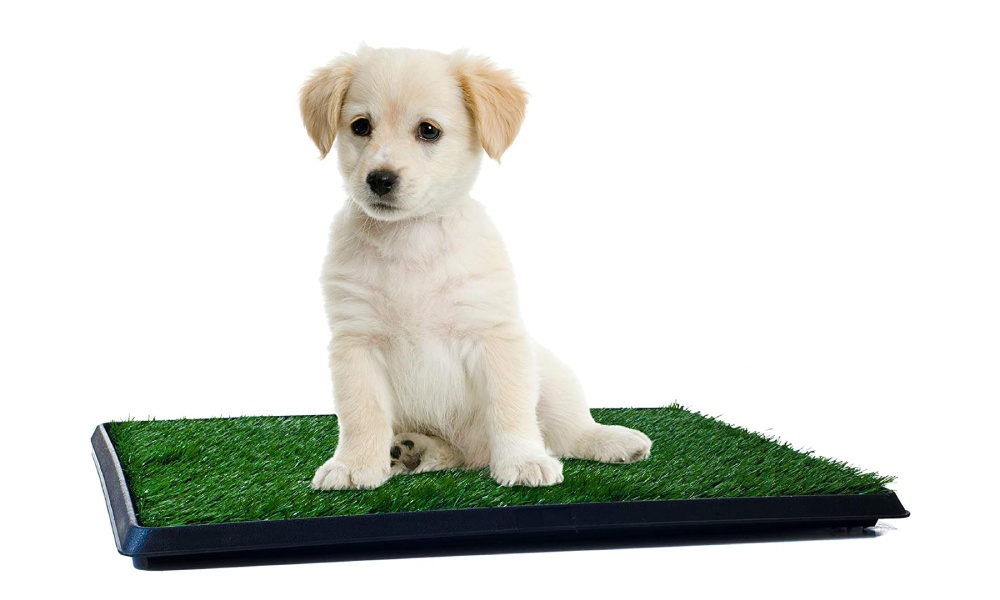 There are many different options on the market when it comes to artificial grass for dogs and the technology just keeps getting better every year. If you are in the market for a better option when it comes to training your puppy or you want to provide an easier, more convenient place for your elderly, sick or injured dog to pee, you're going to love the options available. The best artificial grass for dog potty products are available in Canada and even designed for outdoors in our harsh weather conditions. 
Best Artificial Grass Dog Potty
Do you have a brand new puppy that you're eagerly trying to potty train? You've likely considered the idea of using an artificial grass dog potty but have questions about how they work. Maybe you've heard they get smelly or some dogs don't like them? Have you heard from other dog owners that currently use them and can't live without them and want to learn more? We've put together a list of the 5 best artificial grass dog potties in an easy to read format so you can purchase with confidence!
1.  PAW Indoor Restroom Puppy Potty Trainer
The Paw artificial grass dog potty trainer has a 3 layer system that's non-toxic, odour resistant and made of entirely synthetic materials. The design of this mat and tray system incorporates an antimicrobial odour resistant turf that gives off a scent that attracts dogs. This makes it ideal for potty training and can be used just about anywhere that's convenient for your hard to train puppy, elderly dog or dog with an injury that inhibits mobility. 
---
---
2. Downtown Pet Supply Dog Pee Turf Bathroom
This is one of the best artificial grass dog potties in Canada for a number of reasons. It checks off all the safety boxes with it's non-toxic materials that are easy to clean and maintain. The ultra-handy drawer system allows for easy cleanup and disposal so you can maintain a constant odourless potty day after day. The life-like artificial grass mimics real grass without the hassle and potentially harmful affects that natural grass has on some dogs. It's weatherproof and can stand up to winters in Canada. 
---
---
3. HQ4US Large Dog Grass Litter Box
The HQ4US is a unique artificial grass dog potty system that incorporates an absorbent pad between the base tray and synthetic grass. The grass is simple to switch out and comes with an extra patch so you are never left without a clean, fresh bathroom for your dog. You can count on a portable potty that can be used anywhere, around the house both inside and outside, camping or even while boating with your furry companion. 
4. MEEXPAWS Artificial Grass Litter Box
If you're in the market for a deluxe artificial grass dog potty with an extra grass patch, this is the system for you. This potty bed is ideal for all size dogs and features a 4 layer system; artificial grass, grid separator, pee pad and bottom base tray. The leak-proof, absorbent layered dog potty is ultra-durable and resistant to scratching. This potty includes slip resistant sticky pads so the bathroom won't slide around when being used.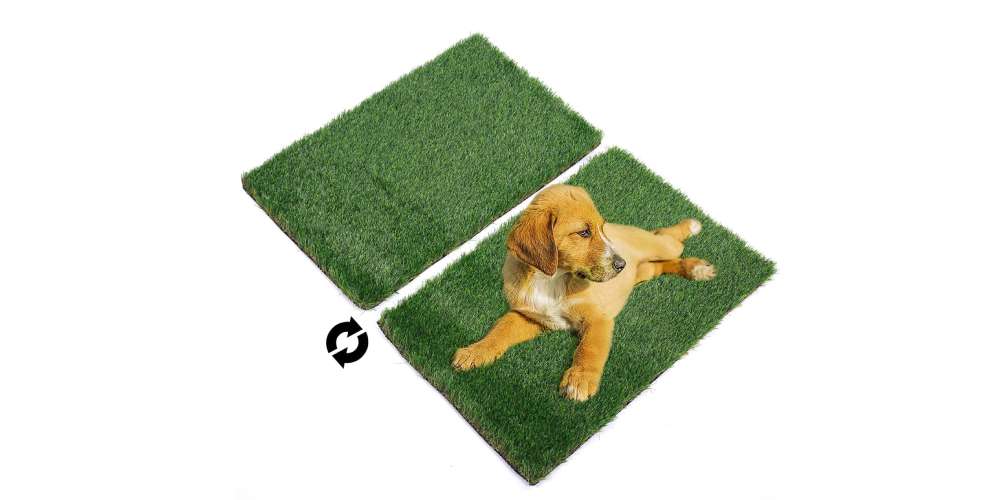 ---
---
5. Downtown Pet Supply Synthetic Grass Dog Potty
The Downtown Pet Supply synthetic grass dog potty is an affordable option with a simple design for medium sized dogs. It's lightweight, easy to clean and mimics real grass in its soft feel and appearance. It's ideal for both indoor and outdoor use whether it's on a porch, patio, balcony or as part of your dogscaping plan. It can be cleaned as often as necessary and features a 3 layer system that will protect your flooring and keep it in place. 
---
---
---
What is an Artificial Grass Dog Potty?
An artificial grass dog potty utilizes the benefits of synthetic grass to create a reusable, portable and easy to clean patch of grass for dogs to pee and poop. The top layer of grass is often combined with a dog pee pad that sits on top of a leak-proof tray. Urine and rinse water drain through to the collection tray where it can be disposed of periodically or constantly drained away via a drainage hose. 
Artificial grass dog potties are almost always rectangle or square shaped and come in a variety of sizes. When choosing the right size artificial grass dog potty, we recommend choosing the largest size that will fit in the space you will be using it; apartment, patio, deck or outdoor space. One of the many benefits of a potty bathroom patch is they are portable and can be moved around depending on your unique situation. 
Artificial Grass Dog Potty Benefits
There are many benefits to using artificial grass for a dog potty that will help you with your decision when choosing between artificial and real grass for a dog potty. While these benefits may not apply to you at the present time they may be something to consider for down the road as your puppy ages or develops mobility issues. The following are a list of artificial grass dog potty benefits:

Easy to clean. A quick rinse is often enough to keep the potty clean and if odours develop you can use an antimicrobial enzyme cleaner to kill bacteria and odours, while keeping it smelling fresh.
Washable and Reusable. With any product that's washable you can count on using it over and over again which is great for your pocket book and the environment. 
Variety of sizes. While we always recommend using the large patch of grass that will fit, you can upsize or downsize depending on the size of your dog, preference or if multiple dogs will be using the bathroom.
Puppy potty training. Ideal for housebreaking a puppy because they can be placed in a convenient spot and in a hurry during the night or when it's cold outside.
Apartments and condos. If you live in an apartment or condominium and you still want to enjoy the companionship of a dog, oftentimes bathroom breaks are a deal breaker. With a dog potty patch your dog can do what it needs to do without going outside.
Dogs with mobility issues. A portable bathroom pad is perfect for a dog with mobility issues whether it's old age, an injury or your dog is sick.
Sensitive paws. Whether your dog is small, it's wintertime or has a dog grass allergy, an artificial grass dog potty is a great way to provide a soft, gentle and inviting surface to pee or poop on all year round.  
---
---
---
---
Real Grass vs Artificial Grass Dog Potty
Artificial grass for dog potties is a fantastic option for most dog owners but there are a couple things to consider. As all dogs have their own personality, there are some dogs that don't like artificial grass. In some instances it may take some time to train your puppy or dog to use an artificial grass dog potty, some might flat out refuse at first. In these instances you may consider using a natural grass dog potty. 
The main downside to using natural grass potties is they are somewhat unreliable and messy, this is where a dog paw cleaner may come in handy. The notion of using real grass in a box means you will need to replace the grass quite often, especially if you have multiple dogs using the grass bathroom. Other downsides to natural grass include receiving grass that's dead, brown spots and even bugs already living in the grass. It can get expensive to purchase a new grass dog potty every week. 
The advantages to artificial grass dog potties start with the look and feel of the grass, which is so lifelike your dog may not even notice. The soft feel and cleanliness will entice almost any dog to use the potty patch, making training a whole lot easier. They are low maintenance, easy to clean, portable and some use an antimicrobial infill to prevent odours, making them a really great choice for numerous applications.
Artificial Grass Dog Potty Training Tips
Potty training can be frustrating, time consuming and may seem impossible for some dogs but there are a few things you can do to make it easier. We suggest starting with a schedule and introduce the grass potty after a nap or after eating. As they begin to associate the potty with bathroom time it will become second nature to use the grass. If this isn't working right away try adding a bit of positive reenforcement in the form of praise or even a treat.
If you'd like more information about potty training your dog there's a lot of great information out there including; setting routines, location of the potty and what to do when an accident happens. We hope you found this information about artificial grass dog potty helpful.
---
---
---
---
---
---
Disclaimer
Please use all appropriate and proper safety precautions when attempting projects on this website. All projects are attempted at the reader's own risk. 

Duralawn® participates in the Amazon Services LLC Associates Program, as an Amazon Associate we may earn a commission from qualifying purchases.
Duralawn® artificial grass installations, products and service in Kelowna, Vernon, Penticton, etc since 2018.