Residential Artificial Grass
Residential Artificial Grass
Residential artificial grass is incredibly versatile making it ideal for any application around the home. The realism, quality and durability has led to its growing popularity year after year. With all the benefits combined with the reduced maintenance many homeowners are turning to artificial grass for their backyard and front yard areas. It's common to hear from customers that they can't even tell it's fake grass until they inspect it really closely.
We are going to take a look at the reasons why homeowners decide to install residential artificial grass. After reading this article you should have a really good understanding of how synthetic turf can enhance your home landscape as well as answer some questions you may have about installing artificial grass in your own yard. Whether it's a pool surround, child's play area or an ornamental area to provide some colour for your front yard xeriscaping, there is a turf ideal for each application. We've listed the best residential artificial grass based on density, pile height and other factors. 
Best Rated Residential Artificial Grass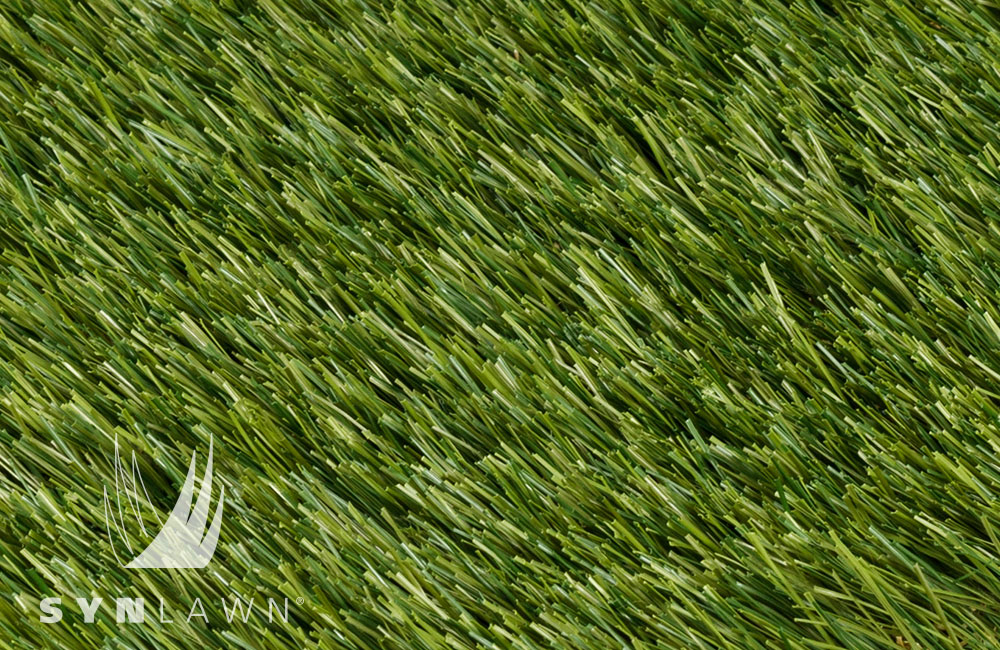 SynAugustine
SynBlue
SynMeadow
---
---
5 Reasons to Install Residential Artificial Grass
You probably have your own reasons for installing residential artificial grass or at least entertaining the idea. You might have concerns about cost, bleaching, longevity and the amount of maintenance required to keep it looking good year after year. The simple explanation is that it does have a substantial up front cost and most homeowners recoup the costs in as little as 5 to 10 years. You'll be enjoying all the advantages of residential artificial grass every year and saving money at the same time. 
---
1. Low Maintenance
An unfortunate part of having a nice looking yard is the cost and time it takes to maintain natural grass. In today's world we are so busy that when we get some time to relax, the last thing you want to do is mow, rake, edge or fertilize your lawn. You may dread the weekly maintenance of your natural lawn but you put up with it because you want your yard to look great or function better for your children to play on. 
Artificial grass is low maintenance. A typical residential artificial grass area will only need to be brushed, broomed or debris blown off once or twice a year. This can typically be done in about 10-15 minutes for an average sized yard. We offer a complete artificial grass maintenance service package or you can do it yourself as often as needed. 
Artificial grass produced by a reputable manufacturer should last at least 20 years. 
---
2. Save Money
The up front cost of installing residential artificial grass will range anywhere from $500 to $50,000 depending on the size of your yard. It's an investment just like a getting a new roof installed for your home or putting up a fence around your yard. The difference is that by switching to artificial grass you will actually recoup that money every year. 
The savings will come in many forms and some of them may surprise you. As the cost of water increases you can even count on saving more money in the future especially if you incorporate xeriscaping into your yard. It seems that every city in British Columbia is implementing water meters with plans to increase water prices yearly. The fragility of our drinking water systems is concerning especially when we are using it to keep our ornamental lawns looking green through very hot, dry temperatures. 
In addition to saving money and helping the environment by getting rid of your natural lawn you can eliminate the cost of maintaining it. This can include mowing, trimming, edging, aerating, thatching and fertilizing. No more lawn mower, weed wacker or gas to power them and the best part is you won't need any potentially harmful chemicals. These things all cost money and you simply won't need them anymore. 
Did you know that artificial grass is made with recycled materials and is 100% recyclable?
---
3. Add Property Value
In addition to saving money you will be increasing the value of your home and property by installing residential artificial grass. All the same reasons that you love it will be eagerly sought after by prospective buyers if you ever decide to sell your home. The best part is that first impressions are very important when selling a home and you can count on a great first impression whether you've given your front yard landscaping a makeover or backyard pool area a facelift with artificial grass. 
Take a look at 25 Pool Landscaping Ideas that will transform your backyard on any budget. 
---
4. Curb Appeal
A house is the biggest investment most of us will ever make in our lifetime and we want it to look good. Artificial grass looks good and it's the reason why you'll see streets in some neighbourhoods that have lots of it. It's very common for a neighbour to see how nice and realistic it looks and end up wanting it installed themselves. 
With the latest trend in xeriscaping that promotes low maintenance and low water consumption it can tend to look a bit drab with all the earth tone colours. Residential artificial grass is a great way to stay with the xeriscaping concept while adding some colour. Since most front yards are ornamental in nature it's really nice to have little upkeep. 
Artificial grass won't bleach or fade in the sun due to its built-in UV resistance.
---
5. Reduce Frustration
If you've every tried to keep natural grass alive and thriving under trees, in acidic soil or in a high traffic area you've probably been extremely frustrated. Real grass needs certain conditions to grow and if they aren't met you can be fighting an uphill battle year after year. This can not only get expensive but it can also take up a lot of valuable time. Artificial grass takes away all the headaches and will look great anywhere; under a tree, beside a pool, in a dog run and even when temperatures soar in the summer. 
If you take pride in maintaining your own yard, look after a rental property or like taking vacations you can count on reduced frustration and an overall sense of comfort knowing the yard will look great all year long. 
Residential Artificial Grass Specifications
The best residential artificial grass will create the ultimate low maintenance yard, give you incredible curb appeal and help you transform neglected areas of your yard. It is however important to understand the type of turf that is best for each application. There are a few things to consider that we'll go over below so you can choose the best product for your home. 
The Best Pile Height and Density for Residential Grass
The best pile height length and density for front yards and areas that don't receive a lot of foot traffic tend to be the more affordable options. An ornamental lawn really doesn't need a high density or long blade length because it's just not necessary. The grass will be viewed from the road or driveway and the only time it will receive traffic is during yearly maintenance. 
This is good news because yards that are 500 to 1,000 square feet or more can be expensive but when you can use a cheaper turf it makes it much easier on the pocket book. You want to look for a shorter pile or blade length and lower density, which translates to less stitches per square foot. The best artificial grass for dogs or backyards where you will have foot traffic from children should be higher density and pile height. 
If you have further questions related to residential artificial grass or want to leave a comment or suggestion, contact us and we will reply to you as soon as we can. We hope you found this article helpful and look forward to being your source for everything related to artificial grass whether you're in Kelowna, Okanagan Valley, Kamloops or beyond.
---
---
---
---
---
---
Disclaimer
Please use all appropriate and proper safety precautions when attempting projects on this website. All projects are attempted at the reader's own risk. 

Duralawn® participates in the Amazon Services LLC Associates Program, as an Amazon Associate we may earn a commission from qualifying purchases.
Duralawn® artificial grass installations, products and service in Kelowna, Vernon, Penticton, etc since 2018.