---
---
Artificial Grass Broom
An artificial grass broom should be in the arsenal of anyone that wants to keep their synthetic lawn looking good all season long. Any home owner that cares about how their yards looks, knows that leaves and other debris inevitably end up on the lawn. It's no different with artificial grass and in addition to impressing the neighbours year round, you'll be reducing the likelihood of weeds and other organics taking hold and growing in your artificial grass. We are going to go over the best artificial grass brooms on the market today and explain why they shouldn't be overlooked as part of your synthetic grass maintenance equipment toolbox. 

With the steady growth of artificial grass lawns in Canada and the United States its leading to a transition in how homeowners think about lawn maintenance. With a traditional and dated natural grass lawn you typically need to carry out a number of mundane tasks just to keep it looking reasonably attractive, lush and green. With artificial grass you should only need to clean with a broom or lawn rake occasionally especially if you have pets. If you don't have pets an artificial grass broom should do the trick throughout the summer months either as a spot cleaner or to bloom the grass up so it looks its best.
Best Artificial Grass Broom
The best artificial grass broom should be able to perform a few important tasks that we will go over below. Choosing a broom is largely a subjective topic, so we are going to list the push brooms we feel are the top rated and highest performing in no particular order and you can decide given the information provided below. Keep in mind that if you want to get a deeper clean over a larger area consider using an artificial grass power brush sweep as part of your yearly maintenance routine. 
Blooming or grooming is the process of standing the blades of grass up by pushing a broom against the grain of artificial grass, giving it a fresh appearance and also increasing its lifespan. This process is important for working artificial grass infill into the base of the turf and out of sight. 
Plastic Artificial Grass Broom
An artificial grass broom with plastic teeth is perfect for getting between long synthetic grass blades. It's often used by professional artificial grass installers as a final brush up or blooming over small areas any anywhere a power broom isn't practical. It's a convenient tool that can quickly gather up debris, including pet hair, that's settled on the grass. It's also ideal a spot cleaner especially on grass that's used often by children, dogs or in a high traffic area.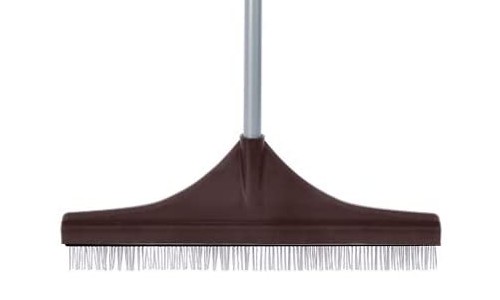 ---
Nylon Artificial Grass Broom
Are you looking for an affordable artificial grass broom that can remove pet hair? This simple push broom is designed to remove pet hair from carpet and furniture, and it works great for basic cleaning of artificial grass. In addition to begin perfect for getting pet hair out of synthetic turf, it works great in combination with a quality artificial grass cleaner to scrub and get stubborn pet or food stains. Similar to a plastic synthetic grass broom, it's lightweight and ideal for small areas. 
---
Rubber Artificial Grass Broom
Many homeowners have found they really like rubber bristles when it comes to the best push broom for artificial grass. A couple advantages with rubber is it's gentle on synthetic turf and debris seems to just stick to the broom as you pull it or push it across the turf. Look for a high quality product so you can be sure the rubber will last, and the handle won't break under the pressure of pushing against the grain of the grass. This style of artificial grass broom is easy to clean and also ideal for small to medium areas either as a blooming brush or spot cleaner.  
---
Artificial Grass Bristle Broom
You would be hard pressed to find an installer that doesn't have an industrial stiff bristle artificial grass broom on their truck. This multi-purpose type brush is fantastic at working infill into synthetic grass, blooming the grass so the blades stand up as well as keeping it clean throughout the year. In addition to the obvious of being great for cleaning up after a project, a stiff bristle broom is a bit of a secret weapon when it comes to artificial grass putting green levelling and grading. 
---
Artificial Grass Cleaning Broom
If you're looking for an artificial grass broom to clean pet areas or food spills this might be one of the best tools you can have around. A quality artificial grass for dogs is designed to resist staining and stand up to the rigours of pet traffic. If you need to get a deep clean we can't imagine a better way to manually clean artificial grass than using this handy artificial grass cleaning broom combined with a pet enzyme cleaner. With a little elbow grease you can really deep clean your turf and eliminate obnoxious pet odours. 
---
---
---
What Broom to Use on Artificial Grass?
Are you are wondering what broom to use on artificial grass? If you've read through our list of the best artificial grass brooms and still have questions, hopefully this next bit of information helps. There are a few variables that you need to keep in mind when choosing a broom for synthetic grass which are even more important if you are going to be doing your own artificial grass maintenance every year. 
No metal. A quality artificial grass can handle a lot of wear including brushing with stiff plastic bristles. An artificial grass broom should never have metal parts either in the form of tongs or spikes because they could damage the backing of the grass.
Grass blade length. Often overlooked, are the varying lengths of grass. While a putting green can be effectively cleaned with a short nylon broom, nylon isn't ideal for cleaning or brooming long artificial grass with blades over 1 1/2 in. Try to find a synthetic grass push broom with bristles or teeth that matches or exceed the length of the grass.
Light weight. A lightweight artificial grass broom is perfect for spot cleaning by anyone in the household and it also makes it practical for blooming larger areas without getting fatigued. 

Pets or no pets. A yard with pets will inevitably end up with more debris including organics on the grass that can cause problems down the road, namely; odours and bacteria. It's recommended that you use an enzyme cleaner and stiff bristle broom or power broom at least once a year to kill organisms and keep the grass clean. 
Duralawn
>
Artificial Grass Maintenance
---
---
---
---
---
---
---
---
Disclaimer
Please use all appropriate and proper safety precautions when attempting projects on this website. All projects are attempted at the reader's own risk. 

Duralawn® participates in the Amazon Services LLC Associates Program, as an Amazon Associate we may earn a commission from qualifying purchases.
Duralawn® artificial grass installations, products and service in Kelowna, Vernon, Penticton, etc since 2018.