4 Best Artificial Grass Rugs
The best artificial grass rugs will brighten up a living space while providing a soft, cushiony under-layer for furniture, children's play structures or anything else. There's nothing quite like the look and feel of nice green grass and a quality synthetic grass will give an even softer feeling underfoot, making an artificial grass carpet ideal for around pools or a patio area. A quality grass will also be able to stand up to any foot traffic including children and pets and should look great for many years.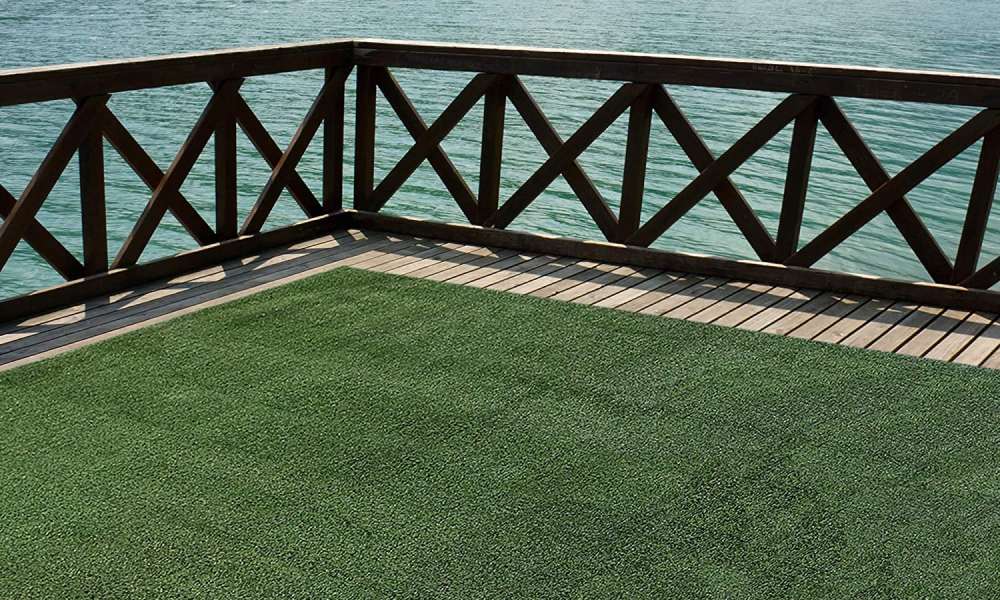 If you have pets that will be using the grass or it's specially going to be for somewhere like a dog run or kennel, you may want to use an artificial grass designed specifically for dogs. A synthetic that's ideal for dogs has a thick stitch count, higher quality and isn't overly thick so that it harbours bacteria from urine and poop. Dogs can be hard on artificial grass and whether it's a small area for them to sleep on or a large area to play on, be sure to choose a high quality grass that can stand up to the stress. 
Best Artificial Grass Rugs
The following 4 best artificial grass rugs are all highly recommended and have great reviews from actual customers. They range in size from a small door mat sized cut to a large enough piece to cover a deck a large patio or balcony. Most grasses can also be cut to fit a custom sized area but we suggest using artificial grass deck tiles which we discuss at the bottom of the page. Look for ultraviolet protection, stain resistance, weather resistance and at least a 5 year warranty. 
1. iCustomRug Indoor-Outdoor Artificial Grass Rug
Are you looking for an affordable floor covering for your patio, balcony or outdoor lounging space during the summer? This lightweight artificial grass rug for patio is foldable and easy to transport and has a low pile height. This carpet section is made of 100% polypropylene making it stain resistant, UV stabilized and shouldn't weather or fade much over time. It's available in sizes as small as 4'x6' all the way up to 21'x12' ideal for covering an entire room or patio deck. Choose from 4 attractive colours; grey, green, tan and emerald.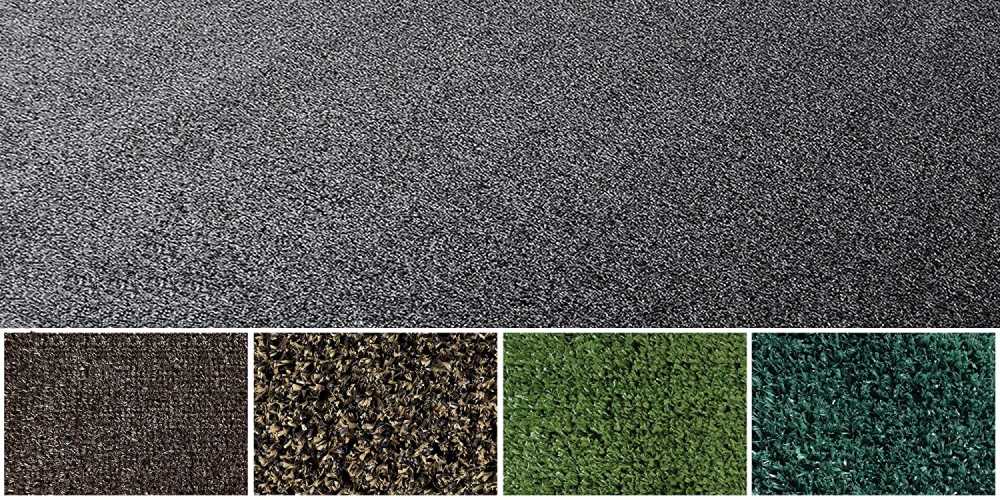 ---
---
---
2. SV Household Decor Synthetic Lawn Turf Carpet
The SV Household Synthetic Lawn Turf Carpet is a premium quality multi-purpose grass that's very durable. It's made of advanced ultraviolet ray resistance yarns with a poly blade and durable latex backing. It's perfect for indoor and outdoor use and doesn't require any infill material so it can be vacuumed and stays cleaner than ordinary grasses. This product has a 10 year warranty and a 30 day return policy making it one of the safest purchases for online artificial grass.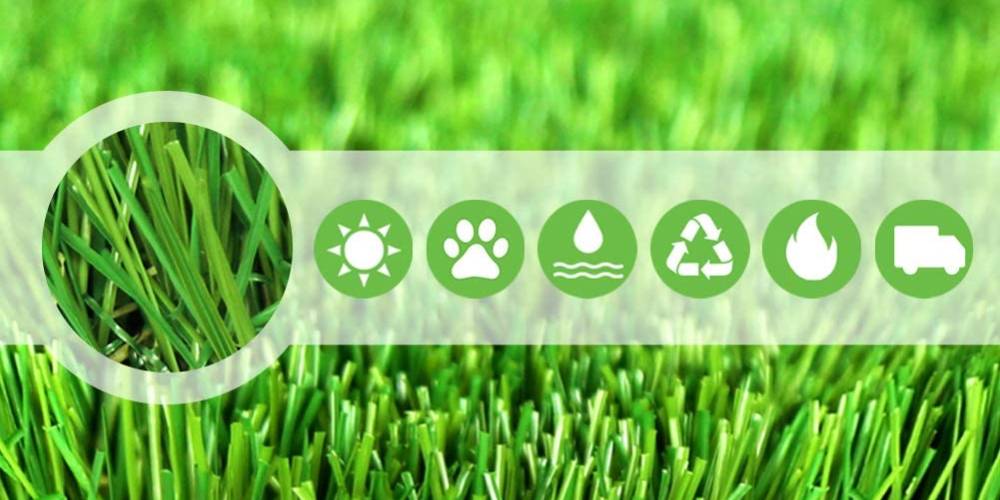 ---
---
---
3. iCustom Outdoor Artificial Grass Rug
The iCustomRug outdoor artificial grass rug is a versatile and quality synthetic turf that looks and feels like real natural grass. It's ideal for both indoor and outdoor spaces, but because of it's quality finish it's ideal for outdoor areas. It's soft underfoot and durable with UV stabilized coating and is also extremely stain resistant. It's easy to clean and can be hosed off with a regular garden hose so you can enjoy it year round. It can be cut to size without worrying about fraying; sizes range from 3'x8' to 12'x18'.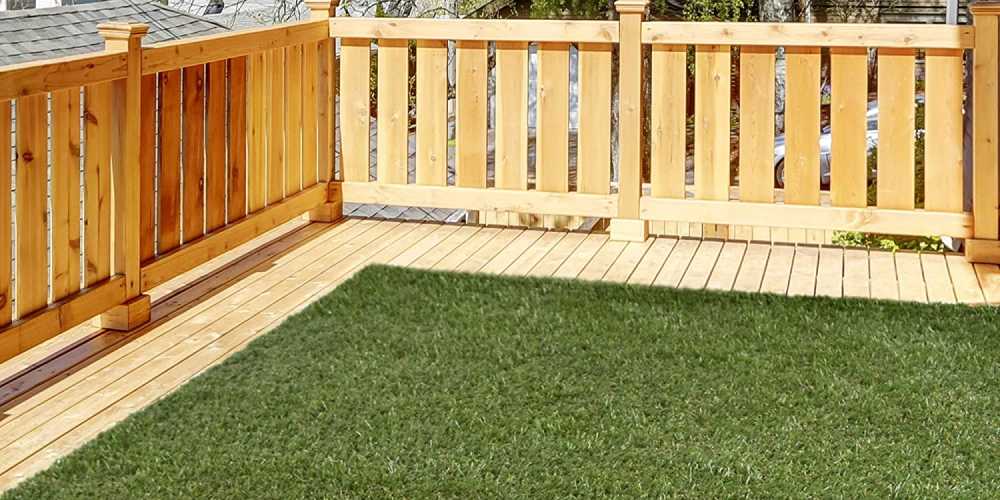 ---
---
---
4. Jshanmei Artificial Grass Carpet
Are you looking for a pre-cut section of artificial grass to use on a balcony? This synthetic grass carpet is ideal for large outdoor living spaces, coming in 3 sizes 6.5'x13', 6.5'x20' and 6.5'x26'. This environmentally friendly, UV resistant synthetic material can withstand extreme weather including being fire resistant. The built in drainage holes allow for adequate drainage regardless of where it's used as long as the sublayer allows for drainage such as a concrete patio or wood deck with a slight slope. It's super easy to install and clean and ideal for areas near pools, dog runs or playgrounds.  
---
---
---
Artificial Grass Rug Ideas
If you're considering artificial grass to cover any area you likely have considered the many different options out there. You usually get what you pay when it comes to quality in terms of how long it's going to last, how thick it is and subsequently how soft it feels underfoot. This isn't such a big deal unless you are next to a pool or on a deck where bare feet may be commonplace.  
There is a very big range in artificial grass quality on the market today. There are cheap artificial grass options that will last for one season with regular use and synthetic grass products that will last upwards of 30 years even outdoors exposed to harsh weather conditions. 
A really great option for covering any type of flooring are artificial grass deck tiles. The benefits of using grass tiles include being able to create any size floor area you like and being able to lift, move and clean them really easily. The quality of grass deck tiles seems to be better than regular cuts of artificial grass because the backing that interlocks creates a sturdy backbone for the grass to bind to. 
Another option that is especially beneficial if you own dogs is an artificial grass dog potty. A dog potty is a self contained system that starts with a synthetic grass top, layered with a pee pad and the bottom usually consists of a hard shell with an anti-slip bottom. This option is absolutely fantastic if you have pets that use artificial grass as a bathroom or you're training a puppy to use a bathroom instead of the yard. A regular artificial grass rug is fine as a dog bathroom but won't have the same anti-odour ability of a dog potty system. 
---
---
---
---
---
---
Disclaimer
Please use all appropriate and proper safety precautions when attempting projects on this website. All projects are attempted at the reader's own risk. 

Duralawn® participates in the Amazon Services LLC Associates Program, as an Amazon Associate we may earn a commission from qualifying purchases.
Duralawn® artificial grass installations, products and service in Kelowna, Vernon, Penticton, etc since 2018.