4 Best Underground Dog Fences
The best underground dog fences on the market today use the latest in wireless tracking technology and they work really well. A quality invisible fence system used to be hard to find but now there are several options that give dog owners absolute control over their dog or multiple dogs in small backyards or large areas up to 100 acres. The boundary is determined by placement of the wire so you can create any size area you desire by simply adding the appropriate amount of wire to the system in any shape or design.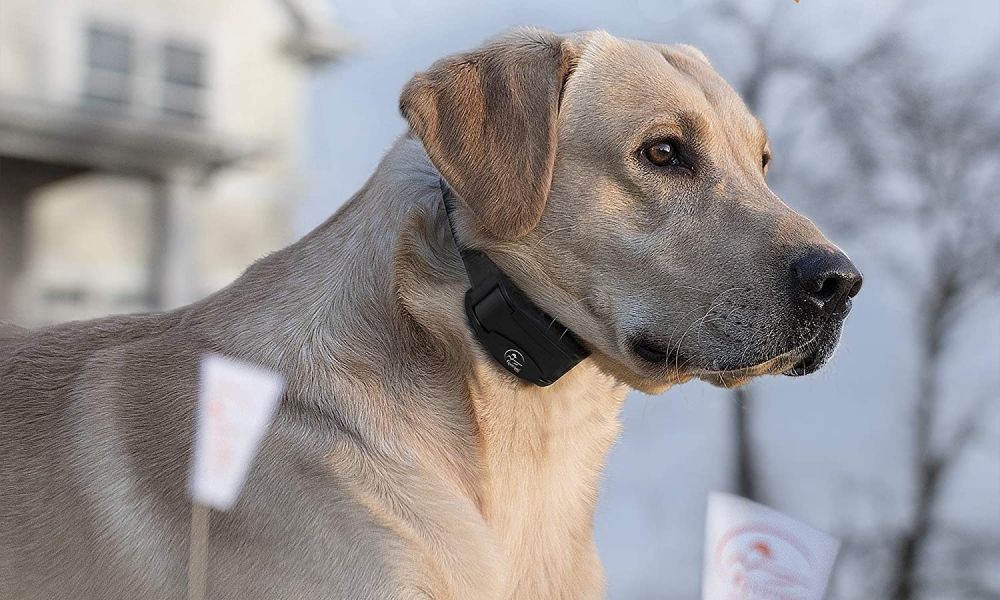 In addition to being able to add as many dogs as you like, or add hundreds of feet of wire for a larger perimeter, you can count on the latest technology in remote transmission. The collars are incredibly durable, some boasting waterproofing to a depth of 10. With lithium ion batteries you can charge the collar in a few hours and expect it to stay charged for as much as 2 to 3 weeks. You can even turn the fence barrier off via a handheld device, for the ultimate in hands-on dog training literally at your fingertips. 
Best Underground Dog Fences
The highest rated underground dog fences on the market today are available to both Canadian and United States customers. The biggest advantage to an in-ground fence system is you can create a customer boundary whether you want to cover a 2 acre parcel, 5 acre parcel or even a 100 acre parcel of land simply by adding wire. Any large area can be fenced with an invisible electric barrier as long as you are willing to set the wire and train your dog for their new perceived boundary. What better way to allow you dog to roam beyond the confines of a playpen. 
1. SportDOG Underground Dog Fence Kit
The hands down best underground dog fence on the market in Canada and the United States is made by SportDOG. This kit has everything you need to create an invisible boundary for as many dogs as you want. It can be installed just about anywhere and is expandable to cover a parcel up to 100 acres in size! The base kit includes enough flags to cover an area up to 1 1/3 acres, including 300 metres of fence wire. The submersible waterproof collars will fit dogs 4.5 kg and larger and have 3 modes to choose from that are controlled by the remote.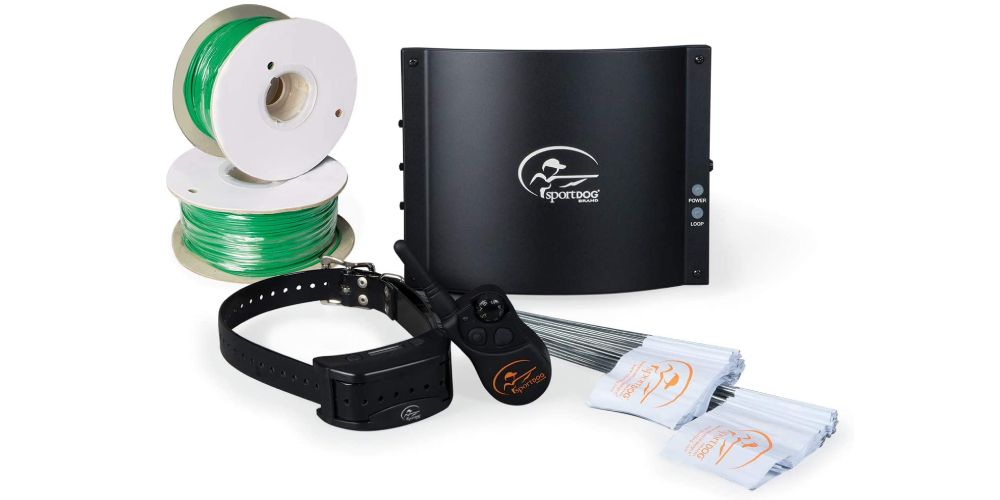 ---
---
---
2. Dogtra Underground Electric Dog Fence
Are you looking for the latest and best underground dog fence technology? The Dogtra E-Fence makes our list and the only reason it isn't number one is because it's relatively new to the invisible fence market. This advanced underground electric dog fence features a range up to 40 acres so your dog will have the freedom to run around while also being safe. The wiring is adjustable so you can set the distance it activates as well as having a filtering system that prevents accidental activation. A wire break alert comes standard with this system as well as a free underground dog fence training book pdf.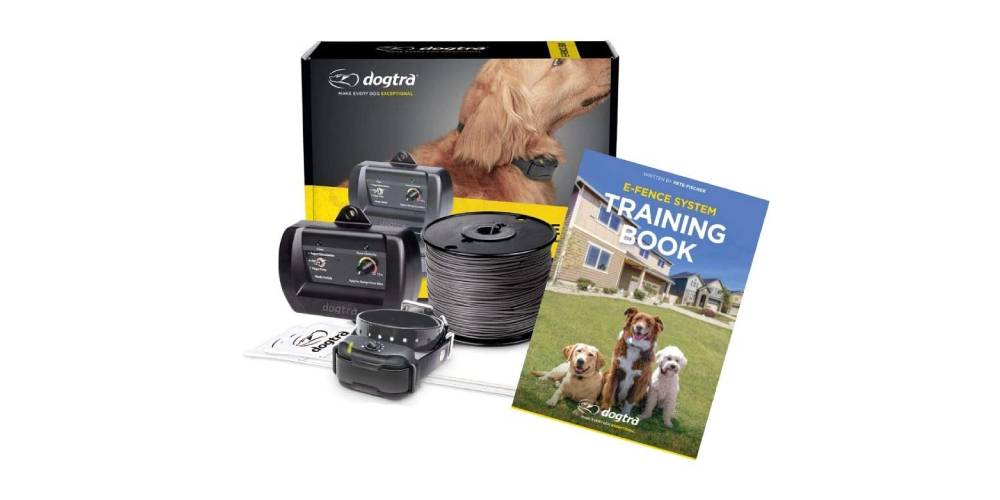 ---
---
---
3. eXtreme Underground Dog Fence 
The eXtreme underground invisible dog fence will easily cover up to 10 acres with high grade 14 Gauge heavy duty electric boundary wire. It boasts a receiving dog collar that is completely waterproof and submersible up to 10 feet deep, which will allow your dog to swim with no negative affects to the collar or barrier functionality. This product is manufactured in the USA and is backed by a 1 Year Warranty for added peace of mind. This is one of the highest rated underground dog fences on Amazon at the time of writing this article in 2021. 
---
---
---
4. PetSafe Stubborn Dog In-Ground Fence
Are you looking for an invisible dog fence that will work for stubborn or hard to train dogs? The PetSafe Stubborn Dog Fence is designed for dogs that need a little bit more work. It has 4 levels of static correction including the highest intensity available in a dog collar on the market. It also features a tone and vibration warning that's ideal for training hearing-impaired dogs that pose an added challenge. It comes standard with enough wire for 1/3 of an acre and is expandable up to 25 acres with purchase of additional flags and 14-20 gauge wire.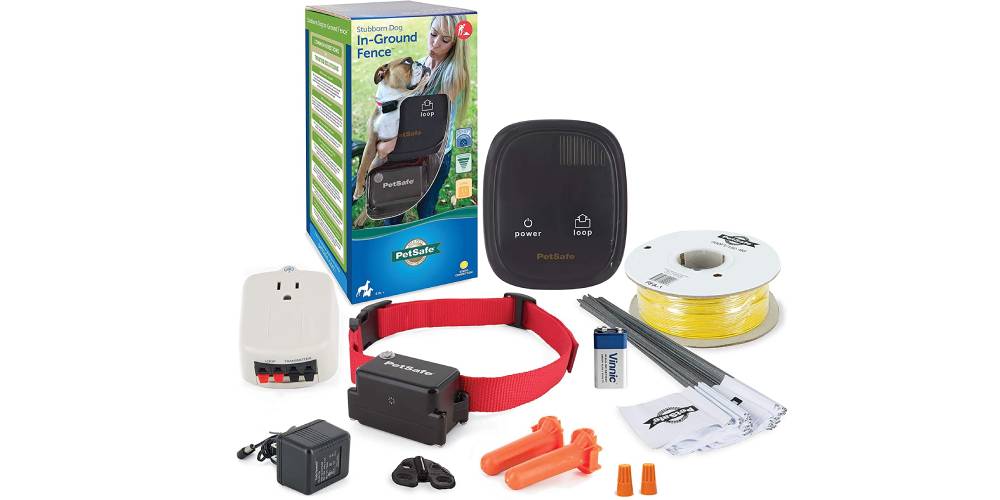 ---
---
---
Underground Dog Fence FAQs
Above we outlined the top rated underground dog fences but you may still have questions about cost and installation including how to run the wire under a driveway. We've also outlined the difference between an underground dog fence and a wireless dog fence as they often get incorrectly interchanged with each other. 
There are two types of invisible dog fences that are distinctly different. The first is an underground fence that consists of a wire that can be buried underground out of sight or laid on top of the ground. The wire can be ran around a custom perimeter boundary up to 100 acres in size. The cost for an underground wired dog fence ranges from $300 to $600, and may exceed that price if additional wire, flags and collars are purchased for multiple dogs. 

The second type of invisible dog fence is a wireless dog fence. There are no wires to bury or run around your perimeter which is appealing for some dog owners. The boundary is determined by the placement of the base unit and the perimeter extends in a circular pattern. The perimeter ranges anywhere from 5 to 100 feet in circumference from the base and can't be customized beyond that unless you add additional wireless system. The cost for a wireless dog fence ranges from $150 to $450 in Canada. 
Both types work wonderfully for most pet owners. The biggest reason you might choose a wireless electric fence is for the ease of set up and the main reason most dog owners choose a wired, underground fence is for the large custom perimeter areas, up to 100 acres.
An underground dog fence will require some time and labour to trench and install the wire underground. The trench only needs to be deep enough to prevent it from being dug up and shouldn't take very long. If you incorporate the fence before completing your landscaping or dogscaping project, the time and effort will be a lot less than if you need to dig up existing materials.
If the driveway is already installed it's going to be really difficult to bury the line under the driveway out of sight. The best way is to cut a line about 3 inches deep across the driveway with a concrete cutter blade wide enough for the wire. Making sure the cut line is where you want the boundary perimeter to be. Place the wire in the crack and fill with a concrete filler on something similar on top. 
---
---
---
---
---
---
Disclaimer
Please use all appropriate and proper safety precautions when attempting projects on this website. All projects are attempted at the reader's own risk. 

Duralawn® participates in the Amazon Services LLC Associates Program, as an Amazon Associate we may earn a commission from qualifying purchases.
Duralawn® artificial grass installations, products and service in Kelowna, Vernon, Penticton, etc since 2018.