6 Best Wireless Dog Fences
The best wireless dog fences create an invisible boundary that dogs learn to respect and love because they can safely enjoy the outdoors that they otherwise may not be able to. Most of the top rated invisible containment fences are easy to use and can be set up in as little as a couple hours. They are the ultimate in convenience and simplicity, often only consisting of a base unit and collars depending on how many dogs or cats you want to protect.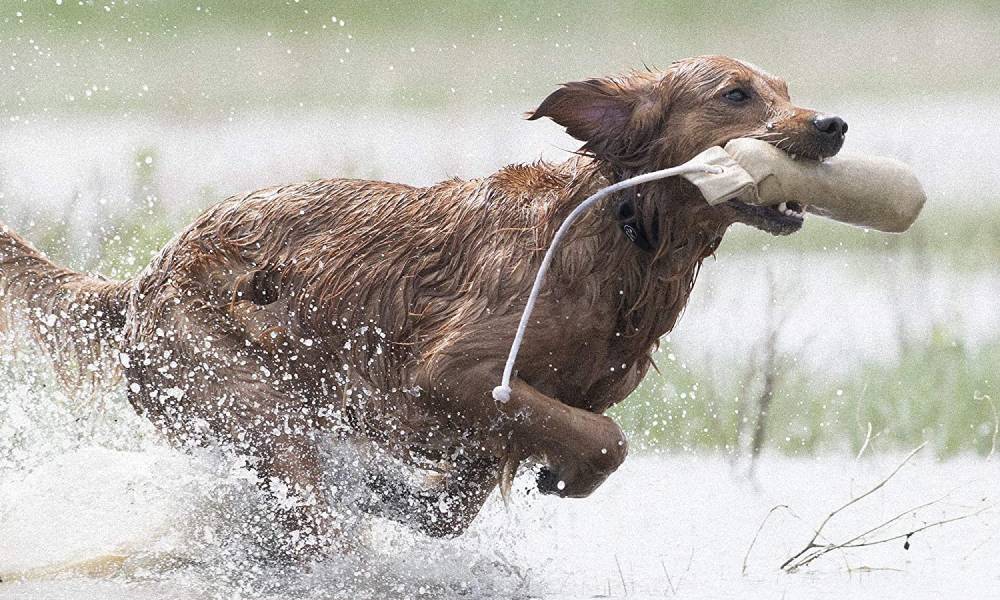 The threat of getting lost, ran over by a car, stolen, encountering another dog or human threat is always on the mind of dog owners. If a physical fence barrier isn't possible or not an option for whatever reason, an invisible fence is the perfect solution as part of your dogscaping plan. They are incredibly versatile; you can adjust the boundary radius and even add an unlimited amount of dogs or pets to one unit if you have multiple dogs. The best kits on the market today are cross compatible so you can set them up at a neighbours while traveling or visiting family and friends. 
Best Wireless Dog Fences
What makes the best wireless dog fence system so good? We've put together a list based on customer satisfaction, product features and overall quality. Most units are completely portable, worth the cost and are flexible as far as how many collars can be used with the unit. You can be sure to find a collar that fits any size dog or cat and of course you can have multiple pets on one system. These completely wireless systems are super easy to set up, use and you can trust a product that has been used successfully by so many dog owners. 
1. PetSafe 3/4 Acre Wireless Dog Fence 
Are you looking for a completely wireless dog fence with the largest range in the industry? The PetSafe Stay and Play Wireless Fence allows for up to three quarters of an acre coverage, making it ideal for dogs and cats over 5 pounds that want more space to roam. The collar itself is waterproof and rechargeable with a battery life that lasts up to 3 weeks on one charge, that takes only a few hours. An industry leading product that utilizes both tone and static stimulation to gently train your dog to stay safe and close to home.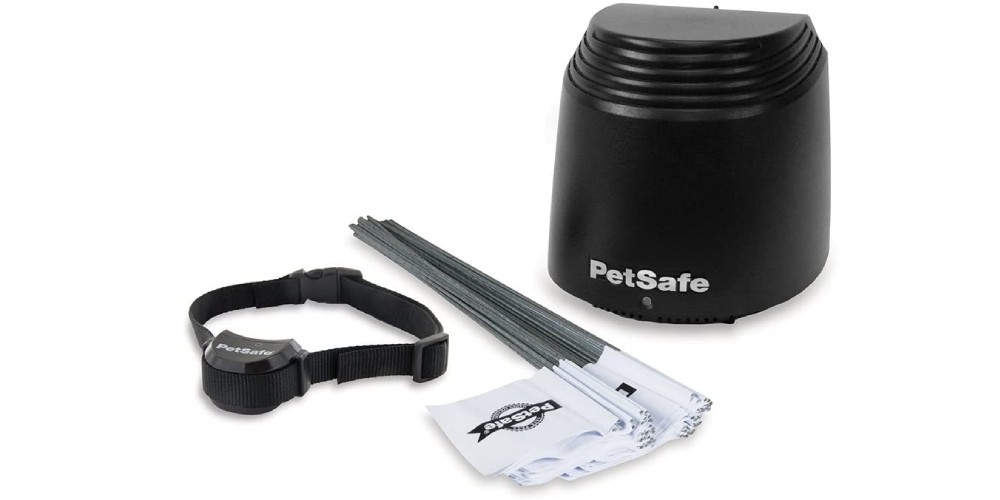 ---
---
---
2. PetSafe 1/2 Acre Wireless Dog Fence for Large Dogs
If you are in the market for a wireless radio fence containment system made by the industry leader in pet containment systems, this is a definite consideration. If your dog is at least 8 pounds it's going to love roaming up to half an acre or up to 80 feet from the wireless base unit. The static correction built into the collar operates on a 6-volt battery and will last up to 2 months. This completely wire-free dog fence is ideal for containing your dog to an average residential city yard.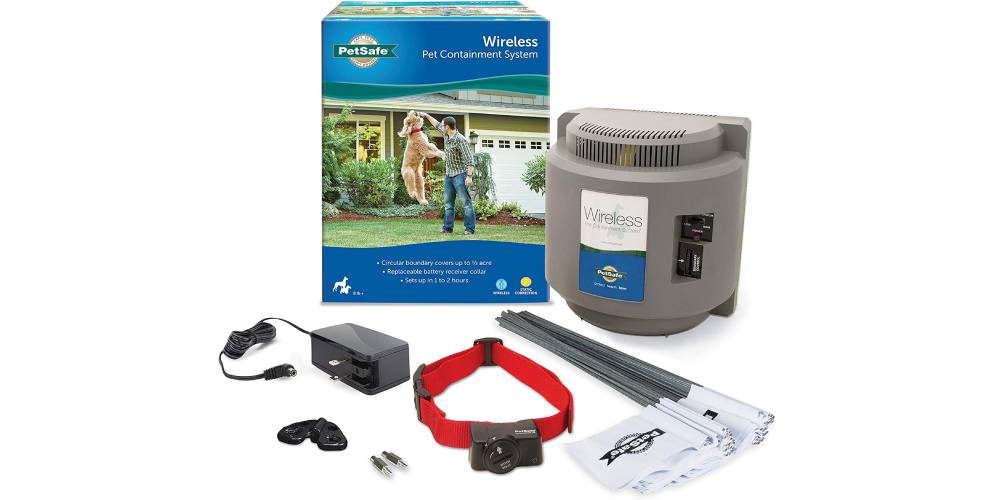 ---
---
---
3. PetSafe Portable Wireless Dog Fence
Are you looking for a wireless dog containment system for multiple dogs? The 1/2 acre boundary will keep your pets safe and contained and take the worry out of living in the city with dogs. This system is compatible with other PetSafe fences so you can add receivers for larger boundaries and even add collars of varying sizes for cats, smaller dogs or multiple dogs. The collar that comes standard with this unit features a tone-only mode for training and 5 levels of gentle static correction. This unit is really easy to set up in as little as an hour making it ideal for RV camping or traveling.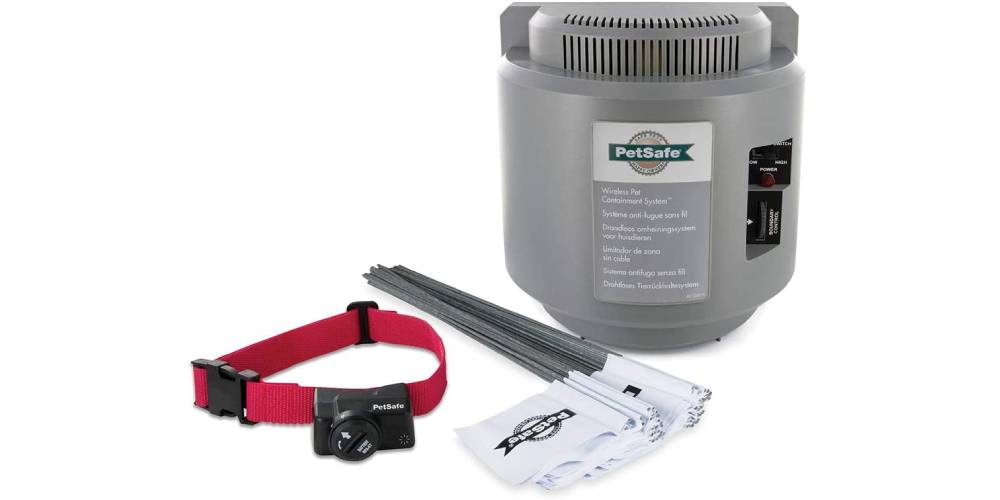 ---
---
---
4. PetSafe Radio Containment Fence
This pet containment fence system is ideal for medium to large sized dogs with neck sizes ranging from 6 to 28 inches. It's also compatible with other wireless fence transmitters so you can add an unlimited amount of collars if you have multiple dogs. This unit provides a containment area up to half an acre with an adjustable circular range based off the transmitter. There are no wires to bury so you don't have the hassle of digging up your yard or incorporating into your landscape design.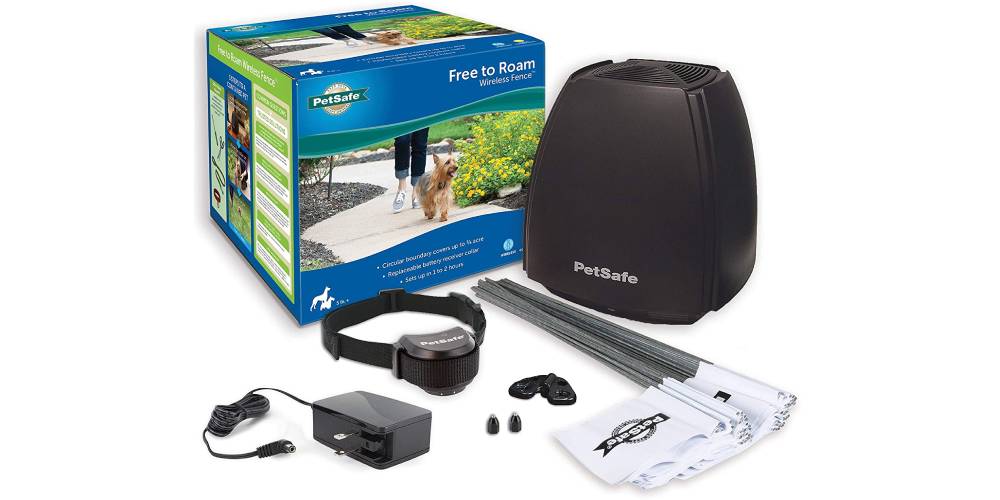 ---
---
---
5. PetSafe Wireless Pet Containment 
This completely wireless dog fence is the simplest way to start enjoying containment for your dog or multiple dogs, and even cats. The collar fits pets over 8 pounds with a neck size between 15 and 71 centimetres. With 5 levels of correction you can adjust to the level that's appropriate for your dog or cat and as an added bonus you can adjust the contact points depending on whether your pet has short or long hair. This unit is compatible with other PetSafe containment products so you have the freedom to increase the range and amount of pets on the system.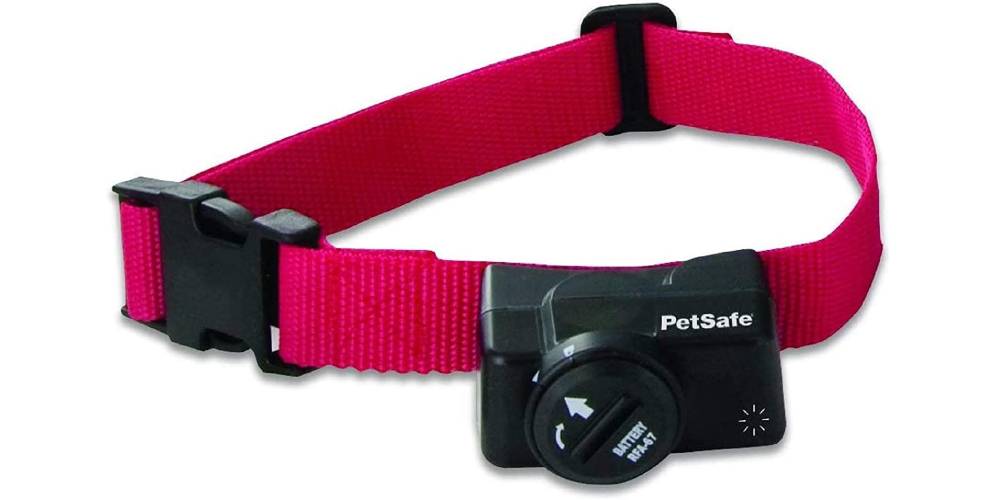 ---
---
---
6. Pet Control HQ Wireless and Wired Dog Perimeter 
Are you looking for a wireless and wired dog fence combination with a customizable boundary? This perimeter boundary fence is completely customizable with a wireless system and underground system in one convenient package. Utilize up to 492 feet of 20 gauge underground fence wire to extend the perimeter. Enjoy peace of mind with the remote collars that are water proof and can withstand varying weather conditions including water, sleet and snow. This unit is ideal for large yards and areas with unique geography including ponds and irregular shaped play areas.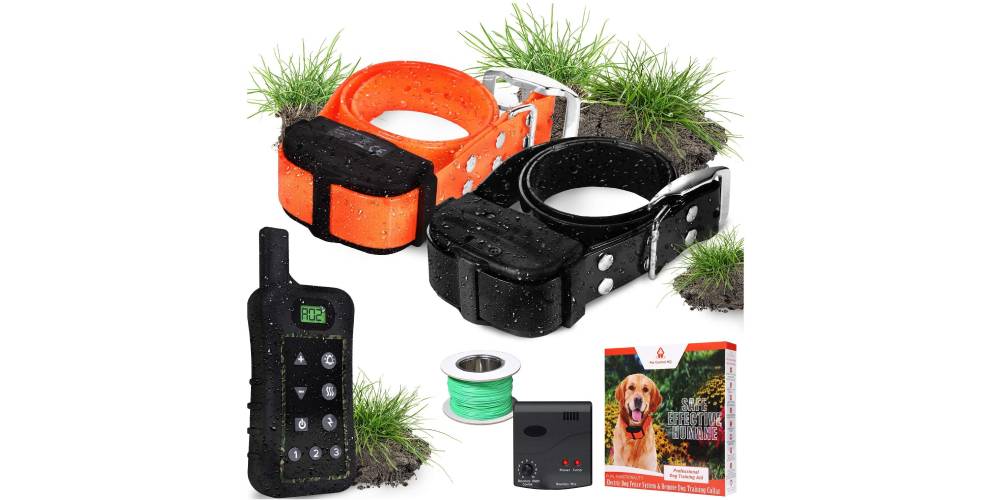 ---
---
---
Do Wireless Dog Fences Work?
Yes, the best wireless invisible dog fences work great. The technology is quite simple and relies on a base unit emitting a radio signal that creates an invisible barrier. When your pet dog or cat approaches the preset boundary limit they receive an audible warning through the collar, and if they continue across the barrier they receive a gentle static correction. Over a short time period, this learned behaviour creates an invisible boundary. 
The training process is usually a week or two and instructions are included with the specific system you purchase. It involves placing visible flags around the perimeter and learning their location with your pet. After your pet learns the perimeter, the flags are removed and then you truly have an invisible fence barrier. As dogs learn their limits, they often don't ever attempt to cross the boundary. 
Wireless Dog Fence Pros and Cons
The following wireless dog fence pros and cons are based on feedback from customers that have first hand knowledge of how the products work. While the majority of dog owners love the benefits, there are a few drawbacks that are worth considering before purchasing and you may even want to consider an underground wired dog fence, which we discuss below. 
Pros
Cost. The cost to purchase a wireless dog fence is a fraction of the cost of materials and labour required to install a physical fence barrier.
Easy to Install. The average remote fence containment system takes 1 to 2 hours to set up versus the days or weeks required to install a fence in your yard or acreage. 
Portability. It goes without saying that most physical fences are not very portable and would be considered a permanent structure. Wireless dog fences can be set up just about anywhere with power.
Low Maintenance. The only maintenance you will likely have to consider is either charging the battery in the dog collar or replacing the battery as needed. This is compared to a physical fence that will likely need painting, staining or repairs. 
Worry Free. Persistent dogs can chew, dig under or climb a physical fence, creating a mess and even cause liability issues if your dog escapes. A wireless fence is a reliable way to contain your dog which is important if they have health issues or allergies. It will also help alleviate the worry of your dog roaming beyond your set boundaries. 
Cons
No Physical Barrier. Wireless dog fences provide an invisible barrier for dogs leaving a specified area but they don't physically stop your dog. It also doesn't prevent access by other dogs, animals or intruders, as a physical fence or playpen does. 
Training. Any dog will require training for a wireless dog fence to be effective. This includes learning the flag perimeter with your dog and inevitably your dog will feel minor static correction as it learns the new set boundaries. 
Power Interruption. If the power is ever cut off or the battery in the collar dies, escape is a possibility. In most cases, dogs learn their boundaries and never try to cross them which means just the act of wearing the collar is enough to keep them contained. 
Wireless Dog Fence vs Underground Dog Fence
When comparing a wireless dog fence to an underground dog fence it's important to understand the main differences. A wireless system in essence has no wires and consists of a base unit and a single or multiple receiving collars. The invisible boundary is circular and the location is determined by where the base unit is located. The size of the circle can be adjusted to have a radius as small as 10 feet and as big as 100 feet. You don't need to dig up the ground to install it, and makes it perfect for adding to a yard that incorporates artificial grass for dogs. 
An in-ground or underground dog fence is a combination of wireless base and electric wire that's buried underground out of sight. An underground fence is sometimes referred to as an invisible dog fence which can be confusing because it's not wireless. This type of fence is ideal for large areas with some in-ground fence systems being capable of reaching up to 100 acres. These long range fence systems are ideal for acreages or anyone that wants to create a large custom boundary.
Wireless Dog Fence Laws
When it comes to wireless dog fence laws there may be specific bylaws for your city, jurisdiction or even Provincial, State and Federal laws. An invisible dog fence may not be enough to use alone, and a physical fence barrier may be required. There may be a specific distance the wireless fence needs to keeps dogs away from public sidewalks or property. In most cases, electronic pet containment and liability states that wireless dog fences are adequate on private property as long as there's signage stating so, but always check with your local authority.  
The question of whether wireless dog fences are humane is a good one and worth taking a look at. The biggest advantage is dogs love to be able to roam and explore and in most cases, an invisible fence allows for a greater range to do so. As long as a dog is trained properly, in most cases after the initial learning phase with audible warnings and minor static correction, the collar doesn't even need to be charged for the dog to obey the designated area. Most wireless dog fence collars have multiple settings that allow for an appropriate audible or gentle vibration suited for the individual dog. If set properly the electric stimulus startles the dog only, and isn't painful.
---
---
---
---
---
---
Disclaimer
Please use all appropriate and proper safety precautions when attempting projects on this website. All projects are attempted at the reader's own risk. 

Duralawn® participates in the Amazon Services LLC Associates Program, as an Amazon Associate we may earn a commission from qualifying purchases.
Duralawn® artificial grass installations, products and service in Kelowna, Vernon, Penticton, etc since 2018.