Dog Playpens
Dog playpens come in an array of sizes and materials making them ideal for a new puppy or large energetic dog. We all know that canines are full of curiosity and have a desire to learn and explore every inch of their back yard or home. This is one of the things that we all love about our furry companions but it can lead to mischievous behaviour that can cause damage to our backyard if they gain access to somewhere they shouldn't, or escape.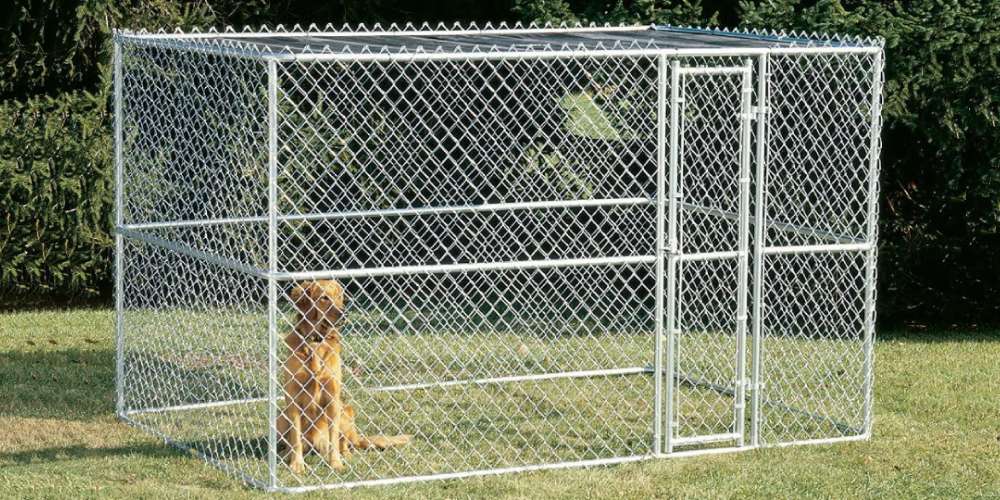 The benefits of an outdoor enclosure go beyond keeping your puppy or dog safely contained, the peace of mind that comes with a kennel or playpen are priceless. There are other reasons dog experts recommend a fenced enclosure including as an alternative to being confined inside to a small room. With an outdoor safe haven they can have more freedom and a sense of being amongst nature. A dog playpen on artificial grass is a great combo that will provide a clean, comfortable and sanitary living area. 
Dog Playpen Features
Not every playpen is created equally and they all come with different features that could potentially be very beneficial or detrimental when paired up with the wrong dog. A kennel without a sun screen or protection from the elements can lead to a very uncomfortable and unhappy dog especially if it's being used a permanent outdoor home. These same features in addition to the heavy weight might not make sense if the enclosure is temporary or needs to be moved around a lot.
Weight. A heavy kennel is ideal for preventing big dogs that may move the enclosure around on a surface that allows it. A light playpen lends itself to being easy to set up and take down for the ultimate in portability.
Material. Metal or allow steel will is durable and long lasting even in extreme weather while a plastic enclosure will be less resistant to wear and tear.
Wall Height. The height of the walls are important depending on the breed of your dog. An enclosure that isn't tall enough will defeat the purpose if it can be traversed by a canine motivated to escape. You may want to consider a wireless dog fence for added security and extra room to roam. 
Roof Top. A pen with a roof top or

sun screen

can be invaluable for keeping your dog and contents like bed or feeding area dry. Protection from rain, hail, snow and anything else is also a bonus for keeping your furry friend happy all year long. 
Size. While you may be limited by space or budget, in general the bigger the better when it comes to creating a living space for your furry friend. If the habitat is meant to be used often, consist of a dog house or feeding area you may want to consider the largest dog playpen your yard and pocket book can handle. 
Locking Gate. An enclosure with a locking gate will provide added peace of mind that your pet will stay safely inside the kennel while also adding extra protection from anyone getting into the pen. A gate with a lockable latch is a great idea for any permanent or semi-permanent kennel. 
Assembly. Look for a play pen that's easy to set up and take down especially if you plan on using it as a temporary home. The set up and building of some kennels will require tools and a handy home owner to put things together properly.
5 Types of Dog Playpens
The best dog playpens and kennels come with some pretty cool features that make them ideal for some pet owners. Each dog is different and will have their own unique requirements in addition to the purpose that you want the pen to serve. It could be a great addition to your backyard pet safe dogscaping or may serve as a temporary place to potty train and feed your new puppy to prevent future accidents.
1. Large Metal Dog Playpen
The largest and most spacious option for big dogs is a metal enclosure that can even be expanded to accommodate multiple dogs to create more space. This option is ideal for setting up a liveable space for a dog to sleep and eat while still being safely enclosed. 
An often overlooked benefit of a large, heavy pet enclosure is that it can't be pushed around or moved by even the most playful dogs. The metal material means it's sturdy and will also stand up to harsh weather conditions. This type of enclosure is ideal as a companion with artificial grass for dogs and will help make it an escape proof dog playpen. 
Look for options that include durable chain link walls and an easy to operate latched gate. A kennel with a rooftop sun screen will provide protection from the suns UV rays and keep the area dry.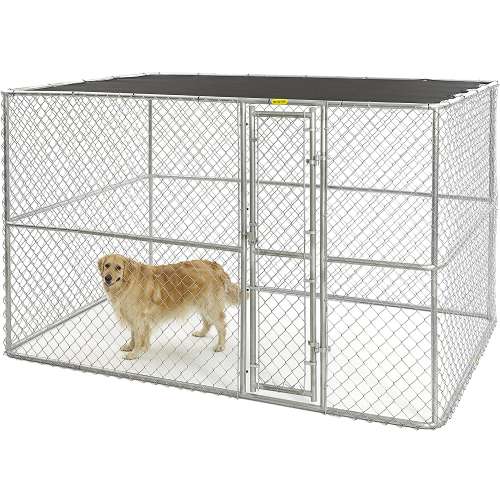 ---
Midwest Homes Chain Link Kennel with Sun Screen
---
If you click this link and make a purchase, we may earn a commission.
2. Portable Dog Playpen
When choosing the best dog playpen you may want to consider a portable or travel pen that can be easily set up and taken down. The advantage to this type of enclosure include the ability to set it up just about anywhere and in very little time or effort. In addition to being ultra simple in design, it can be folded down and stored away while not taking up very much precious space. 
Whether you want to use it as a travel pen or the portability is appealing this is a great option. In addition to all the above benefits you can count on this type of fence structure to be affordable to dog owners on any budget.
This type of pen is limited to puppies, small dogs or pets that won't climb like rabbits, guinea pigs or ducks. If you have a big dog you will definitely want to steer clear of this option.
---
New World Small Foldable Dog Exercise Playpen
---
If you click this link and make a purchase, we may earn a commission.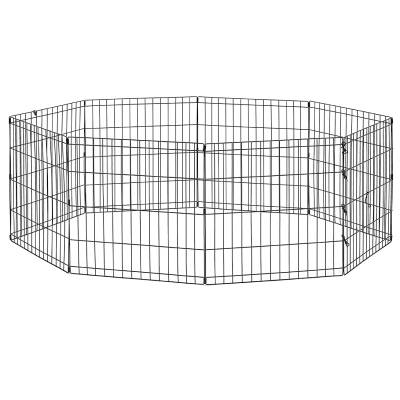 3. Dog Playpen with Roof
A dog playpen with a roof has its obvious advantages when it comes to confinement with the added benefit adding comfort to your dogs living space. A covered roof top will provide protection from rain and snow which means the enclosure stays a lot drier than without a top. Limiting direct sunlight can be a game changer for dogs that are challenged staying cool during the warm summer months. 
If you are in the pursuit of finding an escape proof dog playpen this is great option especially if your dog likes to jump. The roof will ensure your dog doesn't get out and no one else gets in. Erecting the pen on solid ground like artificial grass ensures that you're covered on all angles.
You can rely on a solid steel frame and durable metal panels. Easily purchase multiple playpens and link them together for an even bigger expandable habitat for multiple dogs.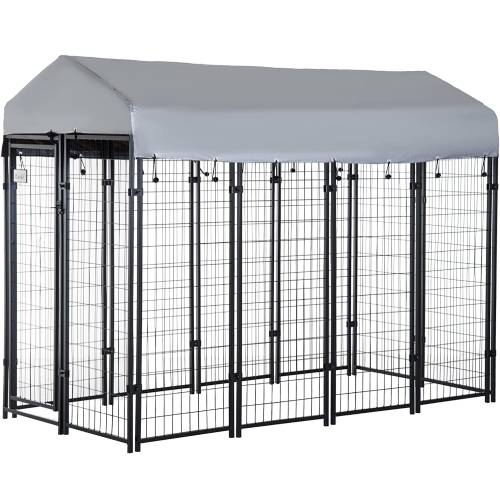 ---
Pawhut Large Outdoor Kennel with Roof
---
If you click this link and make a purchase, we may earn a commission.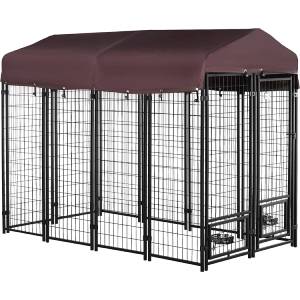 4. Plastic Dog Playpen
A plastic dog pen is a great option for small dog breeds. Whether it's an added layer or protection or safety they are great at providing a security layer for little dogs or new puppies. Ideal for potty training or keeping a newborn pup confined during feeding in addition to the many benefits of a puppy playpen. 
The latest technology in rugged plastics make them a great option for both inside or outside use. They are typically lightweight, easy to setup and take down making them a great choice for any dog owner that wants versatility in a dog pen. 
Look for an option with a built in gate and sturdy interlocking panels that will stand up to years of usage and cleaning. It's possible to purchase multiple sets and combine them together to increase the size of the playpen if required.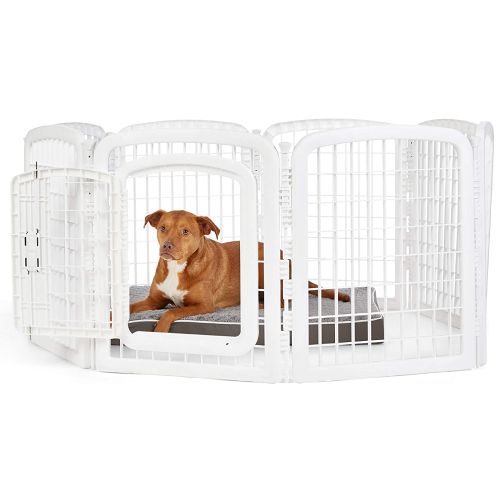 ---
Amazon Basics Plastic Pet Fence Enclosure
---
If you click this link and make a purchase, we may earn a commission.
5. Pop Up Dog Playpen
The main advantage with a pop up pet pen is the convenience of being able to set it up just about anywhere. This can be in a backyard, living room or garage and if you leave home you can take it with you. There's something to be said about being able to provide a protective enclosure while you're vacationing or visiting friends and family. 
A pop up tent will often come with a handy carrying case. Look for a model that will fold down easily and packed away into a compact case that can be stowed away, packed in the trunk and even taken on an airplane. 
Features to look for include a removable top with zipper, waterproof bottom and manufactured with high quality materials so you can be sure it lasts several years.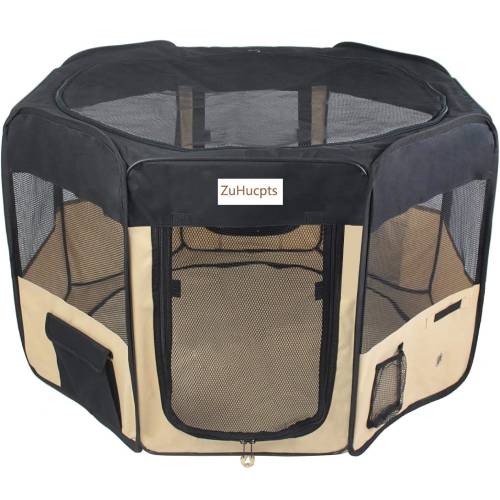 ---
Foldable Pop Up Indoor/Outdoor Pet Playpen
---
If you click this link and make a purchase, we may earn a commission.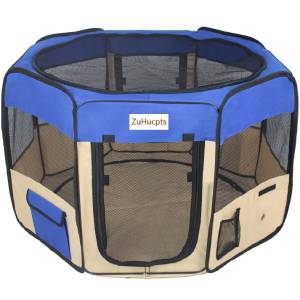 Dog Playpen Accessories
Adding some accessories to your playpen will be the finishing touches to creating your dogs new home. Whether it's a temporary place to rest while traveling or a permanent home there are some great additions you can add on a budget. While some may have a very practical benefit like a pee pad, others are designed to merely entertain your furry friend for minutes or even hours while they enjoy their second home. 
Pee Pad
A dog pee pad is the ideal companion for a playpen. A super absorbency and quick drying potty mat will help keep things clean, dry and help eliminate odours that can be caused by dog urine. Dog and puppy pads can be purchased in bundles ranging from 40 to 150 count and sizes range from small to extra large.
Dog Bed
A soft dog bed is one of the ways you can show your little companion how much you care about them. Look for cool features like memory foam, waterproof, non-slip bottom and washable materials. Dog beds are available in an array of sizes to suite the needs of varying breeds. 
Artificial Grass Dog Potty
An artificial grass dog potty combines the comfort of fake grass with the absorbency of a pee pad into one convenient product. These innovative bathroom pads for pets can be very useful in a playpen, on a deck or wherever you want them due to their portability. They can be cleaned and reused over and over again.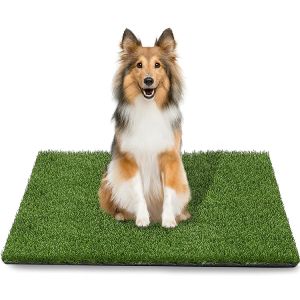 Playpen Mat
A dog playpen mat is a great option and since they can be purchased in large sizes you can cover even the biggest enclosures. They are ideal for keeping the flooring of the pen clean, dry and comfortable day after day even with multiple dogs.
Dog Heating Pad
A great way to provide ambient heat for your dog during the cold winter months is to use an outdoor heating pad. Look for a quality product with features like waterproof, anti-chew and removable and washable cover. A thermostatically controlled pad is idea for playpens, sheds, garages and other shelters. 
Dog Blanket
Blankets are a great addition to any pen enclosure. They provide comfort along with insulation against cold weather. Look for a microfiber dog blanket that's washable so you can keep the blanket clean all year long for your puppy or dog to enjoy.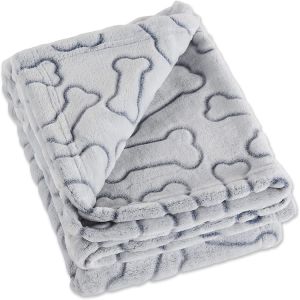 Dog Playpen Alternative
As you can see from the list of shelters and accessories we've talked about there are many options when it comes to providing a safe haven for your dog. Each one has it's unique advantages and disadvantages depending on your specific requirements. If you find that a shelter just isn't big enough or there's just not enough space you can always consider one of the latest innovations in pet technology, an underground dog fence. A wire can be buried out of sight in any shape, size or design so you can provide an immense enclosed place for your dog.
---
---
---
---
---
---
Disclaimer
Please use all appropriate and proper safety precautions when attempting projects on this website. All projects are attempted at the reader's own risk. 

Duralawn® participates in the Amazon Services LLC Associates Program, as an Amazon Associate we may earn a commission from qualifying purchases.
Duralawn® artificial grass installations, products and service in Kelowna, Vernon, Penticton, etc since 2018.