6 Best Dog House for Small Dogs
Your pets comfort is important. A dog house for small dogs is a great way to provide a safe place to rest and call home if your dog spends a lot of time outdoors. Choosing the right dog house is important not only because it provides a protected refuge but they aid in keeping your dog clean, dry and warm during in-climate weather. Likewise on a hot day it is important for a dog to have a place to escape from the hot sun. Overall their intention is to provide a sense of security and provide protection from various extreme weather conditions.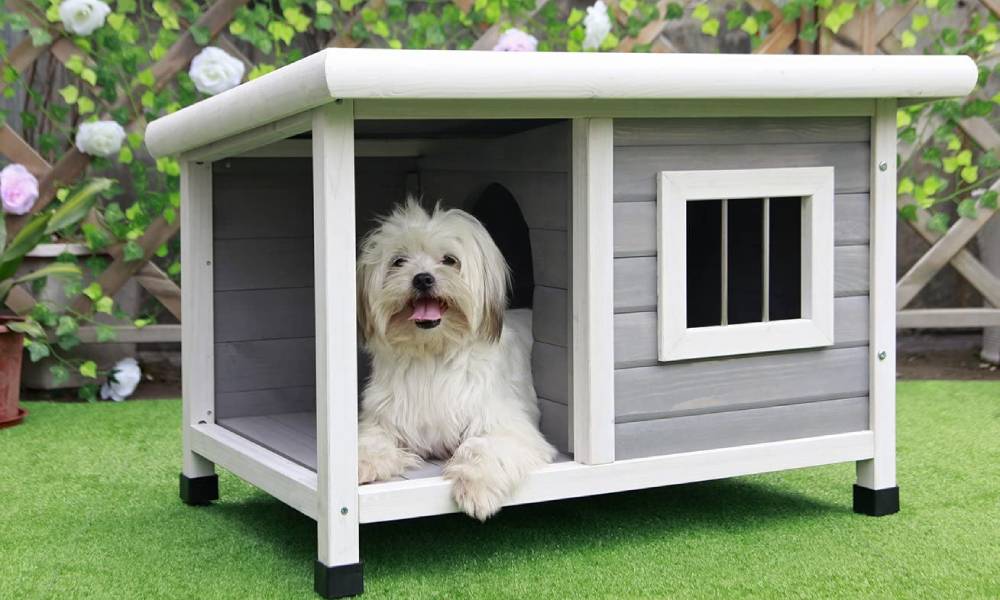 Providing your dog with an adequate dog house for small dogs will put your mind at ease especially when you're at work or you are away for long periods of time. Just as we all want to live in a nice home that's clean and warm, your dog will absolutely appreciate being in a nice new home. This is even more important during the winter where a heated dog house can literally be a life saver for dogs not built for cold weather. Taking the time to choose the best dog house for small dogs on the market is worth it, and your dog will no doubt thank you for it!
Best Dog House for Small Dogs
The following list of best dog houses for small dogs are based on both expert and customer reviews, as well as overall product quality. All of the dog houses listed below are designed for the outdoors and have proven to stand the test of weather extremities. If your dog has dog allergies their comfort and safety is even more important, and we recommend you take deep consideration when purchasing the right dog house. The similarity in prices between the different dog houses will make your decision difficult therefore pay attention to quality when making your choice. 
1. Petsfit Wood Dog House for Small Dogs
Are you looking for a dog house that's built with quality materials, is weatherproof and has an attractive design? The Petsfit Wooden Dog House is ideal for small dogs, and is even available in an extra small size, as well as medium and large. This top rated versatile dog house is an absolute great fit for any backyard whether it's on artificial grass, on a gravel dog run or a concrete patio. It's attractive grey and white appearance is finished with water-based paint that's safer for your pet and better for the environment. It features adjustable feet so you can get it to sit wobble-free on an uneven surface.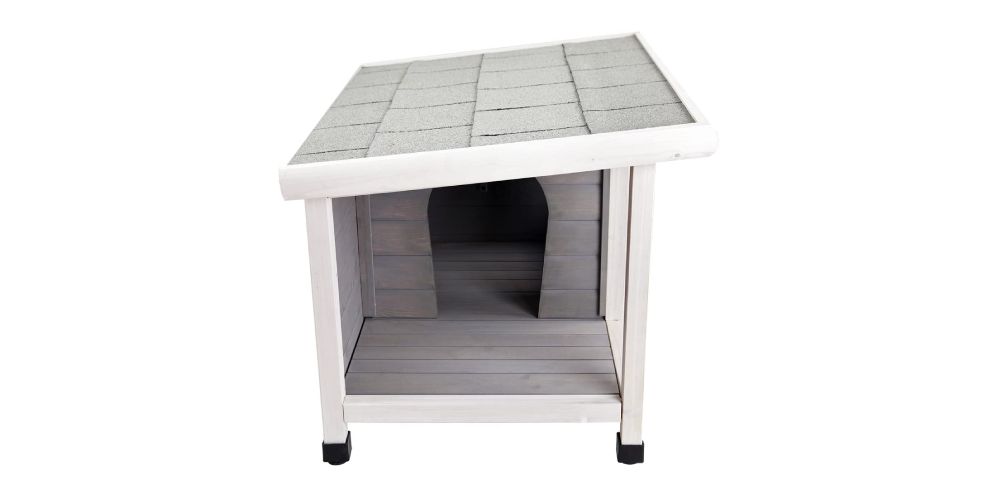 ---
---
---
2. MidWest Small Wooden Dog House
Are you looking for a small wooden dog house that's easy to set up? The MidWest wooden dog house for small dogs is the right choice for you. It requires no tools to build and can be set up almost instantly. It's made for small to medium dog breeds, its flat folding and portable making it easy to transport and bring with you wherever you go. The wood is stained with a water resistant coating to stand the test of harsh elements found in Canada and the United States. Further, it's ultra strong asphalt roof both protects and reinforces to ensure durability. The elevated floor provides excellent air circulation and will in keeping your dog clean and dry.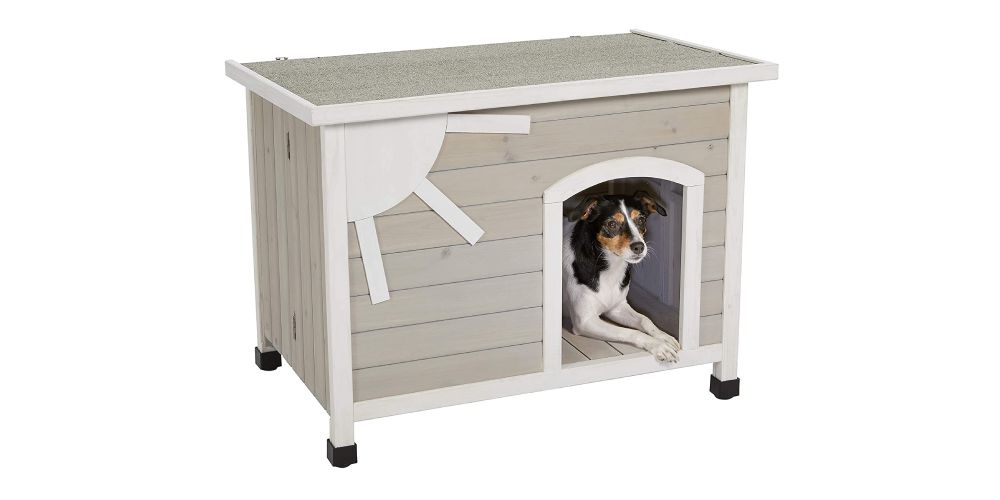 ---
---
---
3. Precision Pet Dog House for Small Breeds
Are you looking for a dog house for small breeds? The Precision dog house for small dogs is the perfect little unit designed to look like a log cabin. This little luxurious cabin has a sealed protective coating to repel the elements, raised floor to keep your little fur-ball warm and asphalt roof for even more protection in the winter. This unit combined with artificial grass for dogs will provide the ultimate clean environment so you can count on virtually no dirt, mud or debris tracked into your house. It's easy to assemble so you don't have to worry about dealing with the headache of construction. The solid wood and stainless steel hardware make this a top rated dog house for small dogs.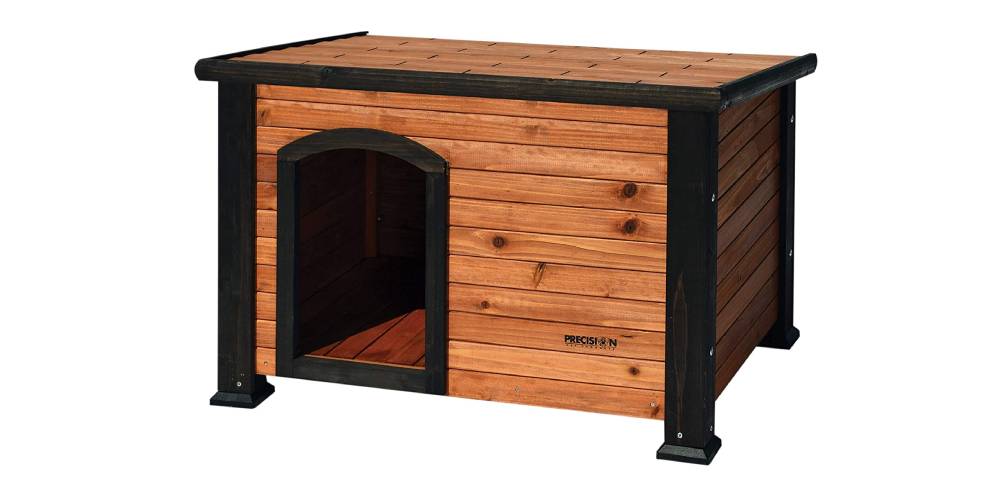 ---
---
---
4. Always Quality Small Plastic Dog House
This budget-friendly little dog shelter provides shelter anywhere you need it. It makes our list of the top rated dog house for small dogs because of its simplicity and portability. It truly is super easy to set up and it can be moved at anytime and used anywhere you want to provide a home for your dog. It's surfaces are easy to keep clean by simply wiping with a wet cloth and soapy water. The durable construction will stand up to outdoor weather, freezing temperatures and hot sun. This small plastic dog house is a contender if you are looking for a cheap way to provide shelter for you small dog breed.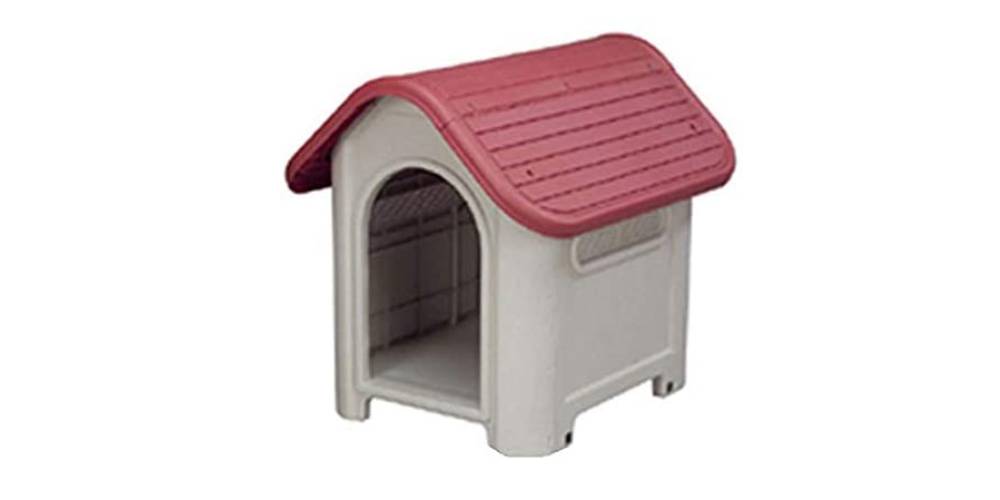 ---
---
---
5. Precision Pet Small Outdoor Dog House
The Precision Pet small outdoor dog house rounds out our list because of its attractive appearance and quality finishings. The roof consists of a strong weather proof liner to help keep you dog dry and protected in the winter weather. It's waterproof leg protector will prevent future rot during times of heavy rainfall and enhance its overall durability. It comes with adjustable feet to ensure a level resting place on uneven ground. Overall you can't go wrong with the purchase of this simple yet sharp looking dog house for small dogs.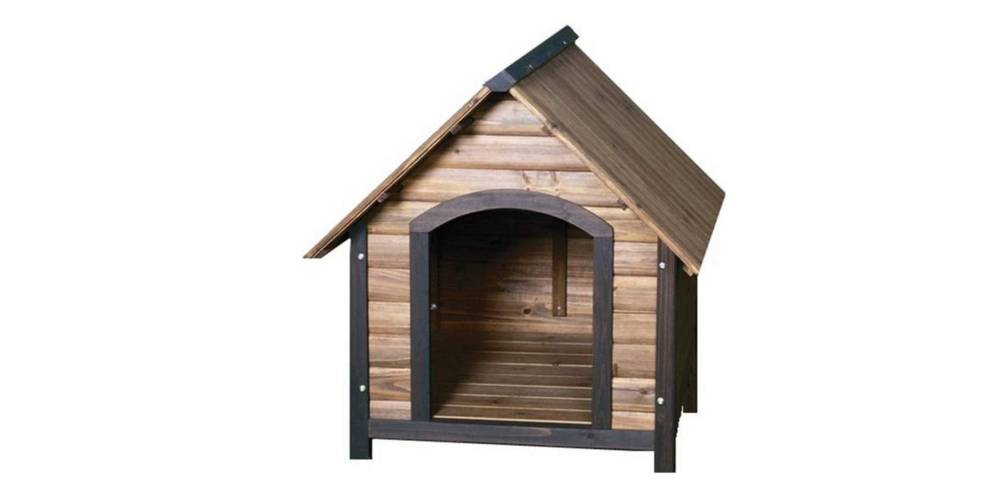 ---
---
---
6. Petsfit Extra Small Dog House for Small Dogs
Are you looking for a high quality, small dog house for dogs or cats? This little beauty is built with longevity in mind with a weatherproof exterior that withstand being outdoors even in the wintertime. It's easy to assemble and clean so you can keep your loved one in a nice home throughout the year. It has some unique features including a roof that opens on a metal hinge for easy access and cleaning. The front door can be closed for privacy and lowered, which also serves as a ramp stairway to the ground.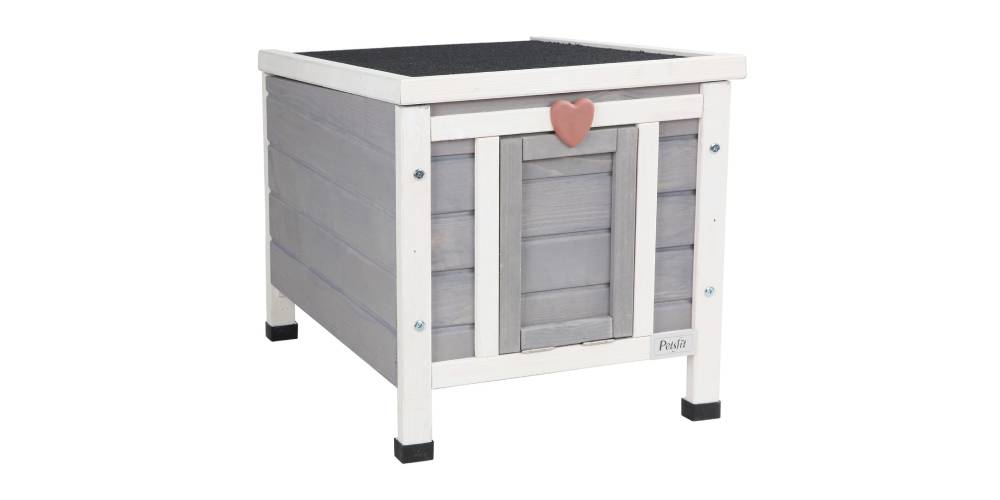 ---
---
---
What Makes a Good Dog House?
When choosing the right dog house it may seem quite difficult. Regardless of the material, it is important to make sure there is adequate ventilation. This is especially important if you are adding a dog house heat lamp or air conditioning. Another concern is the stability of the house. A sturdy, well built dog house is essential for the safety of your pet. Lastly you want to consider durability. You don't want to have to buy a new dog house every year so finding dog houses built out of quality, lasting material is key.
When you consider the right size of dog house it can be a bit tricky. A general rule is to choose a house that is a size bigger than what you first think because while it's not advisable to have a dog house that's too small, a dog house that's too big is an added bonus. It will give you room to add things like a heating pad, air conditioning or just a simple dog bed. An added bonus is the aesthetics of the dog house. There's nothing worse than an unsightly dog house bringing down the rest of the yard or dogscaping environment. An attractive, quaint dog house that fits in with the rest of the yard is a perfect way to round out your investment. 
How to Heat a Small Dog House
How do I build a small heated dog house? Winters can be troublesome for dogs that spend a lot of time outdoors especially if they aren't equipped to handle the cold. A heating device in your dog house can help out tremendously and it's easier to set up than you might think. There are many options when it comes to heating up your dog house and keep your dog warm. The best and safest option in our opinion is to use a top rated dog house heating pad specifically designed for use in an outdoor shelter. You may also want to consider using a radiant ceramic lamp. 
If you are considering heating your dog house or you may want to consider buying a shelter that's slightly larger to accommodate the furnace, lamp or heating pad bed. A medium sized dog house used by a small dog could be ideal because of the added space and provide increased safety due to the extra room. 
How to Clean a Dog House
Although it may seem like a dog house is something that doesn't require any maintenance, it is important to take care of them and keep them clean. Many dog house for small dogs come with removable or hinged tops that make cleaning it a breeze but if not here is what we suggest.
Carefully remove any waste and dog toys that may be hidden inside the dog house
Fill a large bucket with warm, soapy water.
Use a brush to thoroughly scour the entire dog house, paying close attention to the corners as this is usually where urine and bacteria tend to accumulate.
After the scrub, completely rinse the dog house using a hard spray from your garden hose.
Let the dog house dry out completely.
Apply an enzyme pet cleaner spray to kill bacteria that may be present and contributing to pungent odours. 
We hope you found our list of the 6 best dog houses for small dogs beneficial and wish you the best in your hunt for a habitat for your furry friend.
---
---
---
---
---
---
Disclaimer
Please use all appropriate and proper safety precautions when attempting projects on this website. All projects are attempted at the reader's own risk. 

Duralawn® participates in the Amazon Services LLC Associates Program, as an Amazon Associate we may earn a commission from qualifying purchases.
Duralawn® artificial grass installations, products and service in Kelowna, Vernon, Penticton, etc since 2018.