Dog Houses for Medium Dogs
4 Best Dog Houses for Medium Dogs
The best dog houses for medium dogs incorporate designs that are simple while still providing the necessities when it comes to protecting your dog and standing up to harsh weather for several years. The typical dog house has changed over the years and now you can find affordable prefabricated dog houses that set up in minutes, some not requiring tools. The lightweight materials make them portable so you can situate them in different areas of your yard to regulate temperature or whatever works with your particular dogscaping design plan. 
There is nothing worse than being stuck out in the cold wind or rain. There is a lot to be said about protection from the elements and just being able to stay dry and protected is all that most dogs need. When the temperature dips in the winter you may want to consider a dog heating pad or even a heat lamp for added comfort. If a heated dog house is something you are considering keep in mind that the dog house should be sized slightly larger than what you would normally require to make room for whichever heating method you choose. 
Best Dog Houses for Medium Dogs
We've listed what we feel are the best dog houses for medium dogs available to consumers in Canada and the United States. As we worked through this list we kept things in mind like; budget, ease of set up, quality of materials and plainly how much your dog is going to like it. The size of a dog house is very important, you don't want your dog to feel crammed and you should always err on the side of choosing a large dog house versus a small dog house. We discuss proper dog house sizing below so be sure to continue reading. 
1. Petsfit Dog House for Medium Dogs
Are you looking for a combination of affordability, quality and looks? This unit makes the top of our list of dog houses for medium dogs because it truly has everything you'd want in a shelter for your loved one. In the world of dog houses it can be hard to find one that's truly suited for medium sized dog breeds, but this one fits the bill. It even has features like a roof that can be opened for easy access when cleaning, and a removable floor. The weatherproof design will keep your dog dry when it rains, warm when it snows cool when it heats up in the summer. An added bonus, it comes with a door flap for added insulation making it ideal for upgrading to a heated dog house.  
---
---
---
2. MidWest Outdoor Dog House Medium
Are you looking for one of the best outdoor dog houses for medium dogs? This ultra low maintenance unit sets up in seconds by simply unfolding and setting the roof in place. It will stand up to extreme temperatures in the outdoors of Canada and the United States with its water resistant stained wood and protective asphalt roof. It's raised off the ground so you can count on increased heat insulating properties as well as helping keep your dog dry during the rainy months. The ventilation and circulation will keep your pets new home comfortable and safe to use for many years. 
---
---
---
3. Destar Medium to Large Dog House
This is likely the most easy to clean and maintain dog houses for medium dogs on the market. It's simple design and long lasting materials make this a great choice for dog owners on a budget that want something lightweight and easy to move. The sturdy design allows for dogs up to 100 pounds in weight and will resist anything mother nature can throw at it, without rusting or breaking down. The elevated base, added ventilation and waterproof roof will create a comfortable place for your dog to wind down or take refuge during in-climate weather conditions.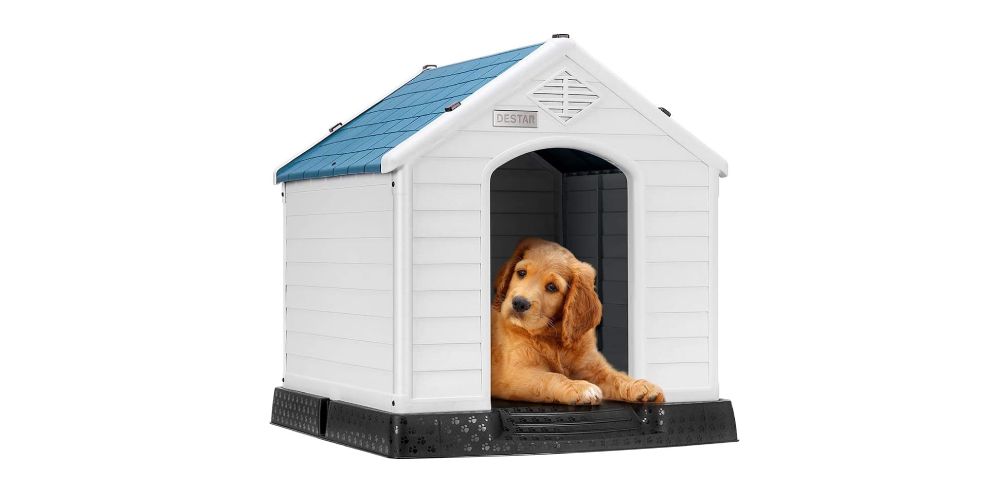 ---
---
---
4. Always Quality Small to Medium Dog House
This basic dog house for small to medium dogs is budget-friendly while providing a place for your dog to stay protected and comfortable while outside or inside. It is easy to assemble in as little as a few minutes and only requires a screwdriver for assembly. It's easy to clean with its smooth, rounded edges which also make it safe to be around children. It features durable materials suited for outdoors, a raised floor for added ventilation and to keep your dog clean and dry. This is worth considering if you are looking for a cheap dog house that will get the job done.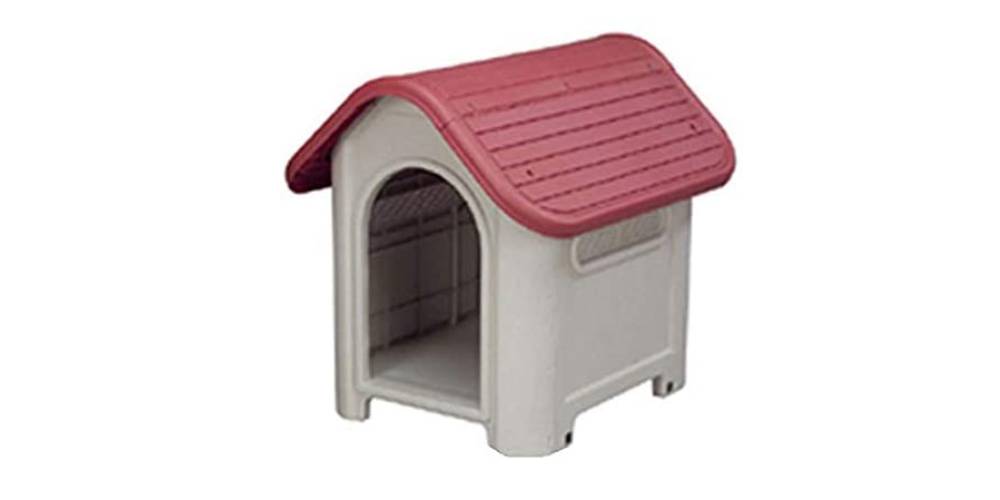 ---
---
---
Dog House Sizing Guide
How do you measure a dog for a dog house? What are the factors that you should consider when determining the right size dog house? We are going to take a look at everything you need to know when choosing the right size shelter for your dog. The right size dog house will make your dog feel secure, comfortable and ultimately result in a happy dog. The goal is to size a dog house so your pet can enter, turn around and lay down comfortably without being too big that radiant body heat loss isn't an issue. 
Dog House Door Size
The proper sized dog house door should be about 30% taller than your dogs shoulder or body height. As you consider the right size door, you also want to keep width in mind if your dog breed is broad shouldered or overweight. The ideal door shouldn't be too big because this will allow heat to escape. Another thing to keep in mind is if the doorway will stay open and unobstructed or if it will have plastic thermal barrier straps or even a swinging door that may take up room. 
Multiply your dogs body height by 1.3
If your dogs body height is 15", the door should have a height at least 19.5" 
Dog House Height
The dog house height measurement is similar to sizing a door, except you are determining your dogs overall height. This is done by measuring from the ground to the top of your dogs head when standing. The biggest consideration is making sure that your dog doesn't feel cramped in their home while not having so much room that your dogs body heat escapes. If you are heating your dog house with a dog house heat lamp or heated sleeping pad you will reduce your costs with proper dog house sizing. 
Multiply your dogs head height by 1.3-1.5
If your dogs height is 20", the height of the dog house should be about 26"-30"
Dog House Width and Length
When sizing any size shelter including dog houses for medium dogs you want to consider how much room your dog will have to turn around and lay down. We use the same 1.3 ratio as above except this time it's based on the nose to rear ratio. The best way to measure is when your dog is on all four legs and run the tape measure from the front of their nose to the base of the tail. 
Multiply your dogs body length, nose to base of tail, by 1.3
If your dogs length is 25", the length and width of the dog house both need to be at least 32.5" 
We hope you found this page about the best dog houses for medium dogs helpful, including our tips about dog house sizing. If you have dog breeds like; boxer, springer spaniel, border collie or bulldog you will likely consider a medium dog house and we wish you success in choosing the right one for your dog.
---
---
---
---
---
---
Disclaimer
Please use all appropriate and proper safety precautions when attempting projects on this website. All projects are attempted at the reader's own risk. 

Duralawn® participates in the Amazon Services LLC Associates Program, as an Amazon Associate we may earn a commission from qualifying purchases.
Duralawn® artificial grass installations, products and service in Kelowna, Vernon, Penticton, etc since 2018.