Xeriscape Ideas
The following list of xeriscape ideas may surprise you especially if you thought xeriscaping was dull, boring and void of any colour or style. With a bit of research and planning you can have a tropical theme in your backyard, a durable place for dogs to play and even a place to practice your golf game. All this can be achieved with an environmentally friendly, easy to maintain and money saving xeriscaped yard. 
The idea of xeriscaping is relatively new for most Canadians and unfortunately there are numerous misconceptions. It's incredibly easy to create immaculate landscape designs that require absolutely no supplemental water that not only help the environment, but reduces the cost and time required to keep your yard looking great every year. The best xeriscaping ideas are designed to incorporate plants, hardscaping and in recent years, artificial grass. The modern landscape ideas that follow incorporate the important xeriscape principles.
8 Xeriscape Ideas
The following list of 8 xeriscape ideas should conjure up your creative juices while keeping in mind some very important and practical design considerations. We broke down the list into categories that may be important to you if you have a dog, children, live in a fire risk zone or just want something modern and easy to take care. There really are limitless options when it comes to xeriscaping and low water landscaping. 
1.  Modern Xeriscape Ideas
If you are considering a stylish look with the latest modern landscaping ideas you will likely want to consider hardscaping with concrete, pavers or natural stone. It's really easy to achieve a cutting-edge look with stamped concrete and artificial grass that looks amazing, stays clean all year long and will last for decades. If you have dogs or children you'll appreciate how clean your yard stays especially if you have an adjacent pool. 
The array of xeriscaping plants to choose from means you can find a plant for just about any area whether it's a raised flower bed, poolside or in the shade of a structure or large tree. Even areas that receive direct sunlight all day can be xeriscaped with drought tolerant plants that flourish in the high heat and low water. A great option for Kelowna and the Okanagan is the use of ornamental grasses and succulents in an inorganic mulch like rock or polished stone. 
The latest in irrigation technology has made watering extremely efficient and effortless. The current automated irrigation controllers are completely hands free, operate on WiFi systems and even incorporate real-time weather conditions. A modern xeriscaped yard combined with the latest artificial grass, hardscaping and irrigation technology really takes landscaping into the future with virtually no maintenance all season long.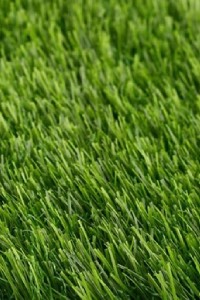 Artificial Grass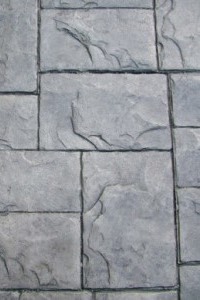 Stamped Concrete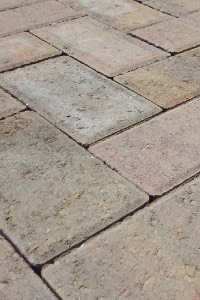 Concrete Pavers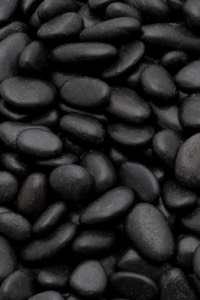 Polished Rock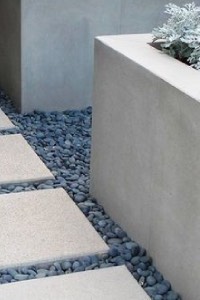 Raised Flower Bed
2.  Xeriscape Ideas with Artificial Grass
The combination of xeriscaping and artificial grass is growing in popularity in North America, while in Europe the concept of low water plants and artificial grass has been enjoyed for many year already. The replacing of natural grass with low maintenance, low water landscape options saves money, drastically reduces upkeep costs, lowers the monthly water bill and nearly eliminates the labour required to keep your yard looking great throughout the year. 
The artificial grass products available in Canada today are so life-like and real looking that you can't tell unless you touch it. When you compare todays quality artificial grasses to products even 5 years ago it's progressed immensely in quality, look, feel and durability. The applications where artificial grass can work wonderfully are endless and once you enjoy the benefits of artificial grass you will likely wish you had upgraded sooner.
These xeriscape ideas that utilize artificial grass are only some of the options available and are only limited by your imagination or the skill of your preferred landscaper. A concrete block walkway can be set into the grass for a nice clean look that will stand up to wear and tear for many years. Even next to a driveway or roadway is an option since synthetic grasses allow for ample drainage and can even withstand the weight of a motor vehicle. 
You may want to consider using concrete edging around your artificial grass to separate it from a high quality mulch that's inset with drought tolerant xeriscaping plants. A juniper hedge will help moderate temperature and provide shade for a backyard ideal for lounging, children's play area or a dog run. If you want to add some adult fun you may even consider adding an artificial grass putting green surrounded by your favourite xeriscaping plants.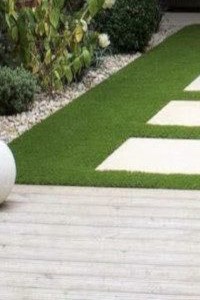 Block Walkway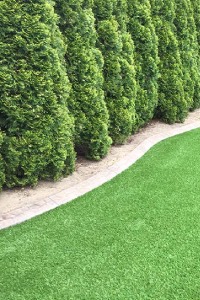 Juniper Hedge
Lounge Area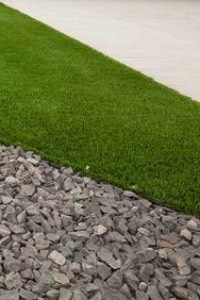 Driveway Border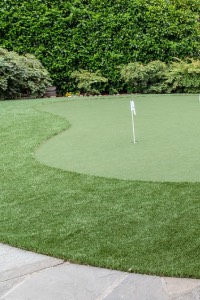 Putting Green
3.  Xeriscape Ideas for Dogs
When considering xeriscape ideas for dogs it's important to keep in mind that dogs love to run around and play, but their desire to exercise and have fun usually doesn't mix with maintaining a nice looking yard. If you've tried to keep natural grass green and healthy looking or plants alive when they are constantly getting trampled or eaten, you know exactly how hard it can be. The good news is there are some great xeriscape ideas for dogs that combine the benefits of low water usage and hardiness required for successful dogscaping. 
A trend that's growing in popularity with dog owners is the combination of artificial grass and xeriscaping. The ultra low maintenance of artificial grass for dogs and low water usage of xeriscape plants results in a perfect blend of longevity and beauty without the hassle and tediousness that comes with regular grass. Dogs have an area they can run and play on that's soft on their paws and you can enjoy your favourite plants bordering your property. 
Your dog friendly landscaping should include perimeter fencing that keeps your dog safely inside your yard. You may even want to consider an invisible wireless dog fence that works by fitting your dog with a collar that teaches your pet to stay close to home. This idea is appealing to dogs that don't like to be cooped up in a wire cage or fenced area. Other things to keep in mind include providing drinking water, ample shade and entertainment for your dog while outside.
Xeriscape Plant Guide Book Paperback and Hardcover

---

If you click on this link and make a purchase, we may earn a commission. 

---

---
---
Xeriscape Plants for Dogs
Luckily, there are some hardy plants that are ideal for dog owners in the Okanagan. The following ground cover xeriscaping plants will create a carpet of living vegetation that will quell weeds, eliminate dirty patches and provide a soft and very durable surface for dogs to play on and around. They are a great substitute for hard to grow natural grass and are especially beneficial if you suspect your furry friend has a dog grass allergy. 
There are a wide array of plants that you can enjoy in your yard that are hardy, drought resistant and pet friendly that go beyond ground cover alternatives to natural grass. You may also want to create a raised vegetable garden area or fence off an area with delicate plants that you can't live without. Whichever you choose we recommend visiting the ASPCA's guide to toxic and non-toxic plants for pets to make sure you aren't presenting a hazard to your furry pet.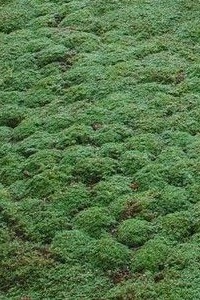 Elfin Thyme
Angelina Stonecrop
Winter Creeper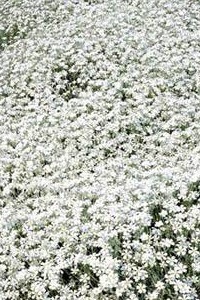 Snow In Summer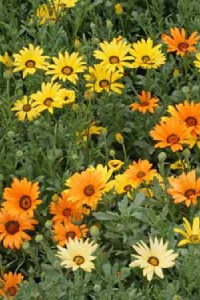 African Daisy
4.  Fire Smart Xeriscape Ideas
Fire safety through landscape design can be achieved with a combination of smart landscaping and xeriscape planning. In many parts of Canada and the USA the crossover of urban neighbourhoods and wildlands has created a fire hazard that continues to be a concern today. If you live in this zone known as the wildland urban interface or WUI you will find the following fire smart strategies helpful in protecting your lives and property. If you'd like more information including fire smart xeriscape ideas visit Fire Smart Canada's Guide to Landscaping.
There are 3 priority zones when assessing the threat of fire to a physical property. Priority zone #1 takes into account anything within 32 feet of a building and for most residences this encompasses an adjacent yard. This area has the highest potential danger but is also where you can reduce the threat by planting fire resistant plant material, gravel, decorative rock, a walkway or fire resistant artificial grass. Avoid bark mulch, pine needle mulch or any combustable ground cover that will easily ignite if exposed to a spark or ember from a nearby forest fire. 
Fire Smart Xeriscape Plants
Fire smart xeriscape plants should have the following properties in addition to being appropriate for your local climate and maintained properly. This includes pruning when necessary, hydration through appropriate irrigation and removing combustible materials from the area as often as needed. Look for green, supple leaves that retain moisture with a slow growth rate. A plant that contains volatile oils, waxes or terpenes will ignite very easily and is the culprit in many fires in Canada, USA and Australia.
Caradonna Salvia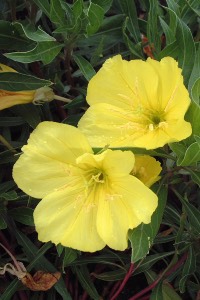 Missouri Evening Primrose
Mock Orange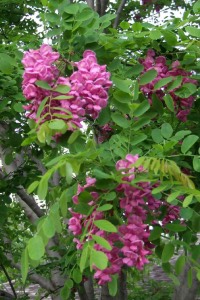 Purple Robe Locust
Quaking Aspen
5.  Tropical Xeriscape Ideas
If you are yearning for a tropical oasis in your own backyard or at least something that resembles the colour and vibrancy found in the warmest places on the planet, it is possible. While the term xeriscaping often conjures up images of rock and dirt sprinkled with some cacti it really isn't like that at all. A vast array of colours, flowers and rich green foliage can be enjoyed in most areas of Canada and with a bit of research and planning you can create a tropical themed garden of your own.
Tropical Xeriscape Plants
The idea of tropical plants with low water requirements that survive the cold Canadian winters might seem far fetched, but they do exist. The following tropical xeriscape ideas includes plants that can survive in some of the harshest plant hardiness zones in Canada. We always recommend contacting your local garden center or expert to determine if a plant will likely be successful in your geographic region. 
Adam's Needle Yucca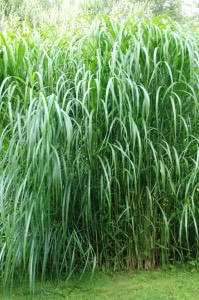 Chinese Silver Grass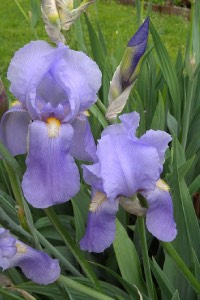 German Iris
Golden Sword Yucca
Honeysuckle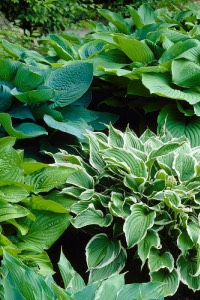 Hosta
Japanese Spurge
Ostrich Fern
Red Hot Poker
Solomon's Seal
6.  Inexpensive Xeriscape Ideas
If landscaping on a budget is important to you then you'll appreciate these inexpensive xeriscape ideas that will save you money now and in the future. Since xeriscaping plants are low water you can already expect to save money on your monthly water bill but you can even take it a step further by using a barrel to collect rain water for use in your yard or garden. Imagine the freedom and low maintenance of drought tolerant plants combined with the ease and cost savings of using free rain barrel water instead of expensive irrigation. 
The biggest cost for most yards is a natural grass lawn and while they can look great when they are healthy, the cost to keep them looking that way can get out of hand. In addition to the cost of fertilizer, weed killers, mowing, trimming and watering they take a lot of valuable time and effort throughout the year. The easiest way to introduce inexpensive, low cost alternatives it to remove or reduce natural lawn and replace with xeriscaping in the form of gravel, self-spreading ground cover plants, ornamental grass or artificial grass. 
Using local materials will likely be the best choice for cheap landscaping materials. Rock, gravel, compost and even plants grown or available in your local region will likely be priced lower than products that are imported. It's common for nurseries to discount perennials and other plants towards the end of July and into August. A stone pathway made from local rocks is also an inexpensive way to create a natural looking and functional addition to any yard.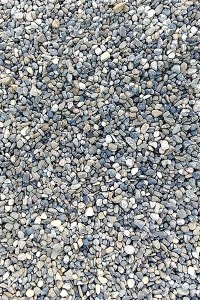 Gravel
Self Spreading Ground Cover
Stone Pathway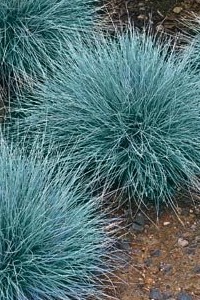 Ornamental Grass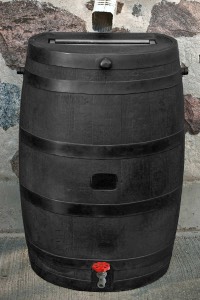 Rain Barrel
7.  Easy Xeriscape Ideas
If you are looking for some easy xeriscape ideas that are both quick and simple to implement, there are plenty of great options. An easy to maintain yard is appealing if you are renting a townhouse or landscaping a business. The easiest plants to take care of are plants that are native to your local region because they have adapted to thrive on local rainfall, seasonal changes, soil conditions and other variables. 
The most basic and easy xeriscape ideas include hardscaping with inorganic mulches like ornamental stone, river rock or pea gravel. The initial application of rock and gravel is labour intensive but once it's installed it will last a lifetime. If you are lucky enough to live in an area with native rock or mulch readily available you can save a lot of money in the process. 
The easiest way to add colour is to choose xeriscaping plants that are very hardy and require little or no irrigation. In addition to being easy to maintain you likely won't need to install any irrigation that can be both tedious and costly. A rock garden or zen garden can be easily achieved with some hardscaping and hardy plants, you may even want to try solar outdoor landscape lights that are super easy to install. 
iBaycon Solar Outdoor Pathway Lights 12 Pack Stainless Steel

---

If you click on this link and make a purchase, we may earn a commission. 
---
Easy Xeriscape Plants
When we take a look at xeriscaping plants that fall into the easy to maintain category there are a few variables we considered. The first is that they are native to the Okanagan which lends them to being extremely hardy and suited for the local climate found all the way from Penticton to Vernon. We also chose plants that are deer resistant so they won't get destroyed before they even get a chance to flourish.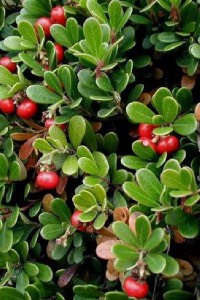 Kinnickinnick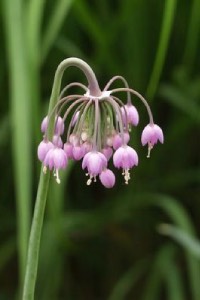 Nodding Onion
Blue Elderberry
Idaho Fescue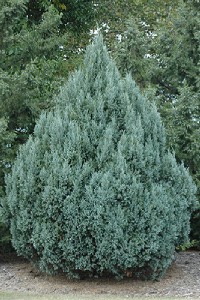 Rocky Mountain Juniper
8.  Weed Free Xeriscape Ideas
A weed free and low maintenance landscape can be achieved with a bit of planning and implementing of the following weed free xeriscape ideas. The elimination of weeds starts with addressing the cause of weeds and also the prevention through design including xeriscaping plants that crowd weeds out. A major culprit when it comes to weeds and foreign invasive vegetation is a natural lawn. The removal of a water hungry natural lawn and replacing it with life like artificial grass will greatly reduce invasive vegetation. 
A quality heavy duty landscape fabric or weed barrier should be used anywhere you don't want weeds to grow. Fabric is even more important to preventing weeds if the landscape isn't equipped with efficient drip irrigation. It's common for irrigation to be applied in a blanket pattern by sprinklers that's both highly wasteful of water and a contributor to weeds. 
The fabric should be covered with an organic mulch like bark or pine or an inorganic mulch such as ornamental rock or gravel. The combination of landscape fabric and a layer of rock or gravel mulch makes it nearly impossible for weeds to grow. It's a technique that's been used for decades to keep landscapes looking clean and weed free in Canada. If you'd prefer a more green approach, ground cover xeriscape plants that suppress weeds are an affordable and aesthetically appealing option.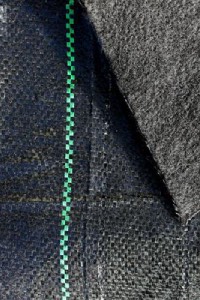 Fabric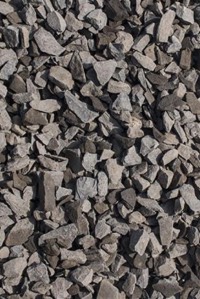 Rock
Stone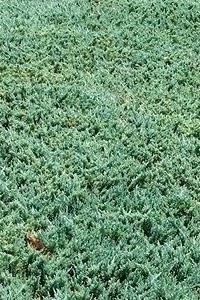 Carpet Juniper
Weed Suppressing Ground Cover
We hope this list of xeriscape options was able to open your mind about all the amazing options available when it comes to Okanagan xeriscape ideas. If you are lucky to live in a climate conducive to growing a variety of plants you can inevitably find some really attractive options that fall into the low water use category.
---
---
---
---
---
---
Disclaimer
Please use all appropriate and proper safety precautions when attempting projects on this website. All projects are attempted at the reader's own risk. 

Duralawn® participates in the Amazon Services LLC Associates Program, as an Amazon Associate we may earn a commission from qualifying purchases.
Duralawn® artificial grass installations, products and service in Kelowna, Vernon, Penticton, etc since 2018.